Rick Santorum Thinks Satan Has Taken Over America
Rick Santorum is Michele Bachmann level crazy. Yet he's arguably the Republican frontrunner right now.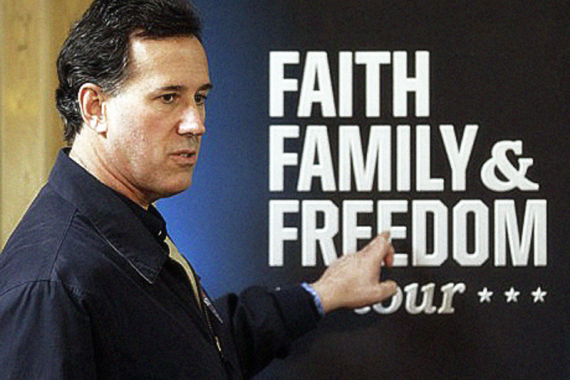 Rick Santorum is easily the most likable candidate remaining in the contest for the Republican presidential nomination. Of all the Not Romneys to emerge this year, he's the first that's the antithesis of Romney: comfortable in his own skin,  intellectually consistent, and in touch with ordinary Americans–everything Romney is not.
He's a man of deep religious faith who seems to truly live by his beliefs.* Indeed, it is this which makes him so grounded and consistent. In this case, however, extremism is a vice that makes him unfit to govern a free nation. His extreme homophobia and bizarre views on women are enough to make him someone that I can't support but I recognize that a huge swath of America–and especially the Republican nominating electorate–have similar views. But there's actually much more beneath the surface.
Right Wing Watch's Kyle Mantyla points to an August 2008 speech that Santorum gave at Ave Maria University. The video is there for you to view in context but a few quotes stand out:
[Satan] attacks all of us and he attacks all of our institutions. The place where he was, in my mind, the most successful and first successful was in academia. He understood pride of smart people. He attacked them at their weakest, that they were, in fact, smarter than everybody else and could come up with something new and different. Pursue new truths, deny the existence of truth, play with it because they're smart. And so academia, a long time ago, fell.

And you say "what could be the impact of academia falling?" Well, I would have the argument that the other structures that I'm going to talk about here had root of their destruction because of academia. Because what academia does is educate the elites in our society, educates the leaders in our society, particularly at the college level. And they were the first to fall.
To be sure, Republican candidates have been attacking academia for years. Faculty at elite colleges, for a variety of reasons, tend to lean left. Further, it has long been common for preachers at Evangelical churches to counsel students about to go off to college to resist attempts by liberal professors to indoctrinate them and undermine their faith. The general attitude is what gives the Left the "Republicans are anti-science" talking point.
Still, I don't believe I've ever seen a serious national politician claim that this is all a plot by . . . could it be . . . Satan.
The speech gets creepier from there.
And so what we saw this domino effect, once the colleges fell and those who were being education in our institutions, the next was the church. Now you'd say, 'wait, the Catholic Church'? No. We all know that this country was founded on a Judeo-Christian ethic but the Judeo-Christian ethic was a Protestant Judeo-Christian ethic, sure the Catholics had some influence, but this was a Protestant country and the Protestant ethic, mainstream, mainline Protestantism, and of course we look at the shape of mainline Protestantism in this country and it is in shambles, it is gone from the world of Christianity as I see it. So they attacked mainline Protestantism, they attacked the Church, and what better way to go after smart people who also believe they're pious to use both vanity and pride to also go after the Church.
That's right: Somewhere along the way, Satan successfully destroyed mainline Protestant churches such that they're not really Christian. (Thankfully, he spared the Catholic Church so that they could do God's work and rape little boys.) As Ed Kilgore observes, this notion may be problematic with the Republican nominating electorate.
Now there is no uniform definition of "mainline Protestantism," but most people would understand it as including the religious denominations affiliated with the World Council of Churches (which claim 560 million members), or in the U.S., with the National Council of Churches (about 45 million members). That's a lot of church-going Christians. And while it's not unusual to hear the occasional Protestant fundamentalist or Catholic traditionalist mock us mainliners as morally and theologically lax, excessively "secular," too "liberal," too friendly to feminists and sodomites and so on and so forth, you don't hear many politicians publicly talk that way, much less suggest all these Christians are really in the grasp of Satan.
Granting that I'm a recovering academic and nonbeliever  it's just bizarre that an obviously bright fellow–who, incidentally, has a BA  and JD from Penn State and an MBA from Pitt, so don't be sure that he's free from Satan's influence, either–believes this nonsense. It's Michele Bachmann level crazy. Yet he's arguably the Republican frontrunner right now.
We'll see soon enough whether Santorum's retrograde views are a bug or a feature with the nominating electorate. At this point in the game, it's quite possible that the extent of his zealotry is simply not well known. Santorum was never considered a serious contender for the nomination and his rise seems to be mostly a function of people wanting someone other than Romney to vote for, everyone else (even Herman "Shucky Ducky" Cain!) getting their turn, and Santorum seeming to be a humble, blue collar guy.
Historically, the religious extremists–Pat Robertson, Gary Bauer, Pat Buchanan, and others–have had brief surges and then fallen by the wayside to more mainstream candidates for the nomination. But the only alternative who remains standing is, ironically enough, a Mormon. And one Republicans decidedly don't want to nominate.
Via Mark Kleiman
_______________
*As Alex Knapp and others regularly point out, most people in this category selectively omit cornerstone Christian teachings from their repertoire.  But I attribute this to the emphasis of church leaders rather than hypocrisy on the part of the flock.