Rick Santorum Now The GOP Frontrunner?
Is Rick Santorum's momentum unstoppable?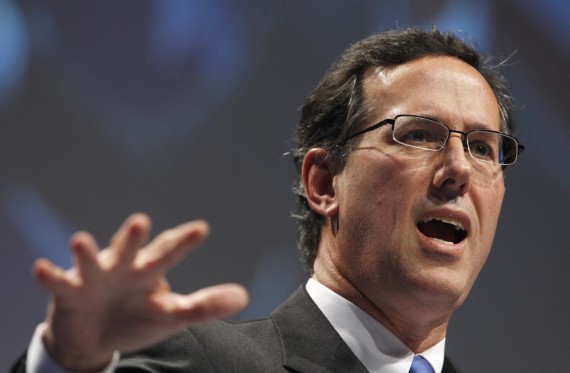 As improbable as it may sound, Rick Santorum is now the frontrunner in the Republican race in Mitt Romney's home state of Michigan:
(CNN) – Mitt Romney may lay claim to home field advantage in Michigan, but according to a new poll released 12 days before the state's Republican primary, Rick Santorum is on top of the field in the race for the GOP presidential nomination.

According to a survey out Thursday by the Detroit News and CNN affiliate WDIV, 34% of likely Republican primary voters say they're backing Santorum, the former senator from Pennsylvania, with 30% supporting Romney, the former Massachusetts governor who's making his second bid for the White House. Santorum's four point margin is within the poll's sampling error.

The survey indicates that 12% back former House Speaker Newt Gingrich, with 9% supporting Rep. Ron Paul of Texas and 12% undecided. The poll was conducted entirely after Santorum's victories over Romney, Gingrich and Paul last week in caucuses in Colorado and Minnesota and a non-binding primary in Missouri. Santorum's sweep of the February 7 contests sparked his surge in national and state polling, and cemented the perception that Romney was having a hard time locking down support of core conservatives.

Michigan and Arizona are next up in the primary and caucus calendar, with both states holding primaries on February 28. The 30 delegates up for grabs in Michigan will be divided proportionally, while the 29 delegates at stake in Arizona are winner take all.
The Detroit News poll is just the latest in a series of polls that have come out over the past week, starting with the PPP poll on Monday which now appears to have been correct in recognizing a trend, showing Santorum overshadowing Romney in the Wolverine State. And the trend has been quite dramatic: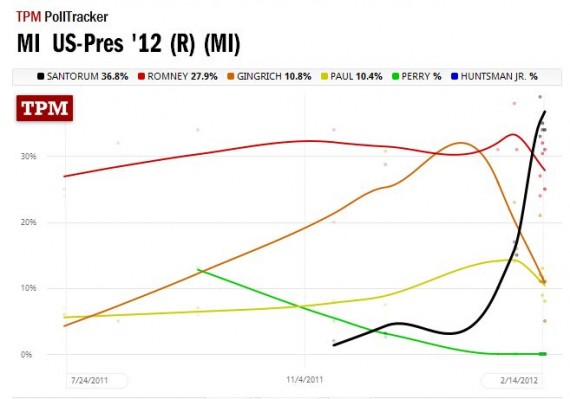 And it's not just in Michigan the Santorum has been surging. He's pulled ahead of Romney in the national-level polling and he's showing huge leads in the important Super Tuesday state of Ohio. This has all the look of the kind of trend that is reaching a momentum that may be difficult to stop, even with the obvious organizational and financial advantages that the Romney campaign still has at this point.
Nothing that Romney has done this week seems to have done much to reverse the trend, although it's worth noting that most of Santorum's rise seems to have come at the expense of Ron Paul and Newt Gingrich rather than by drawing support away from Romney himself. Yes, there's been a dip in Romney's support levels, but it's not nearly as dramatic as Santorum's rise, or Gingrich's fall. What we appear to be seeing is the consolidation of anti-Romney support behind one candidate, and that's a problem for Romney. If Gingrich and Paul end up staying below 15%, then it's doing to be hard for Mitt Romney to stop this Santorum rise unless he engages in all-out negative warfare over the next ten days.
Even if he does that, and I suspect that he will, it may not end up being enough. As I've noted before, Rick Santorum is no Newt Gingrich. Notwithstanding his views on social issues which often come across as positively Neanderthal, Santorum himself differs from Gingrich in one important respect – he projects a likeable personality. (Please note that I am talking here about how Santorum comes across to other voters, not my personal opinion. I'll refer you to his favorability ratings, which are more positive than any other Republican candidate) It doesn't hurt that he's got a photogenic family and that he seems by all respects to be a good husband and father, that alone distinguishes him from Gingrich personally. In contrast to Romney, he comes across as more connected to middle-class Americans and the problems that the economy has created over the past five years or more. This makes it much harder for Romney to go negative on Santorum in the context of a Republican primary fight than it was against Gingrich, and that could end up being a big problem for Romney over the next week.
It's easy to over state the importance of a single primary, especially when there aren't many other races going on at the moment. However, I don't think it's an understatement to say that if Romney manages to lose Michigan then the GOP Establishment is going to end up going into panic mode. Instead of a clear but bumpy path to the nomination for a guy the base is uncomfortable with, but whom has at least a chance to win a General Election, they'll be faced with a candidate likely to alienate female and independent voters in swing states across the nation, raising the prospect not only of an Obama victory in November but also damage to the GOP further down the ballot. Of course, there will be little they can do about all of that at this point but I would expect to hear talk of favorite son candidates and brokered conventions to reach a fever pitch. From my own perspective, though, I've got to wonder if it wouldn't be healthy for the GOP to undergo the kind of catharsis that would be involved in a doomed campaign by a hard-core social conservative. Perhaps then sanity will start to return.