Santorum Leading Romney In Michigan?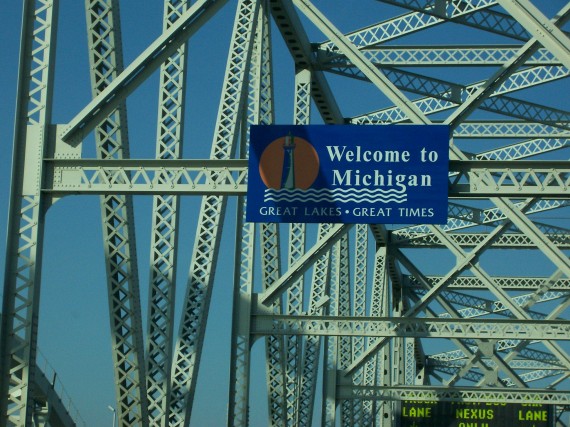 Four years ago, Mitt Romney won the Michigan Republican Primary quite handily. It wasn't really a surprise, of course, since Romney's father had been Governor there back in the day and Michigan was considered as much "Romney Country" as Massachusetts was even though he hadn't lived there in many years. According to a new poll from Public Policy Polling, though, Romney has fallen behind Rick Santorum and is now trailing in what most people thought would be an easy end-of-the-month win for him:
Rick Santorum's taken a large lead in Michigan's upcoming Republican primary. He's at 39% to 24% for Mitt Romney, 12% for Ron Paul, and 11% for Newt Gingrich.

Santorum's rise is attributable to two major factors: his own personal popularity (a stellar 67/23 favorability) and GOP voters increasingly souring on Gingrich.  Santorum's becoming something closer and closer to a consensus conservative candidate as Gingrich bleeds support.

Santorum's winning an outright majority of the Tea Party vote with 53% to 22% for Romney and 10% for Gingrich. He comes close to one with Evangelicals as well at 48% to 20% for Romney and 12% for Gingrich. And he cracks the 50% line with voters identifying as 'very conservative' at 51% to 20% for Romney and 10% for Gingrich.

Santorum's benefiting from the open nature of Michigan's primary as well. He's only up by 12 points with actual Republican voters, but he has a 40-21 advantage with the Democrats and independents planning to vote that pushes his overall lead up to 15 points. Santorum is winning by a healthy margin in every region of the state except for Oakland County, where Romney has a 40-26 advantage, and the area around Lansing where Paul actually has an advantage at 30% to 27% for both Romney and Santorum.

(…)

Michigan is perceived as a state where Romney really has a home field advantage, but only 26% of primary voters actually consider him to be a Michigander while 62% do not. Only 39% have a favorable opinion of George Romney with a 46% plurality having no opinion about him.  Romney really doesn't have some great reservoir of goodwill in Michigan to fall back on. Only 49% of voters have a favorable opinion of him to 39% with a negative one. That's down a net 28 points from our last poll of Michigan in July when he was at +38 (61/23).

For all that, Santorum probably shouldn't get too comfortable. There is a lot of potential for fluidity in the Michigan race, with only 47% of voters saying they're strongly committed to their candidate while 53% are open to changing their minds in the next two weeks.
Thanks to that last statistic, you can expect that the race in the Wolverine State will get a lot more heated over the next 15 days. Most likely, Romney will attempt something similar against Santorum to what helped win him Florida two weeks ago; a relentlessly negative media saturation campaign. The problem for the Romney campaign is that it seems to be more difficult to run a negative campaign against Santorum than it was against Gingrich. Say what you will about him, but Santorum at least comes across as a likeable person and doesn't have nearly the amount of baggage that Santorum did. That said, there is plenty in Santorum's own record to call his fiscal conservative bona fides into doubt so, I'm sure the Romney campaign will give it try. What I'm not sure of if it's going to work like it did in Florida. This much I am sure of, though. If Mitt Romney happens to lose Michigan it's going to be a pretty devastating blow to the electability argument, which is all Romney really has in the end.
It's worth noting, of course, that there's a possibility that this poll is an outlier. Up until now, all previous polling in Michigan showed Romney with a comfortable lead. There is a poll from ARG out this morning that also shows Santorum leading, but ARG's polling hasn't been all that reliable so I'm not going to count that as corroboration of the PPP results just yet. Nonetheless, Romney possibly trailing in Michigan is big news and the next two weeks should be very interesting.