The First Amendment Makes Rick Santorum Want To Vomit
Rick Santorum's views on the role of religion in public life are built on lies about American history.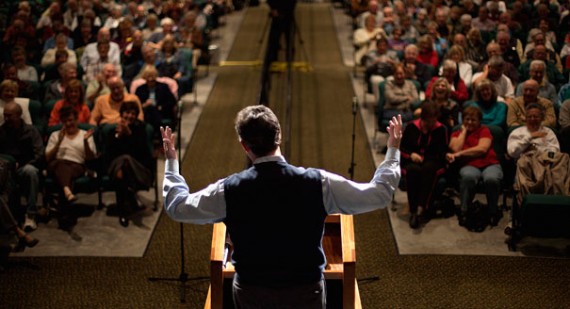 Yesterday, Rick Santorum doubled-down on the previous comments he had made about separation of church and state, and specifically his statement several years ago that President Kennedy's 1960 speech about the topic almost "made me throw up":
Former senator Rick Santorum (R-Pa.) on Sunday defended a statement he made last October in which he said that he "almost threw up" when he read John F. Kennedy's 1960 Houston address on the role of religion in public life.

The statement by Santorum marks the GOP contender's latest defense of his long-held views on the separation of church and state, although in his Sunday appearance he doubled down on the colorful language he employed in his October speech at a New Hampshire college.

In remarks last year at the College of Saint Mary Magdalen in Warner, N.H., Santorum had told the crowd of J.F.K.'s famous 1960 address to the Greater Houston Ministerial Association, "Earlier in my political career, I had the opportunity to read the speech, and I almost threw up. You should read the speech."

On Sunday, ABC's George Stephanopoulos asked Santorum whether he stood by his statement last year, noting that Santorum's rival, former Massachusetts governor Mitt Romney (R), delivered an address on religion during the 2008 campaign that garnered comparisons to Kennedy's address.

Santorum defended his remarks, telling Stephanopoulos that "the first line, first substantive line in the speech, says, 'I believe in America where the separation of church and state is absolute.'"

"I don't believe in an America where the separation of church and state is absolute," Santorum said. "The idea that the church can have no influence or no involvement in the operation of the state is absolutely antithetical to the objectives and vision of our country."

He went on to note that the First Amendment "says the free exercise of religion — that means bringing everybody, people of faith and no faith, into the public square."

"Kennedy for the first time articulated the vision saying, 'No, faith is not allowed in the public square. I will keep it separate.' Go on and read the speech. 'I will have nothing to do with faith. I won't consult with people of faith.' It was an absolutist doctrine that was abhorrent at the time of 1960."

Later in the interview, Stephanopoulos asked Santorum, "You think you wanted to throw up?"

"Well, yes, absolutely," Santorum replied. "To say that people of faith have no role in the public square? You bet that makes you throw up. What kind of country do we live that says only people of non-faith can come into the public square and make their case? That makes me throw up."
Video:
I wrote about Santorum's previous comments about Kennedy's speech last week, as well as similar comments made back in 2010 by Sarah Palin in her then recent book. As I noted at the time, both Santorum and Palin have a severe misunderstanding of the history of the creation of the United States, the Founders views on religion in politics, and what Kennedy was really saying in his speech.
On the first point, historian Joseph Ellis, who has written countless books about the Founders era has pointed out in the past that one of the truly revolutionary things about the creation of the United States was that, for the first time in the history of the Western world, a nation had been created that was wholly divorced from religious authority:
[T]hey created the first wholly secular state. Before the American Revolution it was broadly assumed that shared religious convictions were the primary basis for the common values that linked together the people of any political community, indeed the ideological glue that made any sense of community possible. By insisting on the complete separation of church and state, the founders successfully overturned this long-standing presumption.
The First Amendment, then, exists not only to protect religious institutions from excessive interference by the state, something which was very common in Europe where countries at the time were till identifies as either Catholic or Protestant and where, only a few centuries before, religious wars were commonplace. It exists to ensure that the state does not becomes just another arm of the Church, something which was also still quite common in the Europe from which the Founders originated. That's what made it, and the idea of a wholly secular state, so revolutionary at the time. Conservatives like Santorum like to ignore this part of the First Amendment, or try to assert that it merely means that the state cannot establish an official church, but it is just as important to religious liberty that religions have no role in government as it is that governments have no role in religion. You really cannot have one without the other because, in the end, a government dominated by a particular religious sect will inevitable act in ways that harm rival sects, and a government that interferes excessively in religion will inevitably come to favor one sect over another.
More importantly, though, it's obvious to anyone who has taken the time to read or listen to Kennedy's September 1960 speech to the Greater Houston Ministerial Association, that Santorum is completely mis-representing what the future President was saying. At no point in the speech does Kennedy say, as Santorum alleges, that people of faith have no role in public sphere, or that they must remain quiet rather than speaking out on issues that concern them. It's absurd to even suggest that this is something anyone believes now, or that they believed it back in 1960. After all, at the same time that Kennedy was making this speech the nation was witnessing the Civil Rights Movement sweep across the country led primarily by men of faith (Martin Luther King Jr. was a Reverend after all). Kennedy was surely not suggesting that Dr. King should shut up and sit down, and all you need to do to realize that is to actually read what he said:
I believe in an America where the separation of church and state is absolute-where no Catholic prelate would tell the President (should he be Catholic) how to act, and no Protestant minister would tell his parishoners for whom to vote-where no church or church school is granted any public funds or political preference-and where no man is denied public office merely because his religion differs from the President who might appoint him or the people who might elect him.

I believe in an America that is officially neither Catholic, Protestant nor Jewish-where no public official either requests or accepts instructions on public policy from the Pope, the National Council of Churches or any other ecclesiastical source-where no religious body seeks to impose its will directly or indirectly upon the general populace or the public acts of its officials-and where religious liberty is so indivisible that an act against one church is treated as an act against all.

(….)

For while this year it may be a Catholic against whom the finger of suspicion is pointed, in other years it has been, and may someday be again, a Jew-or a Quaker-or a Unitarian-or a Baptist. It was Virginia's harassment of Baptist preachers, for example, that helped lead to Jefferson's statute of religious freedom. Today I may be the victim- -but tomorrow it may be you-until the whole fabric of our harmonious society is ripped at a time of great national peril.

Finally, I believe in an America where religious intolerance will someday end-where all men and all churches are treated as equal-where every man has the same right to attend or not attend the church of his choice-where there is no Catholic vote, no anti-Catholic vote, no bloc voting of any kind-and where Catholics, Protestants and Jews, at both the lay and pastoral level, will refrain from those attitudes of disdain and division which have so often marred their works in the past, and promote instead the American ideal of brotherhood.
What exactly is it about this message that almost made Rick Santorum vomit? Does he believe that politicians should take orders on how to vote from religious leaders? Does he believe that politicians should base their decisions on the rulings of religious bodies rather than their own conscience or what is best for the country? Does he disagree with the idea of eliminating religious intolerance? Instead of actually answering any of those questions yesterday, though, Santorum simply chose to lie about what it was the Kennedy said and continue with the tired old social conservative meme that religion is under attack in America, something that could not be further from the truth.
Moreover, if Kennedy's speech in 1960 made Santorum personally ill, one wonders how he felt when Ronald Reagan said this to a Jewish group in 1984:
We in the United States, above all, must remember that lesson, for we were founded as a nation of openness to people of all beliefs. And so we must remain. Our very unity has been strengthened by our pluralism. We establish no religion in this country, we command no worship, we mandate no belief, nor will we ever. Church and state are, and must remain, separate. All are free to believe or not believe, all are free to practice a faith or not, and those who believe are free, and should be free, to speak of and act on their belief.

At the same time that our Constitution prohibits state establishment of religion, it protects the free exercise of all religions. And walking this fine line requires government to be strictly neutral. And government should not make it more difficult for Christians, Jews, Muslims, or other believing people to practice their faith. And that's why, when the Connecticut Supreme Court struck down a statute — and you may not have heard about this; it was a statute protecting employees who observed the Sabbath. Well, our administration is now urging the United States Supreme Court to overturn the Connecticut Court decision. This is what I mean by freedom of religion, and that's what we feel the Constitution intends.

(h/t to Ron Chusid for the link to this speech)
That's not much different from what President Kennedy had said some twenty-four years before, and there's really nothing radical about either President's statement either. Unless you happen to be someone on the extreme wing of your party on this issue like Rick Santorum is and you're engaged in what has actually been a decades long crusade to radically re-write American history:
The assertion over the past 30 years that the United States was created as a Christian nation, out of a Christian consensus, is factually and flatly false. No mention of God let alone Jesus—either explicit or euphemistic—appears in the Constitution, from the opening preamble to the final words of the 27th amendment, and in the Declaration of Independence, wherein it's stated that people are endowed with unalienable rights, the word "Creator" wasn't Thomas Jefferson just being lyrical. It was a semantic compromise arrived at among Jefferson, who believed in a God but had little use for organized religion, and who admired Jesus as a moral visionary but not as God's Son; John Adams, who dismissed Judeo-Christianity's contention of a Holy Trinity; and Benjamin Franklin, who publicly averred that the more arguments for God he heard, the greater his doubt grew. Thomas Paine, whose words rallied American revolutionists more than anyone's except Jefferson's, openly mocked Christianity: "What is it the New Testament teaches us? To believe that the Almighty committed debauchery with a woman engaged to be married. The belief of this debauchery is called faith." Abraham Lincoln, who defined the American idea more profoundly than anyone since Jefferson, had to explain his lack of faith in his 1846 campaign for Congress, allowing in his wry fashion that if other people wanted to be Christians, it was OK with him. Lincoln's speech is a matter of record as are Adams' letters and Paine's writings, and Jefferson authored a book about Jesus that can be ordered from Amazon. In the face of such widespread and accessible documentation, the insistence on a national Christian identity is Orwellian.
Another word for it would be a lie. Santourm, like Palin before him, is lying not just about what President Kennedy actually said on that September day in 1960 but also about the very history of the United States and the role of religion in public life. Don't the Ten Commandments say something about not bearing false witness?