John F. Kennedy, Sarah Palin, And Separation Of Church And State
In her new book, Sarah Palin puts forward a view of the role of religion in politics that is in direct contrast with America's own traditions.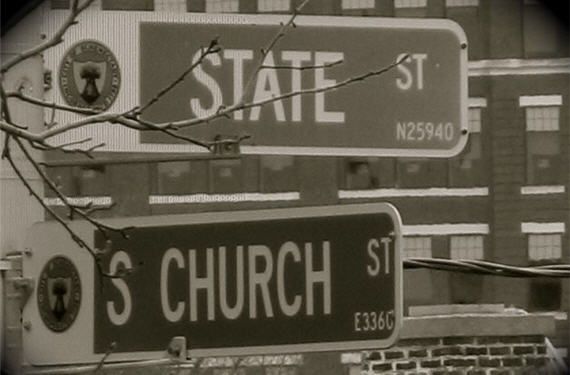 Kathleeen Kennedy Townsend, the former Governor Lieutenant Governor of Maryland and niece of the 35th President takes on Sarah Palin's recent attacks on her uncle's 1960 remarks about the role of religion in politics:
In her new book, "America by Heart," Palin objects to my uncle's famous 1960 speech to the Greater Houston Ministerial Association, in which he challenged the ministers – and the country – to judge him, a Catholic presidential candidate, by his views rather than his faith. "Contrary to common newspaper usage, I am not the Catholic candidate for president," Kennedy said. "I am the Democratic Party's candidate for president who happens also to be a Catholic."

Palin writes that when she was growing up, she was taught that Kennedy's speech had "succeeded in the best possible way: It reconciled public service and religion without compromising either." Now, however, she says she has revisited the speech and changed her mind. She finds it "defensive . . . in tone and content" and is upset that Kennedy, rather than presenting a reconciliation of his private faith and his public role, had instead offered an "unequivocal divorce of the two."

Palin's argument seems to challenge a great American tradition, enshrined in the Constitution, stipulating that there be no religious test for public office. A careful reading of her book leads me to conclude that Palin wishes for precisely such a test. And she seems to think that she, and those who think like her, are qualified to judge who would pass and who would not.

If there is no religious test, then there is no need for a candidate's religious affiliation to be "reconciled." My uncle urged that religion be private, removed from politics, because he feared that making faith an arena for public contention would lead American politics into ill-disguised religious warfare, with candidates tempted to use faith to manipulate voters and demean their opponents.

Kennedy cited Thomas Jefferson to argue that, as part of the American tradition, it was essential to keep any semblance of a religious test out of the political realm. Best to judge candidates on their public records, their positions on war and peace, jobs, poverty, and health care. No one, Kennedy pointed out, asked those who died at the Alamo which church they belonged to…
The most important thing to note here, I think, is the fact that Palin completely misunderstands the purpose behind Kennedy's 1960 speech. Kennedy wasn't running away from the Catholic Church, he was seeking to reassure voters that his Catholic faith wouldn't mean that the Pope would be running America from the Vatican. It may sound like a strange view today, but it was a not-uncommon view of Catholics at that time and, back in 1928, it was one of the primary reasons that New York Governor Al Smith's campaign for the Presidency was an utter electoral disaster.  Suspicion of the Catholic Church was still widespread among Protestants even as recently as 1960, and that's what Kennedy was addressing in his speech. Palin either doesn't know that, or she simply chooses to ignore it in order to make a point that advances her own religious/political agenda.
Townsend points out that Palin contrasts Kennedy's 1960 speech with the speech that Mitt Romney made in December 2007 when he was being subjected to questions about his Mormon faith. The problem is that Romeny's speech presented a far different vision of the proper role of religion in politics than Kennedy's did:
Romney has already declared war on secular America. In December 2007, you may recall, he delivered a speech in which he defended his Mormon religion at a time when he was under assault from evangelical Christians. It was, in many respects, a sensible plea for religious tolerance.

Except that Romney called for tolerance only among believers, explicitly omitting non-believers. "Any believer in religious freedom, any person who has knelt in prayer to the Almighty, has a friend and ally in me," Romney said. "And so it is for hundreds of millions of our countrymen: we do not insist on a single strain of religion – rather, we welcome our nation's symphony of faith."

As New York Times columnist David Brooks wrote the next day, "Romney described a community yesterday. Observant Catholics, Baptists, Methodists, Jews and Muslims are inside that community. The nonobservant are not. There was not even a perfunctory sentence showing respect for the nonreligious." Brooks – a conservative, though a secular one – warned that Romney was calling for "a culture war without end".
Townsend points out the serious contrast between Kennedy's vision and Romney/Palin's:
Palin praises Romney for delivering a "thoughtful speech that eloquently and correctly described the role of faith in American public life." But if there should be no religious test in politics, then why should a candidate feel compelled to respond to misplaced questions about his belief in Jesus?

When George Romney, Mitt Romney's father, was a presidential candidate in 1968, he felt no such compulsion. Respect for the Constitution and the founders' belief in the separation of church and state suggests that those kinds of questions should not play a role in political campaigns.

Palin contends that Kennedy sought to "run away from religion." The truth is that my uncle knew quite well that what made America so special was its revolutionary assertion of freedom of religion. No nation on Earth had ever framed in law that faith should be of no interest to government officials. For centuries, European authorities had murdered and tortured those whose religious beliefs differed from their own.

To demand that citizens display their religious beliefs attacks the very foundation of our nation and undermines the precise reason that America is exceptional.

Palin's book makes clear just how dangerous her proposed path can be. Not only does she want people to reveal their beliefs, but she wants to sit in judgment of them if their views don't match her own. For instance, she criticizes Rep. Nancy Pelosi (Calif.), a Democrat and a faithful Catholic, for "talking the (God) talk but not walking the walk."

Who is Palin to say what God's "walk" is? Who anointed her our grand inquisitor?
It seems to me that that is a question that could apply to anyone. It strikes me as wholly inappropriate for anyone, be it Sarah Palin or anyone else to sit in judgment of other people's religious beliefs. In fact, that's exactly what the whole idea of "separation of church and state" was designed to prevent.
Palin and those like her like to repeat some variation on the phrase that "America is a Christian nation." In reality, the Founders were in fact more influenced by the writings of men like John Locke and Algernon Sidney than they were by anything in the Bible. Jefferson's most famous phrase "Life, Liberty, and the Pursuit of Happiness" came from Locke's "Life, Liberty, and Property," for instance. More importantly, at the time of the American Revolution, the natural rights tradition that the Founders relied upon owed more to the Greeks than it did to Christianity or theology:
In reality, neither Jewish nor Christian traditions know anything of the ideas of natural rights and social contract found in Hobbes, Gassendi and Locke. That's because those ideas were inspired by themes found in non-Christian Greek and Roman philosophy. Ideas of the social contract were anticipated in the fourth and fifth centuries BC by the sophists Glaucon and Lycophron, according to Plato and Aristotle, and by Epicurus, who banished divine activity from a universe explained by natural forces and taught that justice is an agreement among people neither to harm nor be harmed. The idea that all human beings are equal by nature also comes from the Greek sophists and was planted by the Roman jurist Ulpian in Roman law: "quod ad ius naturale attinet, omnes homines aequales sunt" — according to the law of nature, all human beings are equal.
Moreover, the Founders own religious beliefs are far less orthodox that religious conservatives would like to believe. Jefferson, for example, was a Diest who believed in a Creator who played absolutely no role in the affairs of the world, and considered much of the New Testament to be mere superstitions, which is the reason he created his own version of the teachings of Jesus which completely deleted any reference to his being of Divine origin.
And Jefferson wasn't alone. John Adams signed a treaty with the pirates of Tripoli that contains this famous phrase:
As the Government of the United States of America is not, in any sense, founded on the Christian religion; as it has in itself no character of enmity against the laws, religion, or tranquillity, of Mussulmen [Muslims]; and, as the said States never entered into any war, or act of hostility against any Mahometan [Muslim] nation, it is declared by the parties, that no pretext arising from religious opinions, shall ever produce an interruption of the harmony existing between the two countries.
And, Adams and Jefferson weren't alone:
[H]ow about the tenth president, John Tyler, in an 1843 letter: "The United States have adventured upon a great and noble experiment, which is believed to have been hazarded in the absence of all previous precedent — that of total separation of Church and State. No religious establishment by law exists among us. The conscience is left free from all restraint and each is permitted to worship his Maker after his own judgment. The offices of the Government are open alike to all. No tithes are levied to support an established Hierarchy, nor is the fallible judgment of man set up as the sure and infallible creed of faith. The Mohammedan, if he will to come among us would have the privilege guaranteed to him by the constitution to worship according to the Koran; and the East Indian might erect a shrine to Brahma, if it so pleased him. Such is the spirit of toleration inculcated by our political Institutions."

Was Tyler too minor a president to be considered an authority on whether the U.S. is a Christian republic or not? Here's George Washington in a letter to the Hebrew Congregation of Newport, Rhode Island in 1790: "The citizens of the United States of America have a right to applaud themselves for having given to mankind examples of an enlarged and liberal policy — a policy worthy of imitation. All possess alike liberty of conscience and immunities of citizenship. It is now no more that toleration is spoken of as if it were the indulgence of one class of people that another enjoyed the exercise of their inherent natural rights, for, happily, the Government of the United States, which gives to bigotry no sanction, to persecution no assistance, requires only that they who live under its protection should demean themselves as good citizens in giving it on all occasions their effectual support … May the children of the stock of Abraham who dwell in this land continue to merit and enjoy the good will of the other inhabitants — while every one shall sit in safety under his own vine and fig tree and there shall be none to make him afraid."
What this history makes clear is this; while the Founders were religious men in keeping with the customs of their times, there is simply no evidence to suggest that they intended to create a nation whose government played any role at all in the religious lives of its citizens.
The vision that Palin presents in her book is not only in contrast to what America's first Catholic President had to say about the role of religion in public life, but it is also in sharp contrast to the Founders themselves, as Townsend notes in her closing paragraphs:
Palin fails to understand the genius of our nation. The United States is one of the most vibrant religious countries on Earth precisely because of its religious freedom. When power and faith are entwined, faith loses. Power tends to obfuscate, corrupt and focus on temporal rather than eternal purposes.

Somehow Palin misses this. Perhaps she didn't read the full Houston speech; she certainly doesn't know it by heart. Or she may be appealing to a religious right that really seeks secular power. I don't know.

I am certain, however, that no American political leader should cavalierly – or out of political calculation – dismiss the hard-won ideal of religious freedom that is among our country's greatest gifts to the world. As John F. Kennedy said in Houston, that is the "kind of America I believe in."
But, apparently, not the kind of America Sarah Palin believes in.
Addendum: Since it's worth watching here's the full video and text of Kennedy's 1960 speech: