Twilight Of The RINOs?
The GOP Establishment is in crisis, but it has nobody to blame but itself.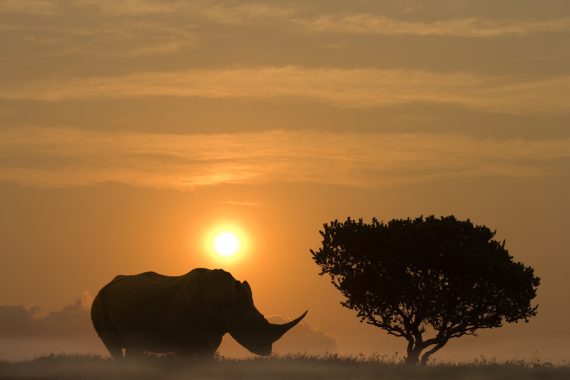 David Brooks laments the extent to which Republican Party leaders have essentially stood by and done nothing for the past decade or more while their party has been taken over by a base that seems intent of dragging the party down the road to electoral destruction:
All across the nation, there are mainstream Republicans lamenting how the party has grown more and more insular, more and more rigid. This year, they have an excellent chance to defeat President Obama, yet the wingers have trashed the party's reputation by swinging from one embarrassing and unelectable option to the next: Bachmann, Trump, Cain, Perry, Gingrich, Santorum.

But where have these party leaders been over the past five years, when all the forces that distort the G.O.P. were metastasizing? Where were they during the rise of Sarah Palin and Glenn Beck? Where were they when Arizona passed its beyond-the-fringe immigration law? Where were they in the summer of 2011 when the House Republicans rejected even the possibility of budget compromise? They were lying low, hoping the unpleasantness would pass.

The wingers call their Republican opponents RINOs, or Republican In Name Only. But that's an insult to the rhino, which is a tough, noble beast. If RINOs were like rhinos, they'd stand up to those who seek to destroy them. Actually, what the country needs is some real Rhino Republicans. But the professional Republicans never do that. They're not rhinos. They're Opossum Republicans. They tremble for a few seconds then slip into an involuntary coma every time they're challenged aggressively from the right.

Without real opposition, the wingers go from strength to strength. Under their influence, we've had a primary campaign that isn't really an argument about issues. It's a series of heresy trials in which each of the candidates accuse the others of tribal impurity. Two kinds of candidates emerge from this process: first, those who are forceful but outside the mainstream; second, those who started out mainstream but look weak and unprincipled because they have spent so much time genuflecting before those who despise them.

Neither is likely to win in the fall. Before the G.O.P. meshugana campaign, independents were leaning toward the G.O.P. But, in the latest Politico/George Washington University Battleground Poll, Obama leads Mitt Romney among independents by 49 percent to 27 percent.

Leaders of a party are supposed to educate the party, to police against its worst indulgences, to guard against insular information loops. They're supposed to define a creed and establish boundaries. Republican leaders haven't done that. Now the old pious cliché applies:

First they went after the Rockefeller Republicans, but I was not a Rockefeller Republican. Then they went after the compassionate conservatives, but I was not a compassionate conservative. Then they went after the mainstream conservatives, and there was no one left to speak for me.
Perhaps not surprisingly, there hasn't been much discussion of Brooks' Op-Ed in the conservative blogosphere. The one post showing up on Memeorandum at the moment from a conservative blogger is by Erick Erickson wherein the CNN pundit/radio host/blogger bizarrely accuses Brooks of comparing the Tea Party to Nazis because of his use of a modified version of Martin Niemöller's famous quote about how German's intellectuals sat by and said and did nothing as the Nazis rose to power. Erickson doesn't address the merits of Brooks' argument at all, but this isn't entirely surprising. After all, the argument isn't really addressed to people like Erickson, it's addressed to the party elites who are looking at the political world that the Erickson's of the world have helped create and wondering what the heck happened to their party.
What stands out about Brooks' lamentation is the fact that it seems to be far too little, far too late because the problems that Brooks complains of go back far further than a mere five years. Where were they during the 90s when conservatives were pursuing bizarre conspiracy theories against the President and his wife? Where were they when the Bush Administration used a terrorist attack as an excuse to pass a PATRIOT Act that was little more than a wish list of law enforcement tools that had been requested for years, most of which have barely even been used in the pursuit of terror suspects over the past ten years? Where were they when discriminatory laws against gays and lesbians were used as a springboard to election victory in 2004? Heck, where were they when a supposedly conservative Administration increased government spending and power at a rate unseen since the Johnson Administration?
P.M. Carpenter has this rejoinder to Brooks' obviously rhetorical questions:
I can answer that, Mr. Brooks. They were lounging in their cloakrooms' soft-leather, wingback chairs, breezing their eyes across conservative columns that dwelled, for example, on socioeconomic functions of "happiness," rather than conservative columns that relentlessly smashed the emergency glass and frantically rang the alarm bell: Has this party gone fucking nuts — or what? Granted there have been a few conservatives, such as Andrew Sullivan, doing just that; but on the whole authentic conservatives have tended to sigh and tsk-tsk instead of unambiguously condemn.
By and large, that's exactly what pundits like Brooks have been doing this whole time. It was all well and good for them to spend the last five years or so writing columns that let them show off their intellectual skills, but while they were doing so all those events that they now say they lament were going on in their own party and they weren't saying much about it at all. Perhaps it's because they didn't want to get their names taken off the right guest lists for the right parties. Perhaps it's because they didn't want to burn bridges until they were sure which side was going to win the on going battle. Whatever the case was, it's kind of weak and hypocritical for them to be complaining now when they were silent for so long.
The other side of the coin, of course, are the "establishment" politicians in the GOP that are thinking the same thing that people like Brooks are now writing. They too remained largely silent while what Brooks calls the "wingnuts" took over the party. In some cases it was out of fear. After all, look at what has happened to those politicians who have dared to take on Rush Limbaugh, or the Tea Party, and call them out for their nuttiness. Of course, if more people were speaking out then it would've been harder to suppress the critics, so on some level you can criticize them for being cowards. Those who weren't afraid to speak out, of course, were silent because they enjoyed the political support that Republican alliances with these types of groups brought. Well, as the saying goes, they that sow the wind shall reap the whirlwind. It's kind of pathetic for politicians who have spent decades exploiting the far right for political gain to complain now when those forces are becoming dominant in their party. That's what you get for playing with fire.
James Joyner has expressed the hope in several recent posts here at OTB that the Republican Party will return to sanity at some point. Even if it takes an election cycle or two, I hope he's right because the one thing this country needs desperately is a strong two-party system populated by opposing parties that at least accept the idea that compromise is necessary. Right now, one of those parties has rejected that idea entirely and the current state of Congress is testament to the results of that attitude. But the blame for the current state of the Republican Party doesn't just lie with Sarah Palin, Michele Bachmann, and Rick Santorum. It lies with the party leaders and conservative pundits who let them get away with what they've managed to do over the past five years.
Rhinoceros in African sunset photo via Shutterstock