Hyperpartisanship Harms American Politics, And American Life
There's more to life than politics. Unfortunately, there are many Americans who don't seem to recognize that fact.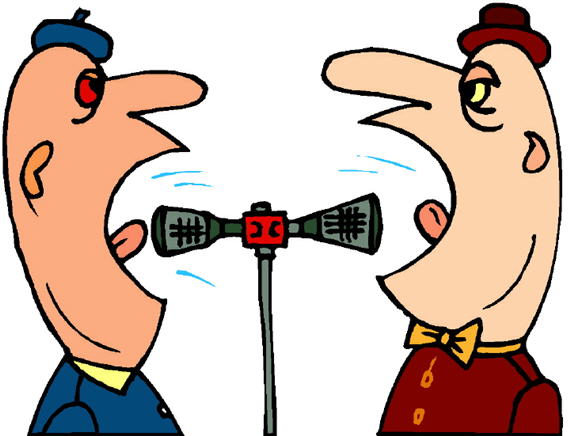 Prior to the elections, David Brooks lamented the phenomenon that he calls "partyism," and it has nothing to do with going out on Friday night and not getting home still Saturday morning:
In a Bloomberg View column last month, [Cass] Sunstein pointed to polling data that captured the same phenomenon. In 1960, roughly 5 percent of Republicans and Democrats said they'd be "displeased" if their child married someone from the other party. By 2010, 49 percent of Republicans and 33 percent of Democrats said they would mind.

Politics is obviously a passionate activity, in which moral values clash. Debates over Obamacare, charter schools or whether the United States should intervene in Syria stir serious disagreement. But these studies are measuring something different. People's essential worth is being measured by a political label: whether they should be hired, married, trusted or discriminated against.

The broad social phenomenon is that as personal life is being de-moralized, political life is being hyper-moralized. People are less judgmental about different lifestyles, but they are more judgmental about policy labels.

The features of the hyper-moralized mind-set are all around. More people are building their communal and social identities around political labels. Your political label becomes the prerequisite for membership in your social set.

Politics becomes a marker for basic decency. Those who are not members of the right party are deemed to lack basic compassion, or basic loyalty to country.

Finally, political issues are no longer just about themselves; they are symbols of worth and dignity. When many rural people defend gun rights, they're defending the dignity and respect of rural values against urban snobbery.
To some degree, of course, the phenomenon that Brooks laments isn't entirely new. Partisanship and the tendency to use rhetoric that turns political opponents into not just people who disagree with you but actual enemies deserving of being ridiculed, demeaned, and insulted is as old as the Republic. You can find it in histories about the Election of 1800, the debates over slavery and its expansion that preceded the Civil War, the FDR era, and the Cold War era. To some degree, it is likely a natural outgrowth of the fact that politics can be an issue that arouses passion and commitment and that we humans tend to not always have the best control over our emotions. For the most part, of course, the disagreements tend to be more rhetorical than anything else, but they also manifest themselves in other way. As both Brooks and Suntstein note, it manifests itself in the way that people of a certain political ideology tend to only associate with people who agree with them. Sometimes, that is because of deliberate choices, sometimes it's just a side effect of the fact that we tend to select our friends based on a variety of common interests and that those interests usually end up including shared political and ideological outlooks.
At the same time, though, it is hard to deny Brooks' assertion that things have gotten worse in recent decades. No, we're not shooting at each other the way people were in the 1860s, but it seems undeniable that we've reached a point where partisanship is reaching a point where it seems almost impossible for people of opposing viewpoints to even think about sitting down, talking things out, and coming up with policies that nobody thinks are perfect but which at least address part of a given problem that's facing the problem. There was a time when that was possible, of course, and while it's important not to sugar coat those days by pretending that there wasn't bitter and strong partisan ship back then too, it's worth acknowledging that, for decades, Republicans and Democrats found a way to sit down and work together and that, while it still happens today it is so uncommon that it's actually news when it does.
Brooks lists some of the reasons he thinks "partyism" has become more severe than it used to be:
First, straight moral discussion has atrophied. There used to be public theologians and philosophers who discussed moral issues directly. That kind of public intellectual is no longer prominent, so moral discussion is now done under the guise of policy disagreement, often by political talk-show hosts.

Second, highly educated people are more likely to define themselves by what they believe than by their family religion, ethnic identity or region.

Third, political campaigns and media provocateurs build loyalty by spreading the message that electoral disputes are not about whether the top tax rate will be 36 percent or 39 percent, but are about the existential fabric of life itself.

The problem is that hyper-moralization destroys politics. Most of the time, politics is a battle between competing interests or an attempt to balance partial truths. But in this fervent state, it turns into a Manichaean struggle of light and darkness. To compromise is to betray your very identity. When schools, community groups and workplaces get defined by political membership, when speakers get disinvited from campus because they are beyond the pale, then every community gets dumber because they can't reap the benefits of diverging viewpoints and competing thought.
Interestingly, Brooks makes no mention of the factors that are usually cited in discussions about hyperpartisanship and the impact that it has had on politics and culture. Most prominent of those, of course, has been the shattering of the shared media and news culture that existed for the much of the 20th Century and, to some extent, before them. For decades, mass communication such as radio and television served as way of bringing everyone together even if they weren't physically together, principally because we were all basically consuming from the same media well. There were a limited number of radio networks that everyone listened to whether it was for entertainment or information, for example. Choices expanded somewhat with the development and spread of television, but for the most part there were few differences between the networks because they all needed to appeal as much of the same mass audience as possible, meaning that tailoring entertainment and news programming to specific audience wasn't really an option. The development of cable, however, was the beginning of the end of that era. Going forward, both entertainment and news and information program started to become more balkanized along ideological and other lines, and the same thing started happening to radio. Then, the rise of the Internet made it even easier for people to confine their consumption of news and information to those sources that just reinforce their pre-existing opinions. More importantly, the relative anonymity of the Internet, even when one is using their real name, makes it easy to be crude, rude, and insulting toward those who disagree with you. For many people those habits developed online seem to carry over into every day life.
In a response to Brooks, Jonathan Chait argues that it is entirely appropriate to judge people based on their political opinions:
It's okay to judge people's political values. It's not like the sports team you root for or even (exactly) like a religion, where you are mostly born into your loyalty. Politics expresses moral values.

That is precisely the attitude that troubles Brooks, who complains that "political life is being hyper-moralized." If you want to argue that partisanship is ruining American society via hypermoralization, consider some of the ways American political life has changed since the 1960s. It is true that, 50 years ago, hardly anybody objected to their child marrying outside their party. That is because the parties lacked ideological cohesion. The 1960s were when my liberal Democratic mother met and married my liberal Republican father. Their opposing voting habits did not create problems because they disagreed very little about policy. They're both liberal Democrats now.

American politics may have been much less partisan in the 1960s, but it was not lacking in hypermoralization. Indeed, it was far more violent. You had white supremacists murdering civil-rights activists in Mississippi, police brutalizing protestors in Chicago, and construction workers beating up hippies in New York City. That angry, hypermoralized politics took place outside of, or within, parties rather than between them.

There are millions of Americans who think it's okay to deny legal citizens their voting rights or force them to go without health insurance. Those people live in a different moral universe than I do. They're not necessarily bad people. (Lord knows the people who agree with me on those things are not all good.) But, yes, I believe their political views reflect something unflattering about their character.
I understand where Chait is coming from here, and to some degree I think he has a point. There are some areas where judging someone's politics would seem to be entirely appropriate when deciding whether or not to maintain a personal relationship, after all. To point out the extremes, I wouldn't want to associate with someone who was the modern day equivalent or a Nazi or a Communist, for example, and I'd have a hard time being friends with someone who not only opposed same-sex marriage, which I can understand even though I disagree with, but was actively campaigning to deny equal rights under the law to their fellow citizens based solely on something as irrational to me as religion. I probably would not have felt that way ten or fifteen years ago when public opinion on the issue was very different, but today, when the majority of Americans support marriage equality and same-sex marriage is legal in all but eighteen states out of fifty, the people fighting the rear guard action in a fight the outcome of which seems to be certain strike me as people who are just taking their position out of spite.
Some of Chait's examples, though, seem to be infected with the very hyperpartistanship that Brooks is arguing against. The fact that someone supports Voter ID laws doesn't mean that they intentionally want to deny people their right to vote, for example. No doubt there are many people who take this position because they believe that it will help the political party they support, and I find any position taken for that reason to be somewhat distasteful in any case, but its been my experience that the vast majority of the people who support these laws have honest beliefs about the integrity of the voting process and believe that Voter ID is the best way to address those concerns. Rather than dismissing their concerns as evidence of racism, which is obviously the implication that Chait wants us to draw by bringing that issue up, I would suggest that it's better to respect an honest difference of opinion and, if it's appropriate, address it with reasons why these laws might not work they way someone thinks they do rather than demonizing someone as a racist for believing that people ought to have to prove who they are before they vote. Similarly, most people who oppose something like the Affordable Care Act don't approach the issue with the conscious idea that they want to deny people health insurance or health care. Instead, they believe that the solutions proposed by those who support the PPACA or even something like single payer insurance are proposing ideas that do more harm than good. You may disagree with them, but Chait dismissing them as the does just suggests to me that he is so blinded by the smugness of his own self-assured belief that he is right that he can't accept the fact that reasonable people can disagree with him. That is the very partyism that Brooks and Sunstein are talking about, and the manner in which Chait seems okay with using it to cut off debate, and indeed friendships, stands as a perfect example of why they are right and he is wrong.
The bigger flaw in Chait's argument, though, is the assumption that politics ought to be relevant to every relationship we have in life. Does it really matter if the neighbor I share some beer with on a summer weekend disagrees with me on health care policy, Voter ID, foreign policy, any other political issue? Does it matter if they are a Republican, Democratic, or libertarian? I suppose if those were the only things in the world to talk about it would, but the fact of the matter is that there is a lot more to life than politics, and many more things people can have in common than political beliefs. Only someone who is so consumed by politics that it is all they talk and think about would think like Chait does, I would submit. Politics is an important subject, of course, and it becomes even more important when there are issues facing the nation over which people are sharply divided. However, politics is only one part of life and Brooks is correct that the manner in which many of us have let it become all consuming is, in the end, poisonous. Not only to our political culture in general, but to each of us who lets it happen in our personal lives.