Pursuing Impeachment Is A Moral Imperitive
The time for sitting on the sidelines is over. Donald Trump cannot be allowed to get away with his usurpation of power, his disdain for the law, or his continued policies that have damaged the country.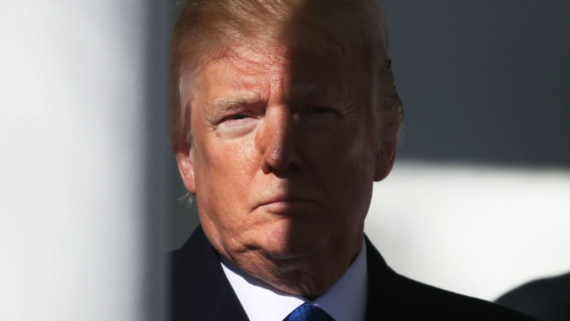 David Brooks argues in his most recent New York Time Op-Ed that, regardless of the seriousness of the newest allegations against the President, impeachment is a mistake. He starts out by admitting that Trump most likely did commit an impeachable offense by seeking to blackmail a foreign nation to assist him in undermining a political opponent, but then goes on to argue that actually impeaching him for that conduct is a bad idea:
Brooks' first argument is essentially a procedural one, that impeaching the President would be a pointless act because there's little chance that the President will be convicted in the Senate. The result is that the President will walk away from the impeachment in basically the same position that President's Johnson and Clinton did before him, and that he will claim to have been vindicated no matter how clear the evidence against him actually is. Both of these points are probably true, and they are admittedly ones that I've made before myself, and it was largely the basis for my previous position that impeachment should be avoided in favor of investigating the Administration and putting the evidence before the American people for them to decide as part of the 2020 election.
The events of the past two weeks, though, and the revelations we've gotten from the release of the President's phone call with Ukrainian President Zelensky, the whistleblower's complaint, and the Inspector General's report to the Acting Director of National Intelligence, have laid out a case that cannot be ignored. We have sitting in the White House a President who not only dismisses concerns about Russian interference but in fact seems to encourage such interference. Such a person must be impeached for the good of the nation. If he is acquitted by the Senate, then it will say more about Senate Republicans and their venality and contempt for the rule of law than anything else they could fo.
From there, Brooks goes on to make the utterly ridiculous argument that impeachment at this point would somehow be anti-democratic because, if it did succeed it would interfere with the voter's ability to make a determination about whether Trump should stay in office at the election. On a related note, he also argues that impeachment itself would interfere with the Democratic nomination process because it would overwhelm any policy discussion that might take place during the primaries.
The first point is, quite simply, an absurd one. There is nothing in the Constitution that says that Congresses duty under the impeachment clause doesn't apply in an election year. Interpreting it to say that, or that it doesn't apply in the final years of a President's second term, is to essentially say that a President can get away with wrongdoing by committing his crimes at a politically inconvenient time or that Congress is excused from its Constitutional duty by what year it happens to be. The second point is something of a non sequitur since Trump, his actions, and his disregard for the law are a significant part of the discussion among the Democratic candidates. That's going to be the case regardless of whether or not the President is impeached and put on trial in the Senate.
From there, Brooks goes on to argue that the American people don't want Congress to focus on impeachment:
Pelosi said she would not proceed with impeachment unless there was a bipartisan groundswell of support. There is no bipartisan groundswell, and yet she's proceeding. According to a Quinnipiac University poll, only 37 percent of Americans support impeachment.

The presidential candidates all report the same phenomenon. Voters are asking them about health care and jobs and climate change, not impeachment. This week, while all this was unfolding, I was in Waco, Nantucket and Kansas City. I had conversations or encounters with hundreds of people. Only one even mentioned impeachment, a fellow journalist.

There is a big difference between the conversation Twitter wants to have and the conversation the broader populace wants to have
This is a fair point, but Brooks obviously wrote this column before the recent polling, most of it released in the past week or so, that demonstrates a significant jump in the percentage of Americans who support the idea of opening an impeachment inquiry as well as polls showing that Trump seeking dirt on a political opponent from a foreign nation is a serious issue. For months now, pundits have been wondering if and when public opinion might turn around on this issue. The Russia investigation didn't exactly do it, neither did the Stormy Daniels/Karen McDougal scandal, or the Emoluments Clause issue. This issue, though, is an easy one to understand and one that is basically proven by the documents the White House itself has released. Additionally, while Congress should be careful about getting too far ahead of public opinion on this issue, there is also the fact that these members of the Hosue and Senate took an oath to "support and defend the Constitution of the United States against all enemies, foreign and domestic." There is no exception to that duty that says "only when it's popular."
Brooks next argues that impeachment would play into Trump's hands somehow:
Trump has no policy agenda. He's incompetent at improving the lives of American citizens, even his own voters. But he's good at one thing: waging reality TV personality wars against coastal elites. So now over the next few months he gets to have a personality war against Nancy Pelosi and Jerrold Nadler.
This is a fairly weak argument when you give it the slightest degree of thought. Brooks is right about Trump, of course, but the fact of the matter is that Trump is going to run the kind of campaign Brooks envisions here regardless of whether or not he's impeached. That's one of the reasons why a big part of the Democratic race revolves around the question of which candidate would be best at taking him on in the kind of one-on-one rhetorical battle that we know we're headed for. Regardless of her other qualifications, Hillary Clinton was especially ill-suited for this task, and that is arguably one of the many reasons she lost the election among those working-class voters in the Midwest she needed and neglected. If they are going to win in 2020, Democrats will need a candidate who can match Trump at this level. That was going to be true regardless of whether or not the House proceeds with impeachment.
Brooks next argues that proceeding with public cyncism regarding the political process. To be frank about it, the extent to which this President has poisoned the political process has made such cynicism inevitable so I'm not sure how impeachment is going to make that worse. Additionally, one could make the argument that failure to take the action that the Constitution allows in cases of Presidential wrongdoing as egregious as what we've seen here will do far more to increase public cynicism than moving forward on impeachment would.
Finally, Brooks argues that impeachment could end up embedding Trumpism even further into the GOP's soul:
If Trump suffers a withering loss in a straight-up election campaign, then his populist tendency might shrink and mainstream Republicans might regain primacy. An election defeat would mean the people don't like Trumpism. But the impeachment process reinforces the core Trumpist deep-state message: The liberal elites screw people like us. If Trump's most visible opponents are D.C. lawyers, Trumpism becomes permanent.
The deep flaw with this argument is that it ignores the fact that, as James Joyner and myself have both noted, Trumpism already is embedded within the Republican Party. Indeed, as I have argued one can look back at the history of so-called conservatism in the Republican Party and see that Trumpism is nothing but the apex of what conservatism has been turning into for the past quarter-century. From there, we saw it slowly evolve from what conservatism had been during the Cold War into a nationalist, xenophobic, anti-immigrant populism that it became. To some degree, that transition was slowed down by the election of George W. Bush, who was more of a traditional conservative, and by the September 11th attacks that turned the attention of the nation to threats from abroad. Once the immediate impact of those events wore off, and especially after Barack Obama became President. From there, it was a quick trip from the Tea Party to Sarah Palin and, from there, to Donald Trump. Trumpism is the Republican Party now, impeachment isn't going to make more likely something that has already happened.
Daniel Larison sums it all up nicely:
Trump committed an impeachable offense, and Brooks doesn't dispute that. The House has no choice but to do its job and impeach him for that misconduct. To argue for anything less is to tolerate a flagrant abuse of presidential power committed for personal gain. I fail to see how that is in the best interest of the country.
Larison is absolutely correct. Impeachment should always be the last option, but we've come to the point where it is a moral necessity. This President has obstructed justice with respect to the Russia investigation. His campaign may have attempted to collude with Russia to gain advantages in the 2016 election. One month before the 2016 election, he conspired with his personal lawyer Michael Cohen to buy the silence of two women with whom he had affairs while his wife was pregnant. He continues to violate the Emoluments Clauses of the Constitution. His Administration continues without reasonable justification to comply with duly issued subpoenas from Congress seeking to conduct their oversight responsibilities. And, now, we have proof that he essentially tried to blackmail a foreign country desperate for American aid to assist in finding "dirt" on a political rival. As I said earlier today on Twitter, Donald Trump is the clear and present danger that the Founding Fathers designed the Constitution to protect us from, that people like James Madison, Thomas Jefferson, and Abraham Lincoln, warned us about, and very much the threat that #NeverTrump'ers told you he would be. This is corruption of the highest order, it must be addressed, and impeachment is the manner the Constitution provides for doing that.