Moderation in a Polarized World
David Brooks tries to "describe what being a moderate means" in a way that most Americans would find puzzling.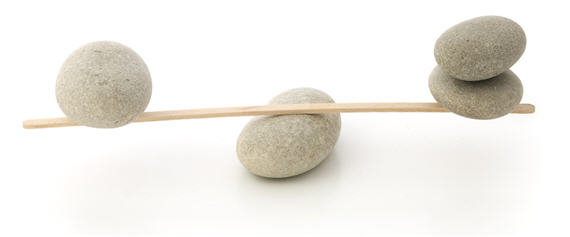 David Brooks tries to "describe what being a moderate means" in a way that most Americans would find puzzling.
First, let me describe what moderation is not. It is not just finding the midpoint between two opposing poles and opportunistically planting yourself there. Only people who know nothing about moderation think it means that.

Moderates start with a political vision, but they get it from history books, not philosophy books. That is, a moderate isn't ultimately committed to an abstract idea. Instead, she has a deep reverence for the way people live in her country and the animating principle behind that way of life. In America, moderates revere the fact that we are a nation of immigrants dedicated to the American dream — committed to the idea that each person should be able to work hard and rise.

This animating principle doesn't mean that all Americans think alike. It means that we have a tradition of conflict. Over the centuries, we have engaged in a series of long arguments around how to promote the American dream — arguments that pit equality against achievement, centralization against decentralization, order and community against liberty and individualism.

The moderate doesn't try to solve those arguments. There are no ultimate solutions. The moderate tries to preserve the tradition of conflict, keeping the opposing sides balanced. She understands that most public issues involve trade-offs. In most great arguments, there are two partially true points of view, which sit in tension. The moderate tries to maintain a rough proportion between them, to keep her country along its historic trajectory.

[…]

The moderate creates her policy agenda by looking to her specific circumstances and seeing which things are being driven out of proportion at the current moment. This idea — that you base your agenda on your specific situation — may seem obvious, but immoderate people often know what their solutions are before they define the problems.

For a certain sort of conservative, tax cuts and smaller government are always the answer, no matter what the situation. For a certain sort of liberal, tax increases for the rich and more government programs are always the answer.

The moderate does not believe that there are policies that are permanently right. Situations matter most. Tax cuts might be right one decade but wrong the next. Tighter regulations might be right one decade, but if sclerosis sets in then deregulation might be in order.
 Daniel Larison is not buying it.
Brooks' description of political "moderation" is quite misleading. What makes Republicans "moderate" in the modern American context is that they tend to disagree with the right on social and cultural issues while still disagreeing with the left on fiscal and economic ones, and the reverse is usually true for "moderates" or "centrists" among Democrats. This is not because they are free from a priori assumptions, but because they share assumptions on different sets of issues that are not normally supposed to "go together" according to standard partisan or ideological definitions.

Brooks clearly does believe that some policies are "permanently right." There are no circumstances in which Brooks would think that a reduced U.S. role in the world is acceptable, and there are no circumstances in which he would conceivably oppose a free trade agreement. I have difficulty imagining a scenario in which Brooks would say that immigration had reached a point where it needed to be reduced. Perhaps he doesn't speak for most moderates, but he is a good example of how self-described moderates often endorse status quo policies.
Regular OTB commenter John Personna weighs in on Brooks' side in Larison's comment section:
I very much liked Brooks' article. Sadly I should resign myself that most policy activists will just not get it. They don't have the balance necessary. They are driven by, if you pardon the word, imbalance.

Their world revolves around ideology trumping pragmatism, and so they must suspect that every single pragmatist is a closet ideologist.

I don't believe that's true. I think some of us can accept that we are a diverse society, and that the best solutions work for as many of us as possible. It is a problem of population dynamics overarching the question of individual philosophy.
Larison's right here. Brooks is, at best, describing intellectual honesty, not ideological moderation. More likely, though, he's simply flattering those in his intellectual circles as more noble and literate than those who hold more traditional ideological alignments. But, at the end of the day, they're just as ideological as the people at whom they sneer.
The notion that there are a large number of politically engaged people whose primary interest is in "keeping the opposing sides balanced" or "keep[ing] her country along its historic trajectory" rather than advancing their own preferred policy agenda strikes me as absurd. While balance of power is an interesting international relations strategy, it's simply not how many people approach domestic politics.
What does exist is a class of people—and I'd put Brooks, Larison, Personna, and a large chunk of the OTB commentariat into it—who try to be intellectually honest and to maintain a genuine respect for those with different ideological viewpoints. While we maintain strong political views, we're open to persuasion and will occasionally shift long-held views in light of new evidence. Further, we understand that the two major parties necessarily caricature each other and over-emphasize their differences.
But Brooks' conceit that only moderates are "committed to the idea that each person should be able to work hard and rise" is just silly. That view is almost universal among Americans. Rush Limbaugh and Keith Olbermann agree on that. The difference is in how to achieve that goal, with hard core conservatives arguing that government interference is the chief impediment while hard core liberals argue that government is needed as a referee to ensure it happens. Most of us, including loyal partisans, reject the extremes, figuring that some government oversight is necessary to overcome the vagaries of life while too much regulation stymies creativity and incentive.
Similarly, almost all Americans are "moderates" if we define the term along the lines of thinking "Tax cuts might be right one decade but wrong the next. Tighter regulations might be right one decade, but if sclerosis sets in then deregulation might be in order." According to that definition, Bill Clinton, Jimmy Carter, and George H.W. Bush are moderates.
Ditto "The moderate sees three big needs that are in tension with one another: inequality, debt and low growth. She's probably going to have a pretty eclectic mix of policies: some policies from the Democratic column to reduce inequality, some policies from the Republican column to reduce debt." Aside from the most rabid partisans, most of us pick some from Column A and some from Column B.
And Brooks got a big guffaw out of me with this one: "There are many moderates in this country, but they have done a terrible job of organizing themselves, building institutions or even organizing around common causes." Well . . . duh. Disagreeing with the extremes of both party platforms is by no means an organizing principle. By their own definitions, David Brooks, Thomas Friedman, and Mike Bloomberg are all moderates. Yet they have very little, indeed, in common around which to forge consensus.
Like JP, I fully "accept that we are a diverse society." But I'm not so sure that "the best solutions work for as many of us as possible." Indeed, I'm not even sure what that means. There's really no compromise solution on, say, gay marriage or abortion that's going to make the large preponderance of people living in both Oregon and Alabama happy. Old school federalism would leave those issues up to the states, allowing Alabama to be on one extreme and Oregon to be on the other extreme on those issues. But that really doesn't work in our modern world, where someone from Oregon could very well find himself in Alabama and vice versa. It just doesn't work to allow same-sex couples to be married in a handful of states and then have them considered not to be married if they get into a horrible accident while they happen to be passing through another state. Nor is there a "pragmatic" centrist position on those issues that can "trump ideology." If the central belief in your life is that a deity has set a code of behavior that you must abide by, there's really not a lot of room for " live and let live" or "well, whatever works."
It's easier to be pragmatic at the margins. It's difficult to argue that the top marginal tax rate that existed under Bill Clinton—much less Ronald Reagan—constitutes a degree of socialism that would undermine the fabric of our cherished way of life. Some have nonetheless managed. Still, it's very difficult, indeed, to get over the notion that the leadership of one party only cares about the rich whereas the leadership of the other party wants to punish success. And a political system that rewards pandering to the extremes makes it easy to "prove" those caricatures real.