2016 And The Politics Of Same-Sex Marriage
Republicans running for President need to tread carefully in their responses if the Supreme Court legalizes same-sex marriage nationwide.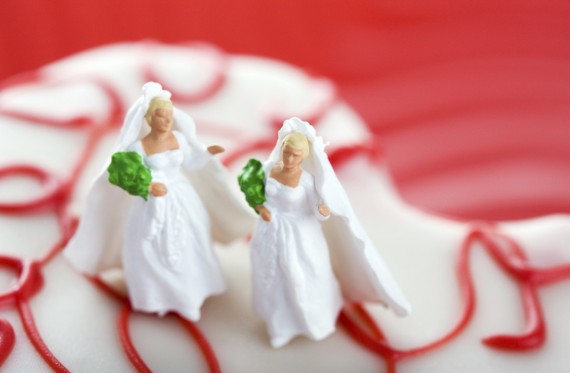 A new Quinnipiac poll shows that a majority of Americans would support a Supreme Court decision legalizing same-sex marriage nationwide:
A majority of American voters say they would back a Supreme Court decision to allow same-sex couples the constitutional right to marry, according to a national Quinnipiac University poll released Monday.

Among 1,711 registered voters nationwide, 56 percent said they would support such a decision, while 38 percent would oppose it. Among Democrats, 70 percent would back such a ruling, compared to 24 percent who would not.

Among independents, 61 percent would support a ruling, compared with 34 percent who would not. Republicans are the only subset who would oppose such a ruling, with only 34 percent responding that they would be in favor.

A Supreme Court decision in Obergefell v. Hodges is expected by the end of the month.
These numbers are consistent with other polling we've seen on this issue, including an NBC News poll released last month that showed majority support for the Supreme Court's expected decision, and a Gallup poll that showed support for same-sex marriage above 60% for the first time. In that sesne, I suppose, they really aren't much of a surprise. What makes them important, I think, is what they potentially tell us about how the politics of the Court's expected decision will likely play out after it is handed down later this month. To the extent that Republican politicians are even talking about same-sex marriage any more, and many of them are avoiding the subject altogether unless they are speaking to an audience that is explicitly socially conservative, they are avoiding the old rhetoric that we used to hear from the right and instead concentrating on two issues. The first, of course, is the "religious liberty" argument and the cases involving vendors who have run afoul of anti-discrimination laws when they refused to provide services for a same-sex wedding reception. As we learned in Indiana, though, that is politically dangerous given the fact that most Americans outside of that one segment of the Republican party oppose the laws that have been proposed to exempt those types of business owners from otherwise generally applicable laws. The second argument that some Republican candidates have been making strikes me as even more politically risky, though. Ben Carson and Mike Huckabee, for example, have argued that the states essentially have the right ignore the Supreme Court if it legalizes same-sex marriage. In addition to having no legal merit whatsoever, it strikes me that this is an argument that the American public is likely to reject overwhelmingly.
What poll numbers like this suggest is that Republicans will need to be very careful about how they respond to the Supreme Court's anticipated ruling. Because they are in the heat of a Presidential contest, the temptation will be to take the route that people like Marco Rubio, Huckabee, and Carson have taken and appeal to the hard-core socially conservative base of the party. While that may be a wise political decision in the short term for some of these candidates, it probably isn't going to go over very well in the long term among more socially liberal Republicans and Independents who will be voting not only in the upcoming primary contests but also in the General Election.
Mark McKinnon, who was behind John McCain's 2008 campaign and has since then been part of efforts to urge a more moderate tone in the Republican Party, makes this excellent point:
Negative national headlines on religious freedom continue to fuel a negative image of the entire party. Both in my private conversations with and in public (and private) polling, conservatives are moving ever closer to supporting full equity for LGBT Americans. Gallup's Values and Beliefs poll released last month showed a more than 20 percentage-point increase since 2001 in Americans (63 percent) who believe "gay and lesbian relations" are "morally acceptable". You don't get to a supermajority like that without Republicans. Even Texas conservatives support protecting gay and transgender folks from employment discrimination.

Republicans, like the rest of Americans, support nondiscrimination laws because most of us have gay family members, friends and co-workers and want to treat them as we would want to be treated. And having heard from moms and dads who want this great country to treat their gay child just like their straight child has been a powerful narrative. It really is all about family standing up for one another. Most people believe equality under the law can and does work well alongside protecting religious freedom — which must be and is protected, even cherished, in our Constitution.
McKinnon's fellow Republicans would do well to listen to him rather than to the voices from the far right that will try to push them into retrenchment in the months ahead.