Marco Rubio Thinks That Gay Marriage Is A Threat To 'Religious Liberty'
Marco Rubio seems to be in lockstep with the extreme social conservatives when it comes to same-sex marriage.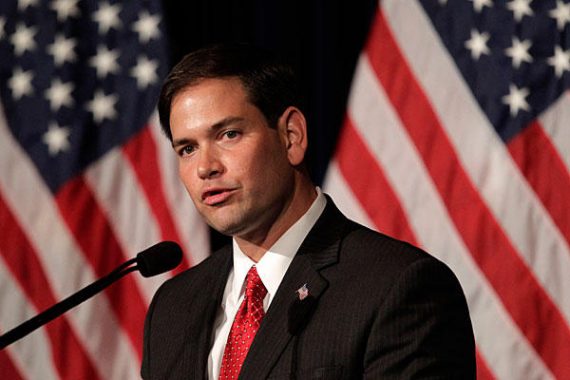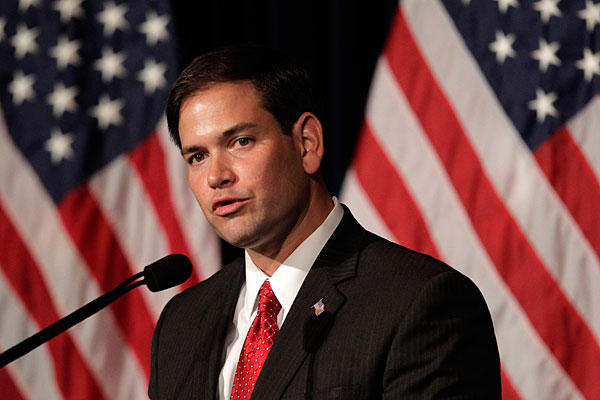 Earlier this week, Florida Senator and Republican Presidential candidate Marco Rubio argued that the increasing recognition of same-sex marriage, which seems likely to become nationwide when the Supreme Court rules on the matter in June, is the first step toward a war against all Christians:
Republican presidential candidate Marco Rubio told the Christian Broadcasting Network that labeling those who oppose same-sex marriage as a "hater" or "homophobe" could pose a threat to Christianity.

"We are at the water's edge of the argument that mainstream Christian teaching is hate speech, because today we've reached the point in our society where if you do not support same-sex marriage, you are labeled a homophobe and a hater," the Florida senator said. "So what's the next step after that? After they're done going after individuals, the next step is to argue that the teachings of mainstream Christianity, the catechism of the Catholic Church, is hate speech. And that's a real and present danger."

The remarks, posted Tuesday on CBN's website, came just weeks before the Supreme Court is set to rule on whether same-sex marriage is a constitutional right. Many legal experts believe the Court will invalidate gay marriage bans, in part because there are five justices who voted to advance gay rights as recently as 2013.

Rubio's comments appear aimed at the evangelical base, a core Republican constituency that remains strongly against same-sex marriage even as a growing majority of Americans wants it to be legal. That dichotomy makes it a thorny issue: respected party strategists, including Rubio's own pollster Whit Ayres, have warned that a candidate perceived as anti-gay won't be able to connect with voters under 30. The Republican National Committee warned in a brutally candid 2012 election post-mortem that the party must be more "welcoming and inclusive" when it comes to gay rights or "young people and increasingly other voters will continue to tune us out."

The rhetoric from Rubio, who is locked in a tough fight for the Republican nomination, was more aggressively in the CBN interview than last month when he was asked about the issue byMSNBC, a cable provider that attracts a largely left-of-center audience.

"Ultimately the decision on how we define marriage has always belonged to the states," he said in the April 14 interview. "If in fact, as the polls indicate, a growing number of Americans believe that marriage between two individuals of the same sex should be legal, then they can petition their state legislatures and change their state laws. And in fact, I suspect you'll see that happen. It's already begun to happen."
While Marco Rubio has not been the socially conservative firebrand that someone like Ted Cruz, Mike Huckabee, or Rick Santorum have been, statements like this on his part are not entirely surprising given some of his past comments on these issues:
He once similarly cited "intolerance" against opponents of marriage equality — labeling them as "a hater, a bigot, or someone who is anti-gay" — asserting, "This intolerance in the name of tolerance is hypocrisy."
He insists that people who disagree with him still have to respect him, insisting, "Just because I believe states should have the right to define marriage in a traditional way does not make me a bigot."
Even though Rubio believes that homosexuality is a sin, he claims that he does not "pass judgment on people."
In the same breath that he said that society should not "tolerate" allowing same-sex couples to marry, he claimed that it's "not a discriminatory thing."
He has cosponsored legislation that would allow government employees and business owners to refuse to recognize same-sex marriages for religious reasons with no penalty for the discrimination.
Rubio specifically told ThinkProgress that he does not favor "special protections" to ensure people are not fired just for their sexual orientation.
In addition to being consistent with his own past positions, Rubio's comments here are consistent with an emerging consensus on the right that seems to clearly indicate how they will respond in the event the Supreme Court does rule in favor of same-sex marriage next month. As we've seen in recent months in Indiana, Arkansas, and Louisiana, as well as in cases involving Christian business owners stretching back several years now, the argument now isn't so much against same-sex marriage itself as it is in favor of the argument that Christians ought to have the right to refuse to sanction or recognize such unions if they choose to do. One example of that idea can be found in North Carolina, where the Republican legislature passed a bill that would give government employees such as Court Clerks the right to refuse to participate in a same-sex wedding based on religious objections. That bill was vetoed today by the state's Republican Governor but may still become law if the General Assembly is able to override his veto. As time goes on, one can expect to see measures similar to this proposed in states controlled by Republicans, although one has to wonder whether that is the image the the party will want to present to the nation heading into 2016. At the very least, the massively negative public reaction to the passage of Indiana's Religious Freedom Restoration Act, which led to a quick decision to pass amendments to the law to make clear that it could not be used in a defense to claims of discrimination, along with polling on the issue, should make it clear that this is a huge political landmine for the GOP.
As for the substance of Rubio's comments, they strike me as being mostly nonsensical. In the broadest sense, the assertion that because someone opposes same-sex marriage for religious reasons they should be immune from being judged for that opinion is utterly absurd. Very few people I am aware of have said that people such as Rubio shouldn't be free to consider same-sex marriage immoral if and when it becomes the law of the land, so that's pretty much a straw man argument on his part. What Rubio and others appear to really be saying, though, is that they should be free to hold their opinions about same-sex marriage while at the same time being free from being criticized for those opinions. Tolerance and free speech do not mean that someone is immune from criticism, nor do they mean that someone who speaks out against someone who continues to say that gay marriage is immoral is being "intolerant" or oppressing anyone. Rubio and other social conservatives are free to believe whatever they want, but that doesn't mean that they are free from being criticized or free from the social consequences of expressing that opinion. In this respect, freedom of speech is very much a two-way street. It means that opponents of marriage equality are free to say whatever they want, but it also means that others are free to criticize them. As for arguments regarding business owners who discriminate against gays and lesbians being punished under the law, the answer there is to have an honest discussion about the reach and scope of anti-discrimination laws, not to give one group of people special exemptions from those laws based on religion.
Some analysts have suggested that Senator Rubio could be one of the handful of Republican candidates for President who will display an more open response to the Supreme Court's expected action in the same-sex marriage cases. Based on these remarks, though, it's pretty clear that he is more likely to fall in line with the hard-right social conservatives and double down on the rather ridiculous argument that granting people freedom and treating them equally is somehow a threat to religious liberty.