Majority Of Americans Oppose 'Religious Freedom' Laws
A new poll suggests that the American public does not support laws that give religious exemptions to businesses that want to discriminate based on sexual orientation.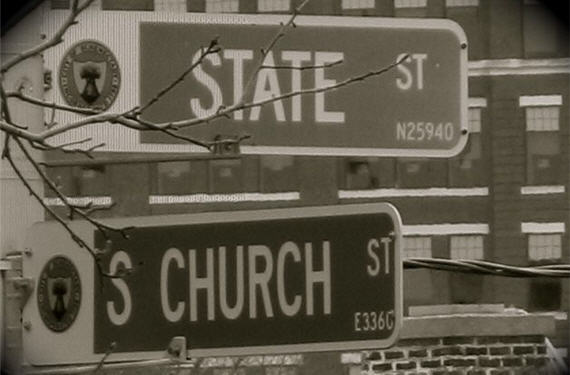 While the controversy over the RFRA-type laws that were recently passed in Indiana and Arkansas, only to be amended significantly after public protests and strongly worded protests from national and local business leaders has died down, the issue itself has not gone away completely and a new poll seems to suggest that most Americans oppose the idea of giving people religious exemptions that would allow them to discriminate against others:
(Reuters) – A majority of Americans believe businesses should not be allowed to refuse services based on their religious beliefs in the wake of controversies in Indiana and Arkansas over gay rights and religious freedom, a Reuters/Ipsos poll found on Thursday.

The poll, conducted April 6 to 8, also found that 52 percent of Americans support allowing same-sex couples to marry, far more than the 32 percent who oppose it.

The survey results suggest a split over the issue between Americans and some of the politicians who represent them.

Indiana's Republican governor, Mike Pence, triggered a firestorm in his state this month by signing a law that would allow businesses to refuse services to certain groups or people based on their religious beliefs.

Gay rights activists saw the law as discriminatory and the resulting backlash forced Indiana's state legislature to make changes to the law.

Days later, Arkansas's Republican governor, Asa Hutchinson, forced his state legislature to change a similar law in order to avoid having it blow up into a controversy in his state.

The poll found solid opposition to allowing businesses to refuse services or refuse to hire people or groups based on religious beliefs.

Fifty-four percent said it was wrong for businesses to refuse services, while 28 percent said they should have that right. And 55 percent said businesses should not have the right to refuse to hire certain people or groups based on the employer's religious beliefs, while 27 percent said businesses should have the right.
It's worth noting before we begin that previous polling on this issue has shown some different numbers. An ABC News/Washington Post poll in March 2014 found that less than 30% of those surveyed supported the idea that a business should be able to refuse to provide services for a same-sex wedding based on religious objections,  for example. In January of this year, an Associated Press poll found markedly different results, with a majority of respondents saying that businesses with religious objections should be free to refuse services for such a wedding. The most recent poll on the topic before the Indiana controversy, though, appears to be a September 2014 Pew poll which found Americans almost evenly divided on the issue. The differences between these numbers could be due to everything from differences in samples to how the questions were worded, but the fact that all of them were taken before the issue received the kind of coverage that it did last month suggests that they aren't necessarily as valuable in trying to figure out what the public thinks about this issue now.
The new Reuters poll also shows that a majority of Americans, 52 percent in this particular poll, supports the legalization of same-sex marriage, although only 34 percent believe that the Supreme Court should make it a right nationwide rather than leaving the matter up to the states or to Congress, although it's worth noting that this number is larger than the number of those who say it should be left up to the states or Congress and one-quarter of the respondents said that they didn't know what the best way to accomplish the goal was.  In any case, though, the numbers themselves do seem to be reflective of the generally increasing acceptance of same-sex marriage we've seen in polling for the past several years as well as the increased acceptance of gay and lesbian relationships in general. Given these facts, it's perhaps not too surprising that the public would be opposed to the idea of businesses being able to discriminate against people because of their sexual orientation or that they would be receptive to the argument that those businesses ought to have an exemption from laws barring discrimination on that basis if they claim that it would violate their religion. This seems significant given the fact that these are the same Americans who, time again, express an overwhelming belief in a God, and that American Christians are more likely to attend church regularly than their European counterparts.
If you dig deeper into the poll, of course, you find differences that are also entirely unsurprising. On the question of whether businesses should have a right to refuse services based on their religious beliefs, some 47% of Republicans support that position even though a majority of Americans, and 55% of Independents oppose it. Given the fact that Republicans remain one of the few demographic groups where a majority continues to oppose same-sex marriage, this isn't entirely surprising, and I would imagine that you might find stronger support for the idea of a religious freedom exemption in Republican dominated states such as Alabama and Mississippi. Nationwide, though, it seems fairly clear that the majority of the public is opposed to this idea and that Republicans who have been quick to rally behind it in the wake of the controversies in Indiana and elsewhere. While that position may play well with the party base, it seems likely to only contribute to the general perception that Republicans are out of step with the rest of the country on social issues.
Poll numbers like this don't necessarily mean that the debate over RFRA-type laws is over, of course. There is a bill that is arguably more extreme than the ones that became the point of controversy last month that will be considered by the legislature in Louisiana this month. Governor Bobby Jindal has indicated that he would sign the bill if it came to his desk, but given the fact that the bill has not really reached the point of national public attention yet it's not at all clear whether he or Louisiana's legislators will be able to withstand what is likely to be an onslaught of public and business pressure. It's also likely that there will be an increased push for these types of laws if, as expected, the Supreme Court strikes down the remaining state law bans against same-sex marriage later this year. That is likely to set off another round of political and legal fights that could last all the way through the 2016 election. For the moment, though, it seems fairly clear where the American people stand on this issue, how politicians react to that remains to be seen.
Update: There are similar results in a new YouGov poll:
Half of Americans think that business owners should be able to refuse service in most cases, except when it comes to certain groups like LGBT customers

Americans think business owners should have the right to refuse service to anyone and for any reason – but there are clearly limits.  Most Americans in the latest Economist/YouGov Poll – religious or not – think business owners should not have the right to refuse service to gays and lesbians even if those owners have "sincerely held religious beliefs."

Those who describe themselves as "very religious" are more likely to answer positively to both of those questions and say owners with sincerely held religious beliefs should be able to refuse service. But the pattern is the same: by 58% to 31%, the most religious say business owners should be able to refuse service to anyone for any reason, but only a third say business owners with "sincerely held" religious beliefs should be able to refuse service to gays and lesbians.
It appears we have a consensus.