Huckabee And Carson: States Can Refuse To Comply With Supreme Court Rulings On Marriage
Two Republican candidates for President say that Republican elected officials should simply ignore the Supreme Court if it strikes down bans on same-sex marriage.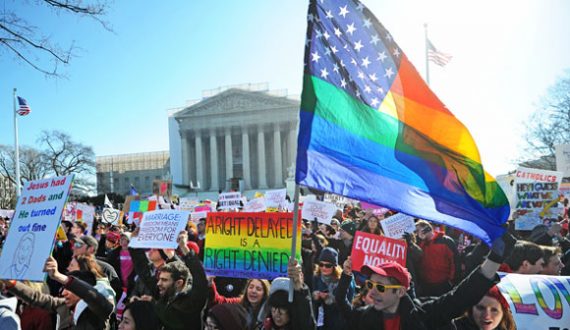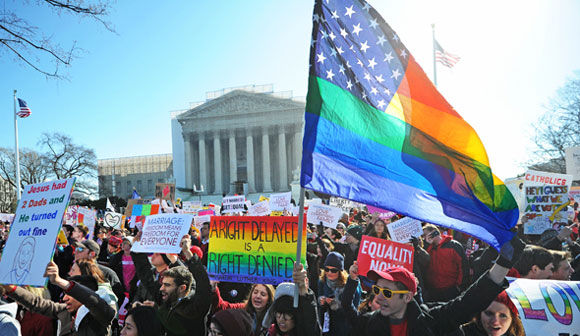 Republican Presidential candidate Ben Carson has a solution for social conservatives who are dreading the possibility that the Supreme Court will issue a ruling striking down state-law bans on same-sex marriage, he's telling them that we can all just ignore the Supreme Court:
Republican presidential candidate and tea party favorite Ben Carson said in an interview with Newsmax that the President of the United States doesn't have to follow the Supreme Court if the high court were to rule in favor of same-sex marriage.

"First of all, we have to understand how the Constitution works. The president is required to carry out the laws of the land, the laws of the land come from the legislative branch," Carson said on Tuesday. "So if the legislative branch creates a law or changes a law, the executive branch has a responsibly to carry it out. It doesn't say they have the responsibility to carry out a judicial law. And that's something we need to talk about."

Carson's comments follow the Supreme Court in April beginning to hear arguments in Obergefell v. Hodges, which concerns bans on same-sex marriage in Kentucky, Ohio, Michigan, and Tennessee. The nine justices seemed to split along party lines in the early arguments. If the high court were to rule with the plaintiffs, gay marriage bans across the country could be wiped out in one single wave.

Carson, as Right Wing Watch which flagged the Newsmax interview noted, has signaled support for impeaching judges who favor same-sex marriage.
Carson isn't alone in taking this position, either, because Mike Huckabee said pretty much the same thing during an interview on Hugh Hewitt's radio show:
Former Arkansas Gov. Mike Huckabee said the Supreme Court's coming decision on same-sex marriage won't be the final say on the matter, indicating the issue could still be front and center in the 2016 GOP presidential primary contest if Mr. Huckabee ultimately enters the race.

"I may be lonely, I may be the only one, but I'm going to stand absolutely faithful to the issue of marriage," Mr. Huckabee said on radio host Hugh Hewitt's show. "Not because it's a politically expedient thing to do, [because] it isn't. I'm going to do it because I believe it is the right position, it's the biblical position, it's the historical position."

(…)

Mr. Huckabee said the high court's decision still wouldn't necessarily be the final word."One thing I am angry about … is this notion of judicial supremacy, where if the courts make a decision, I hear governors and even some aspirants to the presidency say, 'well, that's settled' and 'it's the law of the land.' No, it isn't the law of the land," he said. "Constitutionally, the courts cannot make a law — they can interpret one and then the legislature has to create enabling legislation and the executive has to sign it and has to enforce it."

Mr. Huckabee said that "this idea that a judge makes a ruling on Friday afternoon and Saturday same-sex marriage licenses are being given out — that's utter nonsense because there's not been any agreement with the other two branches of government ."

He contended that state legislatures and governors would have to act.

"States would be in a position where their legislatures would have to go into session — they would have to create legislation that the governor would sign," he said. "If they don't, then there is not same-sex marriage in that state. Now, if the federal courts say, 'well, you're gonna have to do it,' well, then you have a confrontation. At that point, somebody has to decide, 'is the court right?' If it is, then the legislation will be passed."
Huckabee made similar comments earlier this week during an interview with Steve Deace, a prominent conservative talk radio host in Iowa:
In Letter from a Birmingham Jail, Martin Luther King, Jr. makes the case there comes a time when people of conscience have a moral obligation to practice civil disobedience against "unjust laws." Do you agree with that? For example, is there anything a court could try and impose upon you as a president that you morally would refuse to comply with?

Dr. King's letter quoted extensively St. Augustine, who developed the doctrine of just and unjust laws. And the necessity to not abide by unjust laws, which as Augustine and King both concurred, "Are not laws at all." Court decisions that defy the Constitution, or the laws of nature or nature's God, do not constitute a legal or moral obligation to comply. In addition, the Constitution doesn't recognize a court—any court, including the Supreme Court—as having absolute power to make a law. In fact, the false doctrine of "judicial supremacy" is in itself unconstitutional, and defies the balance and separation of powers clearly outlined in our law. Unless the people's representatives pass enabling legislation and a president signs and agrees to enforce it, there IS no law.
Both Carson and Huckabee are, of course, entirely wrong here.
While it is true that, at times, courts at the Federal and state level have ruled in a way that leaves it open to the legislature to craft a remedy, this does not mean that courts are without power to enforce their rulings. For one thing, when courts do defer to the legislature in this manner it is usually to give that body an opportunity to fix a defect in the law before the court steps in and rules on the matter itself. This has happened in the case of school desegregation, rulings regarding tax and fiscal issues at the state level, and in other areas that involve complex issues of public policy. It has also happened in some same-sex marriage cases at the state level, in Massachusetts and New Jersey, for example, where the Courts initially gave the legislature the opportunity to craft a remedy such as civil unions before handing down an all-encompassing ruling. Even in then, though, the court made it clear that it would step in again if the remedy the legislature crafted proved to be insufficient to meet the constitutional objections it had found. This is, ultimately, what happened in New Jersey.
This isn't the only way that a Court can enforce its rulings, though, and its hardly the most common. In most cases, if the Court finds that a state or federal law unconstitutional, it issues an injunction barring the enforcement of the statute and, in most cases, requiring state officials to act in a certain manner based on the Court's ruling. In those cases, the legislature is always free to go back and amend its laws to bring them into compliance with the Court's rulings, but that is not necessary to bring a court's rulings into effect. Instead, what happens is that the offending statute remains on the books but entirely unenforceable. For example, the Supreme Court struck down bans on interracial marriage in 1967 but it wasn't until a referendum in 2000 that the State of Alabama actually removed its laws banning those marriages from the books. More recently, the Court's decision in Lawrence v. Texas, which struck down state laws criminalizing sodomy, but many states still have those laws on their books even though they cannot be enforced.
If a state official refuses to comply with a courts rulings in these types of cases, or seeks to enforce a statute that has been declared unconstitutional, then the Court has the legal authority to issue further rulings seeking to enforce its rulings. This was, of course, quite a common practice during the Civil Rights Era due to the fact that government officials in the south and in other parts of the country were refusing to comply with Court rulings on school desegregation and other issues. In more than one case, of course, this required the Executive Branch to assist the Court in enforcement of its orders, such as when President Eisenhower sent Federal troops to Little Rock and Federalized the Arkansas National Guard in order to enforce court rulings on desegregation. Ultimately, the state officials seeking to defy the Supreme Court's rulings on this issue found that they had no option but to comply, although the presence of Federal troops on their streets was no doubt highly persuasive in that regard. Whatever the case, though, state officials who purported to ignore the Supreme Court's ruling on same-sex marriage would quickly find themselves in the same position as Orval Faubus, George Wallace, and others who thought they could get away with ignoring Court orders.
It would be easy to dismiss these comments as pandering on the part of Carson and Huckabee and, to a large degree, that's exactly what they are. At the same time, though, it's worth noting that what they are talking about is not something theoretical. It is something that has happened in our nation's past, and is happening right now. Just earlier this year, for example, when a Federal District Court Judge in Alabama struck down that state's ban on same-sex marriage, Alabama Supreme Court Chief Justice Roy Moore, who has a long history of defying Court orders, told the state's Probate Judges that they must defy the Court's ruling, a proscription that many of them chose to disobey. In response to that, the Alabama Supreme Court, led by Moore, issued a ruling that essentially said that the Constitution doesn't apply in Alabama. The final disposition of the situation in Alabama is up in the air pending what happens in the Supreme Court, but if the Justices rule as expected you can expect this issue to revive itself not just in Alabama, but potentially also in others deeply conservative states such as Mississippi and Louisiana.  It's clear what will ultimately happen, of course, but that doesn't mean we won't see people take the nonsense that Huckabee and Carson are spewing and seek to actually bring it about.