New Jersey Supreme Court Denies Stay Request, Same Sex Marriages To Begin Monday
And New Jersey makes 14.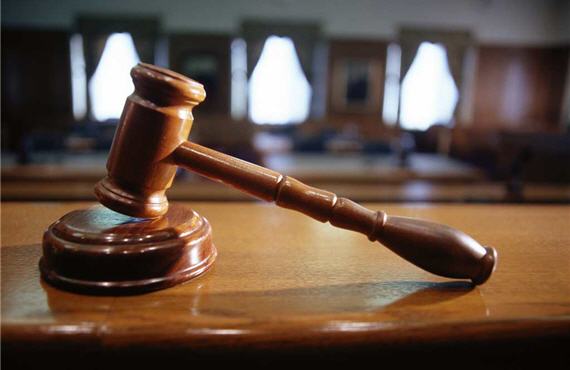 Last month a trial court judge in New Jersey declared that New Jersey's law that limited gay men and women to civil unions was invalid under the state's constitution and previous State Supreme Court precedent in light of the U.S. Supreme Court's ruling in United States v. Windsor. In short, the court had found that the fact that civil unions do not receive the same recognition under Federal Law that marriages do means that the civil union "solution" that the state legislature had come up with in response to a 2006 State Supreme Court ruling was no longer sufficient. Her ruling mandated that same-sex marriages would begin statewide on October 21st. Subsequently, the case was accepted for an expedited appeal by New Jersey's Supreme Court, skipping what would ordinarily be an intermediate level of appeal. The Court also took jurisdiction over the state's request for a stay of the trial court's order pending resolution of the appeal. This afternoon, the Supreme Court of New Jersey denied the request for a stay and ordered that same-sex marriages could begin statewide beginning on Monday:
Same-sex marriages can begin Monday in New Jersey on a provisional basis, the state Supreme Court ruled today.

The court will not make a final ruling on same-sex marriage rights until next year. But in the meantime, it upheld an order by a trial judge allowing civil marriages for gay couples to start Monday.

"The public interest does not favor a stay," the Supreme Court ruled in a 7-0 decision by Chief Justice Stuart Rabner today. "State officials shall therefore permit same-sex couples, who are otherwise eligible, to enter into civil marriage beginning on October 21, 2013."

Although the Supreme Court could change its stance later, for now, the decision is a victory for thousands of gay couples in New Jersey, who will be able to marry in-state for the first time starting next week.

And it's a setback for Gov. Chris Christie, an opponent of same-sex marriage who says only "one man and one woman" should be able to wed.

The Republican governor is challenging a lower-court ruling that legalized gay marriage in New Jersey last month, and had asked the Supreme Court to postpone the first same-sex weddings until he was finished appealing.
The fact that the Court refused to grant the stay isn't necessarily an indication of how they'll rule ultimately on the appeal, of course. In essence, all the Court is really saying here is that the state has not met its burden under the relevant precedents to show why a stay of the previous ruling is required. However, given the fact that we're talking about a trial court's interpretation of  one of the Court's own previous rulings, the fact that a stay was not granted is arguably, very significant and could be an indication of how this case will ultimately end up being decided.
One of the standards that the Court was required to consider in  connection with the stay application is whether the party seeking the stay has a stay that "rests on settled law and has a reasonable probability of succeeding on the merits." What the court has to say with regard to this is particularly instructive in that it essentially rejects each of the arguments that the state has made in favor of the stay and concludes that it has "not shown a reasonable probability or likelihood of success on the merits." Presumably, if the Court believed that there was even the slightest chance at this point in the proceedings that the state could succeed, they would grant the stay if for no other reason than to avoid creating a situation where same-sex marriage is legal in New Jersey for three or four months, only to be halted by a ruling from them that overturned the trial court's ruling. Today's opinion seems to suggest that this outcome would be rather unlikely, although I will again caution that it's entirely possible the Court could find a reason that the lower court ruling should be overturned.
All of that is for another day, though. What this means is that, starting on Monday, New Jersey will be, at least for the time being, the 14th state to recognize same-sex marriage. Newark Mayor, and Senator-Elect, Cory Booker has already announced that he'll be there conducting what are likely to be the first same-sex marriages in the state:
Before Senator-elect Cory Booker comes to Washington, he plans to start the ball rolling on marriage equality in New Jersey by marrying several same-sex couples at 12:01 a.m. Monday, Oct. 21, BuzzFeed has learned.

Multiple advocates in New Jersey confirmed that the Newark mayor who just won election to the Senate on Wednesday plans to conduct weddings in the first floor rotunda of Newark City Hall after the clock strikes midnight.

The only remaining question is whether the New Jersey Supreme Court will issue an order before then putting marriage equality on hold while it considers an appeal of the trial-court decision that led to Booker's plans.

According to information provided to BuzzFeed, wedding plans are moving forward at this time, with at least 10 couples and their families expected to attend the early Monday morning event.

The wedding planning is going into effect in Newark and other cities around New Jersey late this week as a result of Judge Mary Jacobson's decision on Sept. 27 requiring that the state allow same-sex couples equal marriage rights. In her ruling, she stated that "[s]ame-sex couples must be allowed to marry in order to obtain equal protection of the law under the New Jersey Constitution."

In order "[t]o allow the State adequate time to prepare to effectuate this ruling or to pursue appellate remedies," she wrote, "the court directs that it take effect on October 21, 2013."

(…)

Officials in Newark and a handful of other jurisdictions — including Asbury Park, Jersey City and Red Bank — have determined that Jacobson's ruling, absent a stay, means that same-sex couples are allowed to marry beginning Oct. 21 and, as such, they are beginning to accept applications for marriage licenses prior to that date.

Asbury Park administrator Terence Reidy, for example, told the Star Ledger on Thursday that Asbury Park would issue applications on Friday.

The various jurisdictions' plans are slated to go forward despite an email from a state health department official, reported by the Star Ledger as having been sent to municipal officials, stating that licenses are not to be issued "until you hear from this office that we have the authority to do so."

Reidy, however, told the Star Ledger, "Absent a legally binding order not to issue these applications, it is our understanding of the law, that we have the right and obligation to begin issuing applications tomorrow. Please be clear, this is not a act of civil disobedience, but rather our interpretation of what the law permits at this time."
In its order this afternoon, the Supreme Court of New Jersey specifically directs state officials to allow same-sex couples to marry beginning on Monday, so the doubts that were referred to in this article are pretty much moot at this point. Starting early Monday morning, same-sex marriage is the law of the land in the Garden State, and something tells me that isn't going to change after the Court issues its final ruling in this case.
Here's the opinion:
Garden State Equality et al. v. Dow et al Supreme Court Opinion on Stay Motion by dmataconis