Alabama Chief Justice: Ignore the Federal Court
Roy Moore is at it again.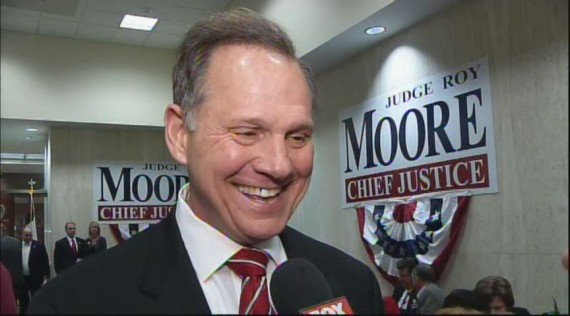 Via AL.com:    Alabama Chief Justice Roy Moore again advises probate judges they are not bound by same-sex ruling
Alabama Supreme Court Chief Justice Roy Moore has written an advisory letter and memorandum to the state's probate judges saying that they are not required to issue marriage licenses to same-sex couples despite the court ruling striking down the state's ban on same-sex marriages.

Moore's letter, dated today, repeats the earlier assertion he made — that state courts are not bound by federal district courts or federal appeals courts on questions of federal constitutional law.

"Interference with the right of state courts to make independent judgments based on their own view of the U.S. Constitution is a violation of state sovereignty," Moore wrote in the four-page letter.
For clarification sake, probate judges in Alabama are county-level officials who oversee things like vita records and such.
I would argue that Moore's interpretation of this situation is, to be kind, odd.  For example, I give you the Supremacy Clause (i.e., Article VI of the US Constitution, paragraph 2):
This Constitution, and the Laws of the United States which shall be made in Pursuance thereof; and all Treaties made, or which shall be made, under the Authority of the United States, shall be the supreme Law of the Land; and the Judges in every State shall be bound thereby, any Thing in the Constitution or Laws of any State to the Contrary notwithstanding.
Beyond that, it is hardly the case that state courts trump federal courts in terms of interpreting the federal constitution.
Keep in mind:  a federal court has declared Alabama's same-sex marriage ban unconstitutional (in a way that comports with a number of other such courts) and now the Court of Appeals has denied a stay of that order fully expecting the state to issue same-sex marriage licenses:
Granade, meanwhile, decided to let her stay remain in place until Feb. 9, as originally planned. The judge said probate courts need time to prepare to issue licenses to same-sex couples.
The notion that Moore thinks his role as chief administrator of state courts means he has the power to ignore both a federal district court ruing and a Court of Appeals affirmation that the ruling is to be enforced is highly problematic from a constitutional (and rule of law) point of view.
This is not the first time Moore has been in conflict with the federal bench, specifically he was removed from his position as Chief Justice of the Alabama Supreme Court when he refused to comply with a federal court order to remove a Ten Commandments monument from the lobby of the Supreme Court building which he had had installed.  Moore flirted with various electoral campaigns, including an attempt at the GOP nomination for governor in Alabama.  He eventually sought, and won, his old job as Chief Justice in 2012.
He has a very conservative (indeed, reactionary), theology-based view of the law.