A Night Of Terror In Paris
Reports of at least up to sixty dead, a hostage situation, and attacks at multiple locations in Paris.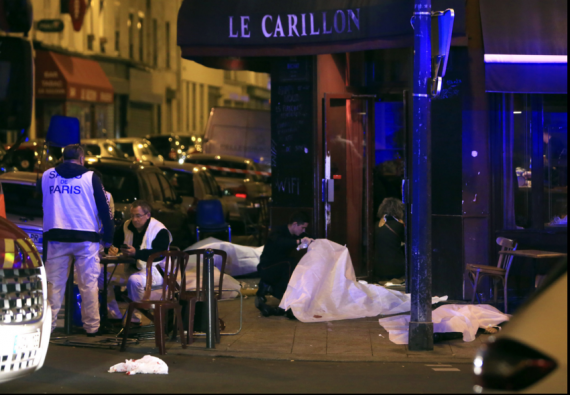 Paris, France is facing a night of what appears for all the world to be a coordinated series of terrorist attacks consisting of multiple shootings, possible explosions, and what appears to be a hostage situation at a concert venue where an American-based heavy metal band was performing are rocking the city:
PARIS — Shootings and explosions erupted in the Paris area on Friday night, and French news services said at least 39 people were dead, dozens wounded and others taken hostage in what appeared to be coordinated militant attacks.

French television reported that one of at least two explosions had struck near Paris at the country's main sports stadium, forcing the hasty evacuation of President François Hollande. The explosion occurred during a France-Germany soccer match.

The shooting broke out at a popular concert hall, The Bataclan, where a death metal band was playing, and the France 24 website said dozens of hostages had been taken there.

A witness quoted by BFM television said he heard rounds of automatic rifle fire and someone shouting "Allahu akbar!" at The Bataclan.

The police were ordering bystanders in the that area to get off the streets, French television reported.

Other news services and French television quoted the Paris police as saying 39 people had been killed in the 10th and 11th Arrondissements of Paris.

French news media reported that Kalashnikov rifles had been involved in the shootings — a favored weapon of militants who have attacked targets in France — and that many rounds had been fired.
At least 18 people have been killed in several shootings in the French capital, Paris, as well as explosions near the Stade de France.

French media say at least 15 people have been killed near the Bataclan arts centre. A hostage taking is under way, with reports of up to 60 held.

At least one man opened fire at a restaurant in the 11th district, causing several several casualties.

Three explosions are also reported outside a bar near the Stade de France.

France were hosting Germany in a friendly and the match continued. It has now ended

A BBC journalist at the Petit Cambodge restaurant says he can see 10 people on the road either dead or seriously injured.

He says police have now arrived and sealed off the area.

An eyewitness told Liberation he had heard more than 100 rounds being fired at a cafe in rue de Charonne.

There are reports of up to six gunmen involved.

Reports say French President Francois Hollande was watching the match at the Stade de France and has been moved to safety.

Mr Hollande and Interior Minister Bernard Cazeneuve have gone to the interior ministry.

There are reports of up to six gunmen involved.

Reports say French President Francois Hollande was watching the match at the Stade de France and has been moved to safety.

Mr Hollande and Interior Minister Bernard Cazeneuve have gone to the interior ministry.

CNN, meanwhile, is now reporting that up to sixty people are dead:

— At least 60 people have died in the attacks, CNN affiliate BFMTV reported.

— Counterterrorism officials around the United States have convened secure conference calls to try to gather information and to assess whether there is any indication of threats in the U.S, according to two U.S. counterterrorism officials. There is nothing to indicate any threat to U.S. cities so far. Immediate suspicion for the events in Paris falls to so-called returnees — people who have traveled to Syria and Iraq and have returned, the officials said.

— At least six shootings took place in Paris and three explosions took place at the Stade de France in Saint-Denis late Friday, CNN affiliate BFMTV said. Two or three gunmen entered the Bataclan concert hall while opening fire on law enforcement, BFMTV reported. A source earlier told CNN there were six to eight hostage takers, citing a person they were talking to inside the venue.

— CNN's Jim Bittermann, who is based in Paris, reports a producer who is at the Bataclan tells him that police are firing at a rooftop position near the venue.

— President Francois Hollande was evacuated at halftime of the France-Germany soccer match.

— Hollande, Prime Minister Manuel Valls and Interior Minister Bernard Cazeneuve are holding a crisis meeting at the Interior Ministry to address the attacks in Paris and the explosions in Saint-Denis, according to BFMTV.

— Paris police tell CNN there were three attacks. Attackers reportedly used AK-47 automatic weapons. There were one or two explosions at the Stade de France.
As noted, one of the attacks appears to have occurred outside the stadium where a soccer match was being played between the French and German national teams were playing, at which the President of France Francois Hollande was present before being taken to a secure location. Some reports are saying that these explosions were suicide bombers who exploded devices outside the stadium but that has yet to be confirmed. At the very least, though, at least some of the explosions can be heard in this Vine video from part of the soccer match:
Reported explosion can be heard in this vine during Germany/France friendly at Paris stadium: https://t.co/dKePiW6byC

— Austin Hunt (@AustinHunt) November 13, 2015
There are also reports of a hostage situation of a hostage situation at a theater where a concert was being held by an American rock band called Eagles of Death Metal and there are reports of people who say that they are inside the concert venue saying on social media that the hostage takers are killing people one by one as we speak. French police have apparently taken up position outside the theater but the situation inside is unclear and unconfirmed at this time. There are reports that at least 100 people are being held inside the theater and dozens dead and injured outside the venue. Obviously, the news above is already probably out of date, but it appears fairly clear that this is going to be a horrible night for the French people, and the rest of the world. If nothing else, these attacks bring to mind the 2008 attacks at multiple hotels in Mumbai, India and carried out by Muslim extremists linked to radicals in Pakistan. President Obama has just finished speaking from the White House press room offering American support to France as needed, and French President Hollande has declared a state of emergency and closed French borders, much like what happened in the wake of January's attack on the offices of the satirical magazine Charlie Hebdo that resulted in a search for the perpetrators that lasted for a number of days before it was completed. Here in the United States, it's being reported that security is being increased in New York City, Washington, D.C., and other potentially vulnerable areas if only as a precaution. Update: France24's live coverage of the ongoing attacks is available here, in English. Update #2: The Deputy Mayor of Paris reports on CNN that the siege that the concert hall is over, and says that he expect the death toll to rise "significantly" by morning:
"The assault by the police is over at Bataclan" Update from #Paris Deputy Mayor Patrick Klugman https://t.co/RmtB6YGtvl

— OutFrontCNN (@OutFrontCNN) November 14, 2015
And from the Deputy Editor of The Daily Beast a report from Agence-France Presse, that, if true, is horrifying:
AFP says 100 dead now.

— Michael Weiss (@michaeldweiss) November 14, 2015
Apparently, this is just from the concert hall alone according to reports:
#BREAKING Around 100 dead in attack on Paris concert venue: police

— Agence France-Presse (@AFP) November 14, 2015
Update # 3: French President Hollande is blaming ISIS for the attack and vowing revenge.
More updates if and when warranted, but obviously this is a story that will likely be unfolding over a number of days at least.