Terror Attack Kills 11 at French Satirical Newspaper Charlie Hebdo
At least 11 are dead and 10 wounded in an attack on free expression.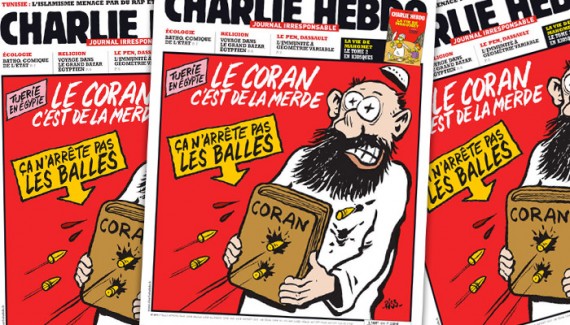 At least 11 are dead and 10 wounded in an attack on free expression.
Reuters ("Eleven dead, 10 wounded in Paris shooting: police"):
Eleven people were killed and 10 injured in shooting at the Paris offices of the satirical weekly Charlie Hebdo, already the target of a firebombing in 2011 after publishing cartoons deriding Prophet Mohammad on its cover, police spokesman said.

Five of the injured were in a critical condition, said the spokesman.

Separately, the government said it was raising France's national security level to the highest notch.
BBC ("Gun attack on French magazine Charlie Hebdo kills 11"):
Gunmen have attacked the Paris office of French satirical magazine Charlie Hebdo, killing 11 people and injuring 10, French officials say.

Witnesses spoke of sustained gunfire at the office as the attackers opened fire with assault rifles before escaping.

Police have launched a major operation in the Paris area in their hunt for the attackers.

Charlie's latest tweet was a cartoon of the Islamic State militant group leader, Abu Bakr al-Baghdadi.

The satirical weekly has courted controversy in the past with its irreverent take on news and current affairs.

The magazine was fire-bombed in November 2011 a day after it carried a caricature of the Prophet Muhammad.

President Francois Hollande is at the scene and is planning to hold an emergency cabinet meeting.

'Black-hooded men'

Two of those killed are police officers, France's AFP news agency reports, and five of those wounded are critically injured.

An eyewitness, Benoit Bringer, told French TV channel Itele: "Two black-hooded men entered the building with Kalashnikovs.

"A few minutes later we heard lots of shots."

The men were then seen fleeing the building.

"It's carnage," French police official Luc Poignant told another French channel, BFMTV.

Police have warned French media to be on alert and pay attention to security following the attack.
This is a breaking story and details are scant. The government has already declared this a terrorist attack. It is one of the deadliest in French history.
A Google Image search for "Charlie Hebdo" returns all manner of satirical cartoons, with all manner of targets across religious and political lines; there's plenty to offend everyone. Like the Danish Muslim cartoons controversy, where the publication of images making fun of the Muslim founder Muhammad in a Danish newspaper led to international rioting and mayhem killing more than 200 people, Western traditions of free expression and tolerance have come into violent clash with Islamist sensibilities.
UPDATE:  CNN ("At least 11 killed in shooting at office of French satirical magazine Charlie Hebdo"):
At least 11 people were killed and four were seriously wounded in Wednesday's attack at the satirical newspaper Charlie Hebdo in Paris, French President Francois Hollande told reporters.
"This is a terrorist attack, there is no doubt about this," he said.

The French government raised the country's security alert system to its highest level Wednesday after the attack, according to French media.

Two heavily armed men entered the Charlie Hebdo office and opened fire inside, SPG police union spokesman Luc Poignant told CNN affiliate BFMTV.

He said at least three police officers were injured. The Paris mayor's office said at least six people were wounded, according to BFMTV.

Hollande and other senior government officials were due to arrive at the scene of the shooting, BFMTV said.

A witness who works in the office opposite the magazine's told BFMTV that he saw two hooded men, dressed in black, enter the building with Kalashnikov submachine guns.

"We then heard them open fire inside, with many shots," he told the channel. "We were all evacuated to the roof. After several minutes, the men fled, after having continued firing in the middle of the street."

Witnesses also spoke of seeing a rocket launcher, according to French media reports.

It's not yet clear what happened to the gunmen or whether they remain at large. There has also been no claim of responsibility.
If witness accounts are correct, this almost certainly qualifies as a terrorist attack. It's politically motivated and organized, rather than the spontaneous act of a mob or the actions of a lone psychopath.