French President Blames ISIS For Paris's Night Of Terror, Vows French Response
France's President blames ISIS, vows response, as death toll from Paris terror attacks stands at at least 127.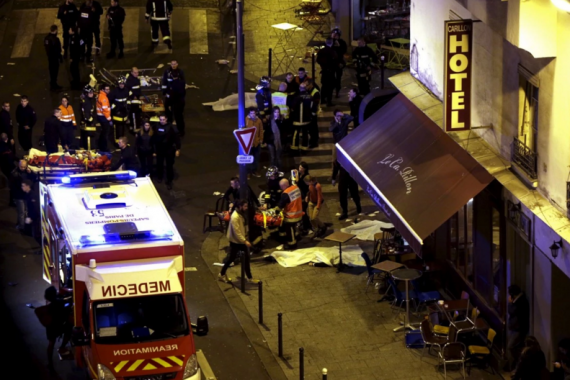 French President Francois Hollande, who was at the Stade de France stadium with tens of thousands of others watched a 'friendly' soccer match between France and Germany at the time last night's terror attacks began, is calling the attacks an 'act of war' by ISIS and vowed that France would respond:
PARIS — President François Hollande called the terrorist attacks that killed 127 people in Paris on Friday night an "act of war," and blamed the slaughter on the Islamic State.

"It is an act of war that was committed by a terrorist army, a jihadist army, Daesh, against France," Mr. Hollande said from the Élysée Palace, using an Arabic acronym for the Islamic State. "It is an act of war that was prepared, organized and planned from abroad, with complicity from the inside, which the investigation will help establish."

Mr. Hollande did not specify what intelligence the authorities had gathered to established the Islamic State's involvement.

The Islamic State on Saturday claimed responsibility for the attacks, calling them "miracles" in a statement released by one of its publications and distributed on Twitter — a claim that could not be independently verified.

Stricken with shock and grief, Parisians rose Saturday to a state of national emergency, with public transportation hobbled and institutions — schools, museums, libraries, pools, food markets — all closed.

The authorities continued to look for possible accomplices of the eight attackers known so far, all of whom died on Friday: seven by detonating suicide bombs and one in a shootout with the police at a concert hall, the Bataclan, where gunmen methodically killed at least 80 people.

Dozens of others died in apparently coordinated attacks outside the Stade de France, where the French and German soccer teams were playing an exhibition match, and four other restaurants and bars in the city. Nearly 200 others were wounded, at least 80 of them in critical condition, French television reported.

Foreign Minister Laurent Fabius, meeting in Vienna on Saturday with Secretary of State John Kerry and other top diplomats to discuss the crisis in Syria, said the attacks highlighted the urgency of the talks. "It is more necessary than ever in the current circumstance to coordinate the international fight against terrorism," he said.

The casualties, in what Mr. Hollande called an "unprecedented" assault, eclipsed by far the deaths in Paris during the massacre at the satirical newspaper Charlie Hebdo and related attacks around the French capital by Islamic militant extremists in January. His government announced sharply increased border controls and heightened police powers as it mobilized 1,500 soldiers to guard the capital.

The Friday attacks threatened to further traumatize France and other countries in Europe, elevating fears of religious extremism and violent jihadists who have been radicalized by the conflicts in Syria and elsewhere in the Middle East and North Africa.

And with the police still staking out the six crime scenes, France was left grappling once again for answers to a string of questions, beginning with who had carried out the attacks, whether they had accomplices who remained at large, and how a plot of such sophistication and lethality could have escaped the notice of the authorities.

"We are going to try to determine what happened, determine what the profiles of these terrorists are, find out what their course of action was, find out if there are still accomplices or co-attackers," said François Molins, the public prosecutor for Paris.

(…)

Despite the increased border security, air travel in and out of Paris appeared to be unaffected. Officials at Roissy-Charles de Gaulle Airport confirmed that flights had not been suspended, although security had been heightened significantly. Both departing and arriving passengers and baggage were being screened thoroughly.

Germany's interior minister, Thomas de Maizière, said early Saturday that he had offered to send military assistance to France if requested. "I am in close contact with my French colleague and have offered assistance through German special forces," he said in a statement.

Loretta E. Lynch, the United States attorney general, also offered help. "We stand in solidarity with France, as it has stood with us so often in the past," she said in a statement. "This is a devastating attack on our shared values, and we at the Department of Justice will do everything within our power to assist and work in partnership with our French law enforcement colleagues."

While the police in American cities, including New York and Washington, said they were following the events, there was no indication of possible attacks planned in the United States.

"We will not hesitate to adjust our security posture, as appropriate, to protect the American people," the F.B.I. and Department of Homeland Security said in a statement.

American and European counterterrorism officials were reviewing wiretaps and other electronic surveillance records, but a senior American security official said there was no immediate indication that there had been suspicious chatter or other warning signs before the attack.
Hollande's assertion of ISIS responsibility for the attack was seemingly confirmed not only after he spoke via a claim of responsibility for the attack via what purports to be a statement from the Islamic State itself, but it's worth noting that this doesn't settle the details of the matter by any means. The identity of the attackers has, of course, yet to be definitively established or at least released to the public, and it isn't even known at this point if the attackers who were apparently killed during and in the aftermath of the attacks last night were all of the people in the attacks, or if others managed to escaped. Also unknown is whether these attackers were French citizens who had visited ISIS controlled areas, non-French citizens who made their way to Paris from outside the country, or some variety of home-grown self-radicalizing terror cell that didn't really have formal connections to ISIS or any other radical group but was nonetheless inspired by them to carry out the attacks. Before I turned off the coverage last night, one expert mentioned that this last possibility seems unlikely given the apparent scope of the attack, the weapons and knowledge of explosive devices that would have been necessary to carry out the attacks, and the coordination of what were a number of attacks that began across a relatively widespread part of one sector of Paris at virtually the same time. That may or may not be the case, and it will be important to find out that answers to the questions before we can start talking about the proper response to the attacks themselves as well as measures that can be taken in the future to try to prevent them from happening again, whether in France, elsewhere in Europe, or here in the United States.
Turning back to the attacks themselves, the light of day is beginning to reveal the true level of the carnage and terror that Paris experienced last night.
As of this morning, the death toll stands at roughly 127 people, with dozens if not hundreds injured to varying degrees, but it is expected that the toll of the dead and injured will likely rise as the exact toll of the carnage is cataloged and made public. Depending on how you count them and group them together, it appears that there were roughly six separate attack areas, but as this map from The Washington Post shows, there seem to have been two main areas where the attack took place. The first was around the stadium where President Hollande was attending the Germany v. France soccer match, and where the suicide bombers apparently were. A French reporter on CNN this morning said that authorities were working on the theory that the original plan had been for the bombs to have been detonated inside the stadium among the crowd of tens of thousands watching the match and that the plan changed in the last minutes for some reason or another. That has yet to be confirmed, but if true then the change of plans likely cut down significantly on the casualties that the attacks inflicted, not to mention to panic that would have ensued among the crowd if that had happened. The second area of attacks was roughly grouped in the same neighborhood where January's attacks on the offices of satirical magazine Charlie Hebdo took place and included attacks on restaurants that involved gunmen walking in and, apparently calmly, shooting at patrons.
The bloodiest attack in this second area, though, occurred at the Bataclan, a theater that has operated in Paris since it opened in 1865, and what happened there defies both description and -contemplation: of what it must have been like for the victims
PARIS — The band had been playing to the crowd at one of this city's most popular music venues, the Bataclan, for about an hour. The 150-year-old music hall was sold out for the show by the American group Eagles of Death Metal.

Suddenly, four men brandishing AK-47 assault rifles entered the hall. There were shouts of "Allahu akbar" just before the gunmen opened fire, and for about 20 minutes there was carnage.

Witnesses said the attackers also threw grenades into the crowd.

"When they started shooting, we just saw flashes," a witness named Gwen told French BFM-TV. "People got down on the ground right away. It was all dark."

In the scramble to survive, people climbed into the upper boxes of the hall, or cowered under seats. The musicians quickly fled the stage.

"It was a scene of carnage," Julien Pearce, a radio reporter who was inside the Bataclan, told Europe 1 radio.

The music hall can seat up to 1,500 people, but it was unclear how many were inside when the attack began. Some of the spectators managed to escape out back exits, but for minutes the gunmen shot unimpeded.

Benjamin Cazenoves posted an update on Facebook from inside the theater: "Alive. Just some cuts. Carnage. Bodies everywhere."

Mr. Pearce told CNN that he saw two of the men enter and begin to fire randomly. He said the gunmen wore black and said nothing. They simply fired indiscriminately into the crowd. Mr. Pearce said that when he walked out into the street, he saw 25 bodies on the ground.

"It lasted for 10 minutes, 10 minutes, 10 horrific minutes when everybody was on the floor covering their heads and we heard so many gunshots, and the terrorists were very calm, very determined, and they reloaded three or four times their weapons," Mr. Pearce said.

At around 10 p.m. the gunmen began rounding up survivors, holding them as hostages as dozens of police officers massed outside. For more than two hours a tense standoff prevailed, with more and more police arriving at the scene, enlarging the tense perimeter around the music hall in the city's 11th Arrondissement.

"I saw these two crazy guys arrive — they started firing on everybody," a witness named Yasmine told BFM television. She heard one of the men shout, " 'What you are doing in Syria, you are going to pay for it now.' "

Yasmine began to cry as she recounted what she had seen. "I've never seen so many dead around me." She was shot in the foot.

With dozens trapped inside and the police massing for an assault, President François Hollande went on television to declare a state of emergency, his voice trembling.

All throughout central Paris sirens blared. At about 12:15 a.m. the police began their assault on the Bataclan. There were a few quick rounds of gunfire, several explosions, and then it was over.

Three of the attackers blew themselves up, according to French television, and one was shot dead by the police.

After the assault, television images showed hostages streaming out of the hall, some with their hands on their heads. Elsewhere, away from the venue, plastic sheeting covered bodies of some of the victims. The streets were thick with police and fire vehicles.
While there has apparently not been an official briefing from French police on the matter yet, one imagines that the reports about gunmen seemingly systematically executing the hostages inside the concert hall was a strong motivator to launch the police assault to end the siege rather than waiting the situation out as police might do in an ordinary hostage situation. It would seem, indeed, that the gunmen fully intended to kill everyone inside the hall rather than hold them hostage, especially since reports from some of the people who had managed to escape indicated that the attackers were not taking any steps to hide their identities, which suggested they either planned to get out after killing as many people as possible, or die trying to accomplish that goal. Had the police waited much longer, they might have succeeded in that goal.
At this point, there isn't much else to say about what happened in Paris last night that hasn't already been said. Going forward, though, it's likely to have a profound impact around the world. Assuming that the ISIS connection is accurate, and that seems to be a safe assumption at this point, then it would appear to be the third such attack outside ISIS-controlled territory in a very short period of time. While we still don't have confirmation, the initial reports that the Russian passenger plane that went down over the Sinai Peninsula two weeks ago was brought down by a bomb, most likely from an ISIS-sympathetic group based in the area, appear more and more likely to be true. Just a few days ago, there was a major terrorist attack in Beirut, which had largely been unscathed recently notwithstanding its proximity to ISIS territory and the Syrian civil war, that apparently has ISIS connection. And, now, we have this attack in Paris which is comparable to the London attacks on July 7, 2005 and the Madrid train attacks  on March 11, 2004, and of course bears a strong similarity in method of execution to the 2008 Mumbai attacks. There's no indication, of course, that these attacks have been formally coordinated, or even that they are directly connected. This may all be the work of independent ISIS-inspired groups working on their own, which is actually more concerning if it's true given the fact that such a situation becomes far more difficult to detect, punish, and even detect than something that originates from a centralized planning source. Whatever the truth behind it all ends up being, though, it seems likely that the pressure to "do something" that will be put on a number of nations around the world is going to increase. Whether that "something" is actually going to accomplish anything is, of course, another question.
Photo via Reuters