Canada Is One Step Closer To Marijuana Legalization
Pending the mere formality of approval by the Governor-General, Canada will soon become the largest nation in the world where recreational use of marijuana is legal.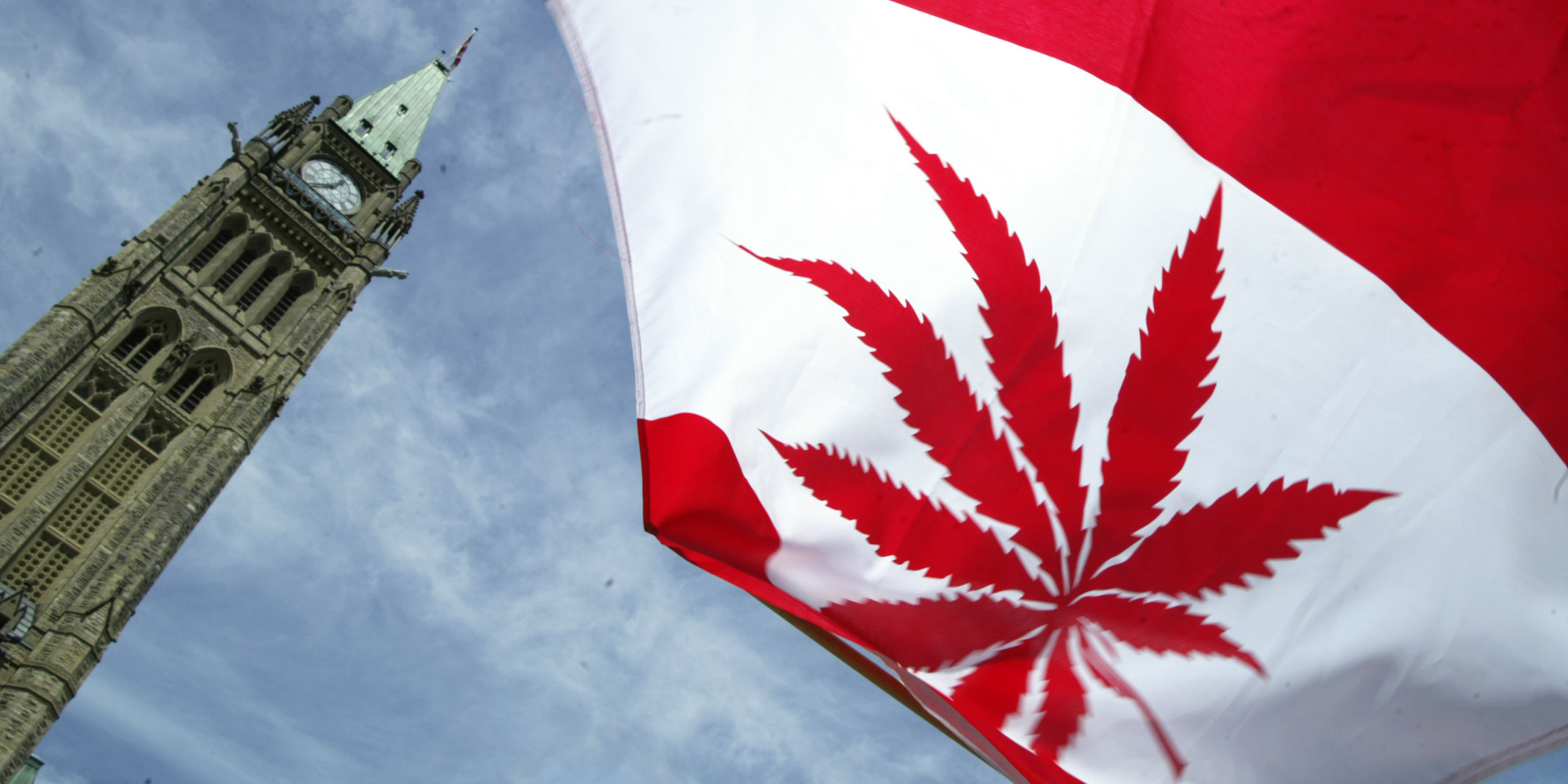 An affirmative vote in the Canadian Senate puts our neighbor to the North one step closer to legalizing recreational marijuana:
OTTAWA — Canada's Senate passed legislation on Tuesday that will make the country the first major economy to legalize recreational marijuana use.

The bill, which was approved by the House of Commons on Monday, goes next to the governor-general, the representative of Queen Elizabeth, as a formality. Once it is formally approved, the legislation is expected to create a multibillion dollar industry, with Canada joining Uruguay in allowing its citizens on a national level to use marijuana without fear of arrest.

"We've just witnessed a historic vote for Canada, the end of 90 years of prohibition," said Tony Dean, the senator who sponsored the bill in the chamber.

There remain significant concerns about the social and health effects of marijuana.

"Now we can start to tackle some of the harms of cannabis," Mr. Dean said. "We can start to be proactive in public education. We'll see the end of criminalization and we can start addressing Canada's $7 billion illegal market."

Prime Minister Justin Trudeau's government had originally hoped to have the legal sale of marijuana begin by July 1. But provincial governments will now need eight to 12 weeks to prepare retailing systems, government officials said.

On Twitter, Jody Wilson-Raybould, the justice minister, said the bill "will help protect our youth from the risks of cannabis while keeping profits out of the hands of criminals and organized crime."

The legislation was a signature piece of Mr. Trudeau's platform in the 2015 election campaign. The idea was rejected by the opposition Conservative Party in Parliament and was questioned by some of Mr. Trudeau's supporters. Polls indicate Canadians are divided on the initiative.

Senator Linda Frum, a Conservative, wrote on Twitter that the bill's approval was a "sad day for Canada's kids."

Mr. Trudeau and his cabinet members have argued that criminalization had failed, enriching organized crime while ruining the lives of people convicted of possession.
More from the Ottawa Citizen:
OTTAWA — Canadians will be able to legally purchase and consume recreational marijuana by mid-September at the latest after the Senate voted Tuesday to lift almost a century-old prohibition on cannabis.

Senators voted 52-29, with two abstentions, to pass Bill C-45, after seven months of study and debate.

Health Minister Ginette Petitpas Taylor has said the provinces will need two to three months after the bill is passed before they'll be ready to implement the new legalized cannabis regime.

"We have seen in the Senate tonight a historic vote that ends 90 years of prohibition of cannabis in this country, 90 years of needless criminalization, 90 years of a just-say-no approach to drugs that hasn't worked," said independent Sen. Tony Dean, who sponsored the bill in the upper house.

Canada is the first industrialized country to legalize cannabis nationwide.

"I'm proud of Canada today. This is progressive social policy," Dean said.

However, Dean and other senators stressed that the government is taking a very cautious, prudent approach to this historic change. Cannabis will be strictly regulated, with the objective of keeping it out of the hands of young people and displacing the thriving black market in cannabis controlled by organized crime.

"What the government's approach has been is, yes, legalization but also strict control," said Sen. Peter Harder, the government's representative in the Senate.

"That does not in any way suggest that it's now party time."

Conservative senators remained resolutely opposed to legalization, however, and predicted passage of C-45 will not meet the government's objectives.

"The impact is we're going to have all those involved in illegal marijuana peddling right now becoming large corporations and making a lot of money and they're going to be doing it at the expense of vulnerable people in this country," said Conservative Sen. Leo Housakos, predicting young people will have more — not less — access.

"When you normalize the use of marijuana and you're a young person and you had certain reservations because of the simple fact that it was illegal, there's, I believe, a propensity to have somebody be more inclined to use it."

But Dean countered that the Conservatives have been making the same argument since the bill landed in the Senate seven months ago, regardless of what they heard from expert witnesses. And he suggested that's because they received marching orders from Conservative Leader Andrew Scheer to do everything in their power to delay or block legalization.

"That tells me that maybe they haven't been open to learning and listening the way that other senators have in this place," he said of the Conservatives' unchanging position on the bill.
This bill that was approved by the Senate yesterday and by the House of Commons on Monday now goes to the Governor-General, the representative of Queen Elizabeth II in Canada, for final approval but, as is the case with legislation in the United Kingdom, this is a mere formality. When finally approved, the new law will fulfill a promise that Prime Minister Justin Trudeau's party made during the 2015 General Election. In April of last year, Trudeau's party put forward its draft of a legalization bill with the goal that legalization would be a reality by the middle of this year. While this late approval by the Senate means that the actual date of legalization will be delayed by a month or so, the process will nonetheless be complete and Canada will become the first large industrial nation to have legalized cannabis in the world.
The meaning of this change in the legal status of cannabis in Canada should not be underestimated. Once it takes effect, it will mean that the entire 5,525-mile border between the United States and Canada will be a gateway to an area where marijuana use is perfectly legal. Adding to this the eight states and District of Columbia where marijuana is currently legal in the United States, and we seem to be coming very close to what could be a political tipping point for legal marijuana. It should also be noted that, with the exception of Idaho, every American state that shares a border with Canada has either legalized marijuana or at least legalized it for medicinal purposes. It also means that marijuana use will be legal along the Pacific coast from Alaska all the way down to the U.S. border with Mexico. Additionally, this is all happening at the same time that polling indicates that support for marijuana legalization continues to rise. A poll conducted in May, for example, found that 63% of Americans support legalization. All of this points toward further momentum for legalization in the United States, even though it is still unclear how the Trump Administration is going to treat the issue of enforcement of Federal laws on marijuana in states where it has been legalized. At the start of this year, Attorney General Jeff Sessions announced that he was ending an Obama Era policy that essentially took a hands-off approach toward states that have legalized marijuana, but he didn't direct Federal prosecutors to pursue such cases in those jurisdictions. On the other hand, President Trump has made statements over the past several months in which he has expressed openness to a more laissez-faire approach in that area although he has not made any formal policy declaration in that regard.
As it stands, there are moves afoot to have initiatives legalizing marijuana on the ballot in several states for the 2018 elections, including North Dakota and Missouri. Other states could follow suit, or push the matter through their legislatures. Additionally, the New Jersey legislature is currently considering legislation to legalize marijuana in the Garden State but has not held a vote on such legislation as of yet. There are also reports of similar moves in other states. Much like same-sex marriage, the reality of nationwide marijuana legalization seems self-evident at this point, the only question is when it will happen rather than if it will happen.