Clinton Recovers In Latest National Poll, But Biden Is Rising
Hillary Clinton seems to be bouncing back from recent troubles in the latest national poll, but Vice-President Biden is starting to rise in the polls before even getting in the race.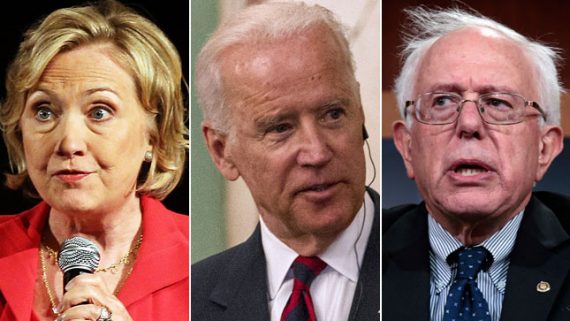 A new CNN/ORC poll shows that Hillary Clinton has seemingly bounced back from some of her recent problems to widen her lead over Bernie Sanders in national polling, but perhaps the most interesting thing about the poll is what it says about Vice-President Biden:
Hillary Clinton's lead in the Democratic presidential primary race has grown — and if Vice President Joe Biden decides to stay out of the race, her numbers would rise even higher, a new CNN/ORC poll shows.
Clinton is backed by 42% of Democratic primary voters nationally, compared to 24% for Vermont Sen. Bernie Sanders, 22% for Biden and 1% for former Maryland Gov. Martin O'Malley.

That's a marked improvement over an early September CNN/ORC poll that found Clinton leading Sanders, 37% to 27%, with Biden at 20%.

And Biden's support comes almost entirely from Clinton's camp. Without the vice president in the race, Clinton's numbers climb by 15 percentage points, while Sanders' increase by only 4 points — giving Clinton a nearly 2-to-1 lead at 57% to 28%, with O'Malley moving up to 2%.

While Clinton has led national polls, she has been found trailing in New Hampshire and at times in Iowa — two key early voting states. And her downward trend nationally — amid questions about her use of a private email server during her tenure as President Barack Obama's secretary of state — has fueled speculation of a late Biden entry, and provided the vice president with an opening even as he grieves the death of his son Beau Biden.
If these numbers hold, then we may be seeing the beginning of the point at which Vermont Senator Bernie Sanders' Presidential bid loses the momentum it has had since he entered the race in June. In that three month period, we have seen Sanders gain strength against Clinton first in New Hampshire, which at the time many observers dismissed as at least in part due to the fact that he has been a prominent figure in neighboring Vermont for decades, and later in Iowa and in the national polls. To some degree, Sanders rise has been due to the fact that the themes that he's been running on are ones that resonate with a substantial part of the Democrat Party. In addition, though, it seems clear that Clinton's troubles have largely been of her own making due to her campaign's hamfisted response to questions regarding her use of a private email server as well as the fact that Clinton's own campaign has not been running nearly as smoothly as many expected it to be. Now, though, we appear to be entering the time when Sanders is being viewed as something more than a curiosity, and at least some Democrats that have been supporting him seem to be recognizing that he would not be a viable nominee in 2016.
The most interesting thing about this poll, though, isn't so much Clinton's apparent bounce-back as it is the fact that Vice-President Biden has essentially drawn even with Sanders even though he currently isn't a candidate. In previous polling both nationally and at the state level, Biden was polling below Sanders, but at the still somewhat respectable level of ~10-15%. Now, we've got polling showing the Vice-President essentially tied with Sanders and, as we've seen before, hurting Clinton much more than he would hurt Sanders if he did get into the race. What this means for the possibility of Biden actually getting into the race is anyone's guess, though. As I noted this past weekend, Biden has given signals in both directions recently, and just yesterday his aides made clear that his wife was behind jumping into the race if that's what he chooses to do. Whether these latest poll numbers will cause the Vice-President to jump into the race is something only time will tell, but the time for him to make a decision is running out.