Further Signs Of Trouble For Rick Perry In ABC News Poll
Rick Perry continues to slip in the polls.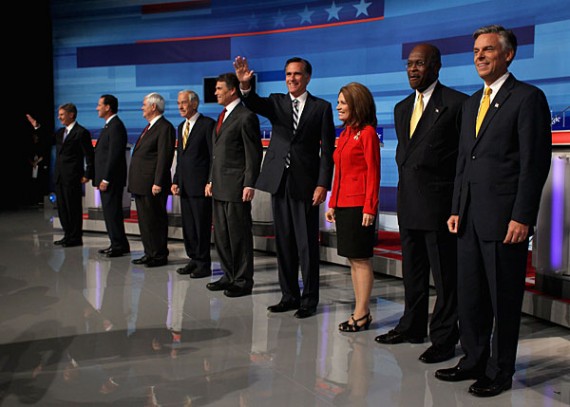 Following up on last week's Fox News poll, another national poll, a new ABC News/Washington Post poll shows Rick Perry has slipped out of his frontrunner status and is now fighting Herman Cain for second place behind Mitt Romney:
After a quick rise in the race for the Republican presidential nomination, Texas Gov. Rick Perry has experienced an almost equally dramatic decline, losing about half of his support over the past month, according to a new Washington Post-ABC News poll.

Perry's slide, which comes after several uneven performances in candidate debates, has allowed former Massachusetts governor Mitt Romney to resurface atop the GOP field. But the most direct beneficiary of the disenchantment with Perry is businessman Herman Cain, who is now tied for second place.

Perry also faces opposition to one of his signature immigration policies in Texas, the survey shows.

His rapidly changing fortunes underscore the fluidity of the Republican race and the lingering dissatisfaction with the candidates.

That has led some major donors and party leaders to urge New Jersey Gov. Chris Christie to declare his candidacy.

Christie is feverishly assessing whether to do so, with a decision expected this week. But the Post-ABC poll finds only modest public support for a Christie candidacy. About 42 percent of Republicans and GOP-leaning independents say they would like to see the New Jersey governor join the race. Thirty-four percent say no, with the rest offering no opinion.

That finding is far more positive than the receptivity to a candidacy by Sarah Palin. Two-thirds of Republicans say they do not want the former Alaska governor to seek the party's nomination.

Although not fully satisfied with their choices, Republicans are optimistic about their chances of winning the election. More than eight in 10 say the eventual GOP nominee is likely to beat President Obama next year. In the new poll, Obama's approval remained at a low point in his presidency.

Among announced candidates — without Christie or Palin in the race — Romney leads with 25 percent, which is identical to his support from a month ago. Perry and Cain are tied for second with 16 percent, numbers representing a 13-point drop for Perry and a 12-point rise for Cain since early September.

Rep. Ron Paul (Tex.) is the only other candidate in double figures, at 11 percent. Just behind him are former House speaker Newt Gingrich (Ga.) and Rep. Michele Bachmann (Minn.), both with 7 percent. Gingrich's support has held steady through the late summer. Bachmann's numbers fell sharply after Perry announced his candidacy.

Former senator Rick Santorum (Pa.) and former Utah governor Jon Huntsman Jr. bring up the rear, with Santorum at 2 percent and Huntsman at 1 percent.
Nearly all of Perry's fall can be attributed to the issues that have come up over the past months of debates, and for the most part his support seems to have drifted almost completely into Herman Cain's column:
Perry's support for the Texas policy of providing in-state tuition to the children of illegal immigrants appears to be a significant problem in the GOP race. About two-thirds of Republicans and GOP-leaning independents say they are less likely to vote for a candidate who backs such a policy. Among tea party supporters, nearly eight in 10 say this position is a negative factor.

The falloff for Perry against other announced candidates has been particularly steep among those aligned with the tea party movement. In early September, Perry had a 3-to-1 advantage over any other candidate among those "strongly" backing the tea party, but his supported has plummeted from 45 percent to 10 percent in this group.

Among all conservatives, Perry's support has been sliced in half, from 39 to 19 percent. Some of his decline may stem from shaky debate showings: A majority of Republicans and GOP-leaning independents who have watched recent debates say the more they hear about Perry, the less they like him.

Cain picks up where Perry has faded.

Seventy percent of those who saw the debates say the more they learn about Cain, the more they like him. Among tea party supporters, Cain's support has surged from 5 percent to 30 percent in a month. The businessman, who scored a surprise win at the Florida straw poll, now has the edge among solid tea partyers.
Gone from the top of the polls is the last Tea Party favorite that Perry vanquished almost as soon as he entered the race two months ago, Michele Bachmann. She's down in single digits now with the likes of Newt Gingrich and seemingly no longer a factor in the race. Instead, we've got Herman Cain rising in the polls, something he's experienced before. When Cain first entered the race in the late spring and participated in the first very early debates, he was able to parlay his Tea Party popularity into a pretty fast rise in the polls. It didn't last very long, though. His bizarre comments about Muslims, as well as several television appearances where he seemed to not even have a basic understanding of foreign policy issues certainly didn't help him. More importantly, though, his rag-tag campaign operation was no match for Michele Bachmann, who vaualted past Cain fairly quickly and managed to stay there until Rick Perry came along. Now, Perry and Bachmann have fallen and Cain is rising again. Will it amount to anything? I don't think so. Cain is likely to benefit from free media coverage for awhile simply because he makes for good television, but he still doesn't have the campaign infrastructure for the long haul.
As for Perry, the cause of his problems isn't all that hard to figure out. The debates raised questions in the minds of many Republicans about whether he'd be able to hold his own against President Obama in the General Election. His positions on issues such as immigration are out of step with many conservatives and, more importantly, he has not handled his response on those issues well at all. Calling your opponents heartless for disagreeing with you is not the way to engage voters who disagree with it. All it's likely to do is turn them off. The bad news for Perry is that this poll was mostly conducted before the hunting lodge story broke, so there's no indication that his slide in the polls is going to stop any time soon.,
Above it all, sits Mitt Romney, whose improbable strategy of sitting back and letting his opponents take each other out seems to be working so far:
Candidates come and go, but Mitt Romney stays … at 25 percent. The good news for Romney in the latest ABC News/Washington Post poll is that he is back on top of the Republican field, earning the support of 25 percent of leaned Republicans. The bad news for Romney is that is smack dab where he was one month ago … at 25 percent. He doesn't budge. Texas Governor Rick Perry lost 13 percent from his September numbers and now stands in a second place tie with Herman Cain, who jumped 12 percent.

One way to read Perry dropping 13 percent and Romney not moving at all is that some Republican voters might have decided they don't like Perry, but those voters didn't exactly flock to Romney.

Still Romney advisers are upbeat, saying "this is all good for Romney." One adviser stated while it is clear voters are looking around, "all of this is people who will come to Mitt."

There are signs in the poll that Republicans find Romney a tolerable, if not exciting candidate. In one measurement, 38 percent of voters say the more they hear about him the more they like him, compared to 35 percent who like him less.

(….)

Another sign that Romney is at least acceptable to a broad range of GOP voters? He is the leading second choice for voters who say their first choice is Sarah Palin, and also the leading second choice for voters who say Christie is their first choice. So Romney is the runner-up for both Palin and Christie voters, which is pretty good for him.

While Romney might not be lighting anyone on fire, one of his aides says that "it takes somebody to beat somebody." And lucky for him, nobody yet seems to be the "somebody" who is a breakout choice.
Romney might not be the GOP base's idea of the perfect candidate, but while they cycle through each flavor of the month he's the one guy who remains standing. In the end, that may be all he needs to to do.
Finally, there's the Christie factor. Sometime in the next 24-48 hours, we're likely to know whether the New Jersey Governor is indeed reconsidering his decision not to enter the 2012 Presidential race. Anyone is the media who says they have inside information about what's going on seems to be just blowing smoke because, at this point, nobody in Camp Christie is talking and the rumors that keep being floated keep getting knocked down. I still don't think he'll end up getting into the race, but this poll does show something interesting. He's already in the top four without even being in the race, and that's the number alot of people will be looking at. It's a good number, but it's entirely hypothetical. Once Christie got in the race and voters started learning about him, it's just as likely that his numbers would go down than that they would go up. As I've said before, running would be an incredible political risk for Christie.