The Herman Cain Boomlet
Herman Cain: candidate du jour or something more permanent?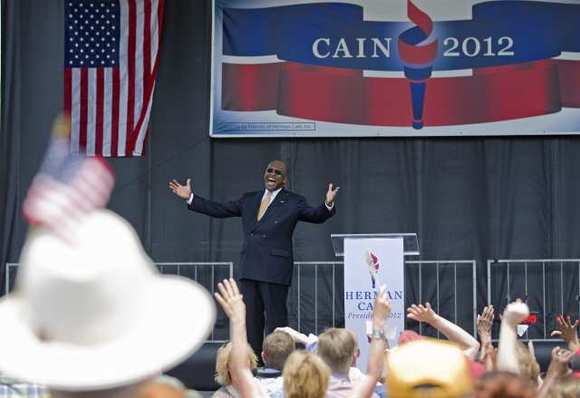 Dave Weigel calls Herman Cain's showing in a new poll "remarkable."
The numbers from Gallup:
Weigel notes:
Cain has come out of the gate making knowledge blunders (not knowing what the "right of return" is, for example), getting generally dismissive coverage. There is no team of reporters covering his every move on the trail, as there is for Huntsman. There's no massive scrum outside his appearances, as there is for Pawlenty. And yet he's outpolling Pawlenty.
I think that answer here is pretty simple: Cain is the flavor of the month (week?). There is a clear undercurrent of discontent amongst Republican voters and it would appear to be the case that some number of them are casting about for a candidate. I think this fact explains the Trump boomlet (at least in part—much of that was also name recognition), as well as the blip over Thaddeus McCotter (I actually had a friend e-mail me to ask me what I thought of McCotter as a candidate as he is otherwise unhappy with the field).
Cain is the latest new(ish) face on the scene, and so I am not surprised that he is getting a bit of a look at the moment. However, as I told another friend on Facebook the other day: this is the beginning of Cain's 15 minutes of political fame and I will be mildly surprised if he is on the ballot in New Hampshire.
The real story of these numbers, it seems to me, is that T-Paw finds himself with only 6% and Huntsman a meager 2%. Both are considered by much of the punditocracy as "serious" candidates, but those are far from serious numbers.
And yes, all "but it is early" caveats apply.
More on Cain's numbers from the LAT's Politics Now: Is Cain able? Herman Cain scores in latest presidential poll.
Two side thoughts:
1. I find it interesting that he is a talk show host, as it seems that partisan political punditry has become accepted as a major road for GOP hopefuls (e.g., Gingrich, Palin, Santorum, Huckabee). I would note that I think that this a problem for the party, as some of the least responsible people in public discourse at the moment, both intellectually and rhetorically, are talk show hosts and cable news commentators. As such, I would prefer not to cultivate political leaders in that particular field.
2. My knowledge of Cain is limited, although I have known of him for a while, and know that he has been a rising star in certain conservative quarters for a while. As such, I do not have a complete assessment of him. I will say however, that his Declaration/Constitution confusion drives me a bit nuts and leads me to think that his philosophic,al underpinnings are not as strong as he might think they are (which gets back to the talk show thing, in fact):
"We don't need to rewrite the Constitution of the United States," Cain said. "We need to reread the Constitution and enforce the Constitution."

"And I know that there's some people that are not going to do that. So, for the benefit for those that are not going to read it because they don't want us to go by the Constitution, there's a little section in there that talks about life, liberty and the pursuit of happiness.

"You know, those ideals that we live by, we believe in, your parents believe in, they instilled in you. When you get to the part about life, liberty and the pursuit of happiness, don't stop right there, keep reading.

"'Cause that's when it says that when any form of government becomes destructive of those ideals, it is the right of the people to alter or abolish it. We've got some altering and some abolishing to do."
(Source)
Ok, so we all misspeak and misquote. Sometimes the brain just takes you to the wrong place (I have done it on this very blog, and certainly have done it in class). However, not all errors are created equal. If one is admonishing the public about the need "to reread the Constitution and enforce the Constitution" then one had darn well better demonstrate one's understanding and vision of said document, rather than going on a multi-sentence rant about principles found in the Declaration of Independence.
To me this is part of what has become something of a sport in US politics (really, it is a long-standing tradition that seems to be more heavily in vogue than normal): the constant (yet utterly vacuous) exhortation of the Founders and Constitution in a way that only serves political self-aggrandizement.
Although Cain does have a point: perhaps there are a lot of us out there who need to read the Constitution.