GDP Growth Solid In Second Estimate, But Can It Be Sustained?
The new GDP growth estimate shows healthy economic growth in the second quarter, but it's unclear if it can be sustained.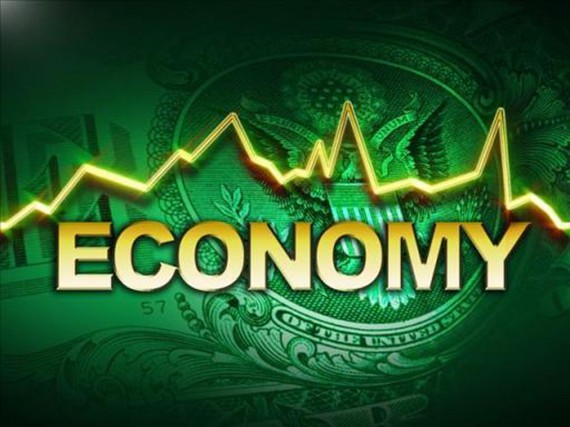 Yesterday, the Department of Commerce's Bureau of Economic Analysis reported that the growth in Gross Domestic Product had its highest level on a quarterly basis in more than two years:
Real gross domestic product (GDP) increased at an annual rate of 3.0 percent in the second quarter of 2017 (table 1), according to the "second" estimate released by the Bureau of Economic Analysis. In the first quarter, real GDP increased 1.2 percent.

The GDP estimate released today is based on more complete source data than were available for the "advance" estimate issued last month. In the advance estimate, the increase in real GDP was 2.6 percent. With this second estimate for the second quarter, the general picture of economic growth
remains the same; increases in personal consumption expenditures (PCE) and in nonresidential fixed investment were larger than previously estimated. These increases were partly offset by a larger decrease in state and local government spending (see "Updates to GDP" below).

Real gross domestic income (GDI) increased 2.9 percent in the second quarter, compared with an increase of 2.7 percent (revised) in the first. The average of real GDP and real GDI, a supplemental measure of U.S. economic activity that equally weights GDP and GDI, increased 3.0 percent in the
second quarter, compared with an increase of 2.0 percent in the first quarter (table 1).

The increase in real GDP in the second quarter reflected positive contributions from PCE, nonresidential fixed investment, exports, federal government spending, and private inventory investment that were partly offset by negative contributions from residential fixed investment and state and local government spending. Imports, which are a subtraction in the calculation of GDP, increased (table 2).

The acceleration in real GDP in the second quarter primarily reflected upturns in private inventory investment and federal government spending and an acceleration in PCE that were partly offset by downturns in residential fixed investment and state and local government spending and a deceleration in exports.

Current-dollar GDP increased 4.0 percent, or $189.0 billion, in the second quarter to a level of $19,246.7 billion. In the first quarter, current-dollar GDP increased 3.3 percent, or $152.2 billion (table 1 and table 3).
These numbers are up from the initial estimate that was released last month, which showed the economy growing at an annualized 2.6% during the period from April through June and primarily appears to be driven by increases in inventory investment and private domestic investment. For this last number, the initial estimate had shown annualized growth of two percent, and that came in the wake of a decline in personal investment in the first quarter. According to this new estimate, investment growth came in at 3.6%, nearly double the initial estimate. Additionally, these numbers are far better than the 1.2% growth rate we saw in the first quarter of the economy and could be an indication that we'll see stronger growth ahead. Maybe.
As I noted, this is the first time in two years or so that we've seen growth at or near three percent in any quarter in more than two years. As this chart shows, though, we've seen quarters where the economy has appeared to grow quite steadily in a given quarter only to weaken in subsequent quarters: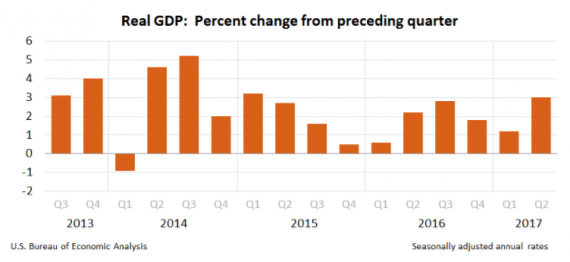 So, the question going forward is the extent to which the strong growth we apparently saw in the second quarter will be sustained going forward, and the extent to which it ends up being a one-time statistical blip much like the spurts of growth that are demonstrated by the chart above. A major part of that, of course, will include attempting to determine what impact Hurricane Harvey, which is now making its way east as a major rain storm that could impact much of the southeastern part of the country to the same extent it has impacted Houston and the surrounding areas. It's already been estimated, for example, that the storm could end up costing the country as much as $190 billion when all is said and one. Most immediately, though, Harvey's impact is showing up in the energy markets, where the impact of the closing of refineries in the area where Harvey hit is already leading to increases in the price of gas that will obviously have an impact on both consumers and businesses in a large part of the country. Since it can't be determined until the waters have cleared what type of damage, if any, the storm may have done to refineries and pipelines leaving the area, it's far too early to tell just what the impact of the storm will be, and how that could impact growth in the remainder of the current quarter and going forward into the future.
Quite obviously, President Trump touted these numbers yesterday during an appearance advocating for tax reform yesterday afternoon in St. Louis, but as The New York Times notes, three percent growth

The current recovery has entered its ninth year — long by economic standards — but it is showing some unexpected vigor.

The Commerce Department said on Wednesday that the economy had expanded at an annual rate of 3 percent in the second quarter of the year, better than initially estimated, and a substantial acceleration over the first quarter's lackluster 1.2 percent pace.

The revised figure is still well below President Trump's goal of 4 percent growth, but it is the economy's best quarterly showing in two years.

Mr. Trump talked up the latest figures in a speech on Wednesday in Springfield, Mo., laying out his plans for tax overhaul. Despite nearly uniform skepticism from mainstream economists, he insisted that much faster economic growth was within reach.

"I happen to be one who thinks we can go much higher than 3 percent," the president said. "There is no reason why we should not."

There are several reasons that his goal is probably far-fetched, namely the country's aging work force and slower population growth than in the past. Combine that with low productivity growth, and hitting Mr. Trump's target begins to look like a Sisyphean challenge.

The president also suggested that other economies overseas were growing at two or three times the American rate. "You look at other countries and what their G.D.P. is, they are unhappy when it is 7, 8, and 9," he said.

No major Western economy is growing close to that rate — and none has in years. The fastest-growing large economy, China's, grew 6.7 percent last year.

Still, with personal consumption accounting for nearly 70 percent of economic output, the new willingness of shoppers to open their wallets is a good sign.

"The economy is stronger than you think," said Chris Rupkey, the chief financial economist at Mitsubishi UFJ Financial Group in New York. "Bet on it."

The improvement was driven in large part by strong consumer activity, with purchases of durable goods like automobiles and appliances rising strongly. Increased business spending also helped lift the latest estimate above Commerce Department's initial reading of 2.6 percent for the quarter.

The surge in consumer spending stands in stark contrast with the problems plaguing brick-and-mortar stores like Sears and Macy's, which have been forced to close dozens of locations this year amid fierce competition from online retailers like Amazon.com.

The government's data reflects all purchases, whatever the retail channel, which explains why malls and street-level stores may be suffering even as consumers become more bullish and the broader economy powers ahead.

Most economists are expecting the economy to expand at a rate of roughly 3 percent in the second half of 2017. That pace should be strong enough to keep job growth and wages on track for further gains, while keeping the threat of inflation modest for now.
The Washington Post's Heather Long points to other reasons to be optimistic about the economy, at least in the short-term:
Forget the soaring stock market. Here's the real evidence the U.S. economy is getting better: Food stamp usage is down, and spending on entertainment — everything from Netflix to Disney World trips — is up.

The average American now spends more than $2,900 a year, a record high, on entertainment, according to data released Tuesday by the Labor Department. That's a good sign the middle class is feeling better about how much money is in their piggy banks.

At the same time, the number of Americans on food stamps is dropping rapidly, according to the latest report from on the U.S. Department of Agriculture, an indication the poor are finally seeing some benefits of the recovery too.

Food stamp usage spiked after the Great Recession when many Americans couldn't find jobs and struggled to eat. Nearly 48 million people relied on the Supplemental Nutrition Assistance Program (SNAP) in 2013, an all-time high. Since then, businesses have gone on a hiring spree. As more people get jobs, they are dropping out of SNAP, which is exactly what is supposed to happen.

There were 41.5 million people on food stamps in May, the latest month that data is available.

(…)

As for the middle class, the average American has been bumping up his or her spending on entertainment steadily since 2013. It has now surpassed pre-crisis levels of spending, according to the latest data for 2016, which the U.S. government released this week.

Entertainment spending is closely watched because it's the fun stuff. People don't have to spend on gyms, Netflix or going to a fancy new driving range. The fact that they are shelling out more is a good indicator that they feel more financially secure.
We'll get a better idea of what the state of the economy is meaning for the average American tomorrow when the jobs numbers for August are released. Last month's report for July, as well as the previous reports for June and May, showed healthily, but not exactly spectacular. jobs growth. Given these GDP number it will be interesting to see if the expanding economy is leading to an expansion in hiring, hourly wages, and hours worked. For now at least, though, this is a healthy GDP bumber, but whether it can be sustained is an open question.