John Kelly To Leave White House By The End Of The Year
This time, the rumors about John Kelly leaving appear to be true.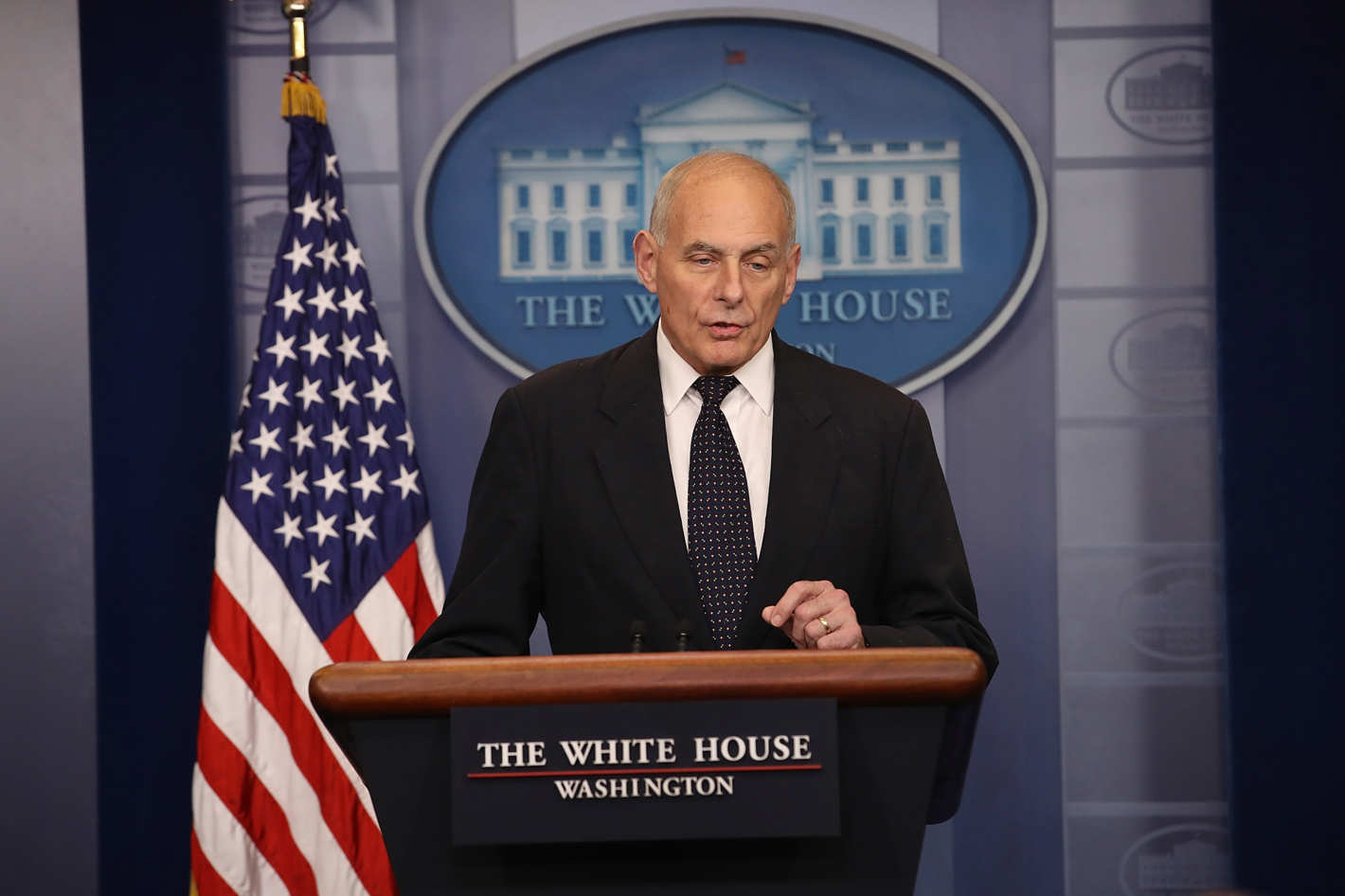 Seemingly confirming reports from yesterday, President Trump announced that John Kelly would be leaving the White House by the end of the year:
WASHINGTON — John F. Kelly, the retired Marine general tapped as chief of staff by President Trump last year to bring order to his chaotic White House, will leave the job by the end of the year, Mr. Trump said on Saturday, the latest departure from the president's inner circle after a bruising midterm election for his party.

Mr. Trump, speaking with reporters on the White House lawn before departing for the Army-Navy football game in Philadelphia, said that he would announce a replacement for Mr. Kelly in the next day or two.

"John Kelly will be leaving — I don't know if I can say 'retiring,'" Mr. Trump said. "But he's a great guy. John Kelly will be leaving at the end of the year."

The leading candidate to replace Mr. Kelly is Nick Ayers, Vice President Mike Pence's 36-year-old chief of staff and a Republican political operative, who possesses the kind of savvy about campaigns that Mr. Trump has craved. Mr. Kelly, a career military officer before becoming Mr. Trump's first homeland security secretary, lacked such experience.

Mr. Kelly's coming departure leaves Mr. Trump with an ever-shrinking team of close advisers as he begins to navigate the new power structure on Capitol Hill that will be ushered in next month when Democrats assume control of the House.

Although the president had made a display of saying that Mr. Kelly, 68, would stay through the 2020 re-election effort, the chief of staff was blunt with several people in the White House that he planned to make it only through the midterms.

Presidents typically make changes in staffing after midterm elections. During a wide-ranging news conference the day after the vote, the president deflected questions about the job security of Mr. Kelly and Jeff Sessions, the attorney general at the time. Mr. Sessions was forced out later in the day in a Twitter post.

"People leave," Mr. Trump said at the time, adding that he had not heard anything about Mr. Kelly leaving.

"It's a very exhausting job — although I love doing it, I must tell you — but it's exhausting for a lot of people," Mr. Trump said. "I'm surprised that a lot of people, they start off, they're young people. They're there for two years, and they're old by the time they leave."

Mr. Kelly's departure adds another prominent name to the list of core advisers who have left after trying to manage the president through his nearly two years in office, often finding themselves shunned and sidelined for their efforts.
Politico has more, and also reports that Kelly's most likely replacement is Nick Ayers, currently the Chief of Staff to Vice-President Mike Pence:
For the past month, Nick Ayers has been a White House chief of staff in waiting.

President Donald Trump informally offered Ayers a job as his top aide during a private huddle at an election night party in the White House residence last month. Several White House staff and advisers were within earshot and overheard the conversation, which included First Lady Melania Trump, and its details were described to POLITICO by two people briefed on them.

It seemed like a done deal, except for one complication: The position wasn't open yet. John Kelly was still hanging on to the job, however tenuously. White House officials now believe that will finally change, saying they expect Kelly to exit any day now.

That would seem to clear the way for Ayers. But the lag time allowed a month-long lobbying campaign both for and against the 36-year-old Ayers, currently Vice President Mike Pence's top aide. Ayers' detractors — who consider him nakedly ambitious and untrustworthy — have lobbied Trump against following through on the offer. Some top White House aides have even threatened to resign if he does.

"People are threatened by Nick's age and his reputation as this young political savant," said one former White House official. "He has the endorsements of Jared [Kushner], Ivanka [Trump], and Pence, but not a lot of fans beyond that. That's not to say the majority of the West Wing will empty out, but there are a few staffers who will leave because of him."

As a result, it is unclear whether Trump's offer still stands, although White House officials say that no clear alternative has emerged.

Ayers' boosters say he would be a perfect antidote to the political challenges of the next two years, including House Democratic investigations and a coming 2020 election campaign.

"The problem with Kelly is you just can't have the least the least political person in Washington holding the most political job in Washington. You need a bona fide Machiavellian killer. That is what the president needs by his side over the next two years," said a second former White House official in describing Ayers.

One White House official said he did not believe the Ayers opposition would sway the president, noting that Trump has a strong desire to install a more politically-minded aide as his chief of staff ahead of the 2020 reelection campaign.

Alex Conant, who worked alongside Ayers during Tim Pawlenty's failed 2012 presidential bid, praised Ayers on Friday as a results-oriented operative. (Ayers, who ran Pawlenty's campaign, was later criticized for his management.)

"If President Trump hires him, I expect it is because Nick is someone who runs a tight ship and will manage a team to get the results the boss wants," said Conant, now a partner at the firm Firehouse Strategies. "He'll be able to avoid some of the mistakes Kelly and [former chief of staff Reince] Priebus made. He also knows a ton of politicians, given the breadth of his experience over the last 15 years — not to mention, he is very popular with the donor class. Even though he is young, he brings a lot of to any institution."
Whether Kelly is replaced by Ayers or someone else seems as if it is unlikely to matter. When Kelly was moved over to the Chief of Staff position last year just six months after the start of the Administration, there were many who believed he'd be able to bring a chaotic White House under control At the start of Kelly's tenure, there were some signs that he'd be able to do just that. He was able, for example, to bring an end to the "open door" policy that had existed under Reince Priebus that allowed virtually anyone to get an audience with the President without clearing it through the Chief of Staff's office. Kelly also managed to regain the power traditionally granted to Chiefs of Staff when it comes to who could meet with the President and controlling the paper flow to the President under control to the extent that it became less common that papers or press clippings did not end up before the President without being reviewed by either the Chief of Staff or the Staff Secretary. Kelly also managed to push troublesome Presidential advisers such as Anthony Scaramucci, Steve Bannon, Sebastian Gorka, and Omarosa Manigault out the door.
As I noted just a month after Kelly had assumed his new role, though, it was rather obvious that Kelly could not control Donald Trump, and that this was having an impact on the White House's ability to advance any kind of coherent message. While Kelly hung on, there were persistent rumors that Kelly was close to being dismissed on several occasions and his continuing humiliation at the hands of the President made one wonder just how much longer he'd want to stay on the job. Earlier this year, meanwhile, it was being reported that Kelly had basically given up trying to control the President. Finally, as we approached the first anniversary of Kelly's appointment, things appeared to calm down, with Kelly announcing to White House Staff that he had agreed to stay on until at least the 2020 elections. Despite this assurance, the rumors about Kelly resigning have persisted as have the reports about frequent disagreements between Kelly and the President. However, given the number of times we've heard this rumor before, it's worth taking these latest reports with a grain of salt. Few people have been rumored to be on the way out more often than John Kelly. Eventually, I suppose, these predictions will turn out to be true but that doesn't necessarily mean it will be imminent.
Given this, it seems unlikely that Nick Ayers, or whoever succeeds Kelly, will be able to bring this White House under control, especially now that a President who rarely listens to advisers becomes even more convinced that what his "gut" tells him is more reliable than anything an expert might say. Add into this the fact that the White House is likely to become even more beseiged by the Russia investigation, and it's clear that Ayers will have his work cut out for him.