John Kelly Expected To Resign "Soon"
There's yet another rumor that White House Chief of Staff John Kelly could be on the way out.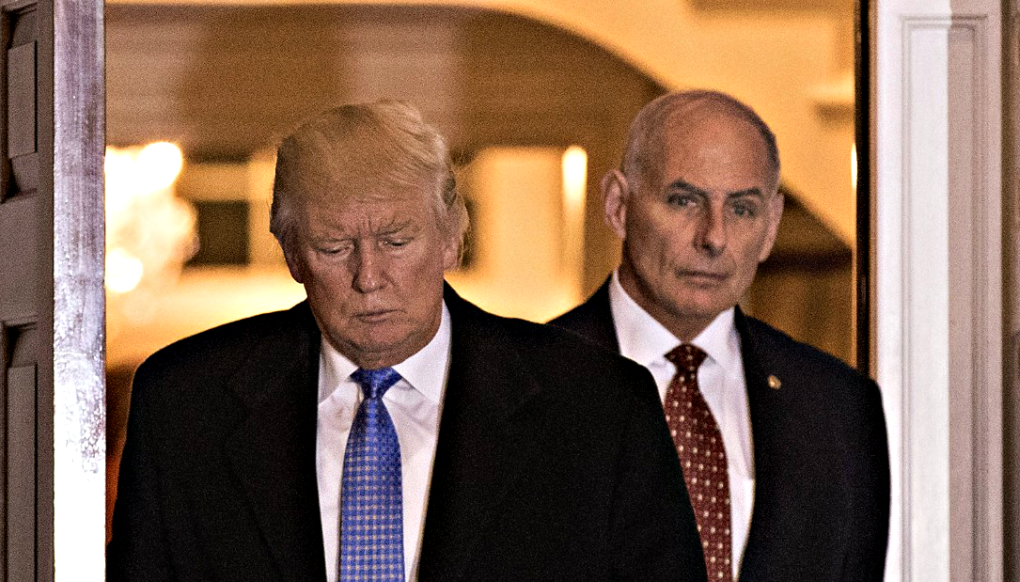 CNN is reporting that John Kelly's departure from the White House, which has been expected for some time now, could only be days away:
John Kelly is expected to resign as White House chief of staff in the coming days, two sources familiar with the situation unfolding in the West Wing tell CNN.

Seventeen months in, Kelly and President Donald Trump have reached a stalemate in their relationship and it is no longer seen as tenable by either party. Though Trump asked Kelly over the summer to stay on as chief of staff for two more years, the two have stopped speaking in recent days.

Trump is actively discussing a replacement plan, though a person involved in the process said nothing is final right now and ultimately it is up to Trump. Potential replacements include Nick Ayers, Vice President Mike Pence's chief of staff, who is still seen as a leading contender.

News of Kelly's imminent departure was first reported by Axios.
The idea of Kelly leaving White House is not a new one, of course, and for that reason, it's best to take these reports with a grain of salt to say the least. At the same time, it's been the case that Kelly's job as Chief of Staff has been a difficult one thanks in no small part to the fact that Trump himself does not appear inclined to listen to anyone who might try to tell him what to do.
At the start of Kelly's tenure, it seemed that he was succeeding in bringing at least some sense of order to an incredibly disordered and undisciplined White House. He was able, for example, end the "open door" policy that had existed under Reince Priebus and regained most of the power traditionally granted to Chiefs of Staff when it comes to who could meet with the President. Kelly also succeeded in getting the paper flow to the President under control to the extent that it became less common that papers or press clippings did not end up before the President without being reviewed by either the Chief of Staff or the Staff Secretary. Kelly also managed to push to the side troublesome Presidential advisers such as Anthony Scaramucci, Steve Bannon, Sebastian Gorka, and Omarosa Manigault,  the former Apprentice contestant who had bizarrely fallen into Trump's orbit and earned a position in the White House and who was dismissed from her position in what appeared to be unusual and dramatic circumstances.
Rather quickly, though, it soon became apparent that Kelly's ability to control the West Wing in general and the President specifically was, at best, limited. The first indication of that came in the wake of the racially tinged protest in Charlottesville last August that resulted in the death of a young woman at the hands of a white supremacist. In his initial response to the incident, Trump blamed 'both sides' for the violence and refused to directly condemn groups such as the Ku Klux Klan, which was present at the rally, or the broader so-called alt-right movement whose supporters made up the vast majority of the participants. While Kelly and others did convince the President to revise those comments with a statement that was more measured and emphatic than what he had said before. Days after that, though, Trump repeated his 'both sides' argument in a press conference at Trump Tower in New York that Kelly was present for, and then repeated them again a month later. In addition to that, Kelly's presence in the White House didn't stop the President from using his Twitter account to undercut the White House's agenda for a given week on a regular basis, nor did it stop the President from making controversial statements at political rallies that, like his Tweets, would divert attention from other issues that the White House wanted to advice. As I noted just a month after Kelly had assumed his new role, it was rather obvious that Kelly could not control Donald Trump, and that this was having an impact on the White House's ability to advance any kind of coherent message.
While Kelly hung on, there were persistent rumors that Kelly was close to being dismissed on several occasions and his continuing humiliation at the hands of the President made one wonder just how much longer he'd want to stay on the job. Earlier this year, meanwhile, it was being reported that Kelly had basically given up trying to control the President. Finally, as we approached the first anniversary of Kelly's appointment, things appeared to calm down, with Kelly announcing to White House Staff that he had agreed to stay on until at least the 2020 elections. Despite this assurance, the rumors about Kelly resigning have persisted as have the reports about frequent disagreements between Kelly and the President. However, given the number of times we've heard this rumor before, it's worth taking these latest reports with a grain of salt. Few people have been rumored to be on the way out more often than John Kelly. Eventually, I suppose, these predictions will turn out to be true but that doesn't necessarily mean it will be imminent.
Update: NBC News is now reporting that its own independent sources are confirming Kelly's imminent departure:
White House Chief of Staff John Kelly is expected to depart from his role in the coming days, four sources close to the process tell @NBCNews. pic.twitter.com/y9o4Y6rVtS

— MSNBC (@MSNBC) December 7, 2018
That's three news agencies, Axios, CNN, and NBC, that are reporting Kelly's imminent department. This time it could be for real, folks.