Majority In New Poll Believe Trump Is A Racist
A new poll has a majority of respondents saying the President is a racist. He won't care.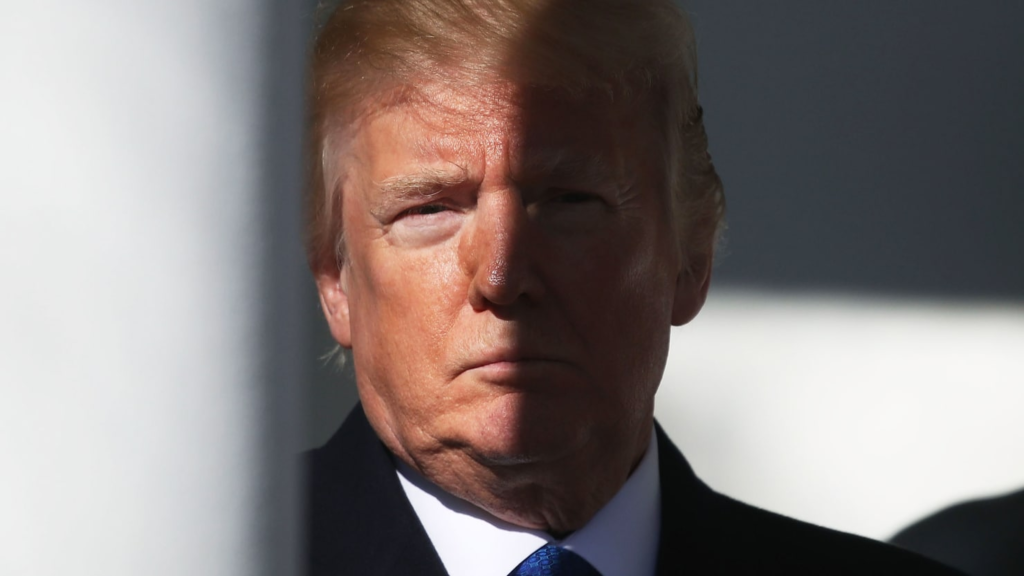 In the wake of his comments about four minority Congresswomen and Democratic Congressman Elijah Cummings, President Trump continues to insist that he isn't a racist but a new poll shows Americans believe otherwise:
About half of registered voters believe President Trump is racist, according to a new national poll released Tuesday, which showed voters are sharply divided along partisan lines on the question.

The survey was conducted by Quinnipiac University from July 25 to 28, several days after Mr. Trump said that a group of four congresswomen of color should "go back" to the countries they came from, even though all four are American citizens and three were born in the United States. The survey period also included the day that the president launched a new attack on Representative Elijah E. Cummings, a leading black congressman, calling him "a brutal bully" whose Baltimore-area district he characterized as a "disgusting, rat and rodent infested mess."

The poll results come as Democrats seeking the party's nomination for president prepare for a second round of debates, beginning Tuesday night in Detroit. Nearly all of the 2020 candidates have roundly condemned Mr. Trump's remarks as racist and divisive.

The Quinnipiac poll found that 51 percent of voters think Mr. Trump is racist while 45 percent do not. When separated by party, 86 percent of Democratic voters classified Mr. Trump as racist while 91 percent of Republicans said he was not.

About 88 percent of those who said Mr. Trump was racist disapprove of the job he is doing as president, while 94 percent of those who said he was not racist approve of his performance.

It was one of several surveys in recent days that have offered a window into how Americans are processing Mr. Trump's comments and assessing his core beliefs. National polls conducted by USA Today/Ipsos, The Economist/YouGov and Fox News this month have shown that between half and two-thirds of Americans believe that telling someone to "go back" is a racist statement and that Mr. Trump's tweets "cross the line."

On Monday, Mr. Trump again attacked a prominent black person —this time the Rev. Al Sharpton, a civil rights leader. Mr. Trump denounced Mr. Sharpton on Twitter as "a con man" who "Hates Whites & Cops" and again assailed Mr. Cummings.

He also linked the clash with Mr. Cummings to his demand that the four Democratic congresswomen of color — Alexandria Ocasio-Cortez of New York, Ilhan Omar of Minnesota, Rashida Tlaib of Michigan and Ayanna S. Pressley of Massachusetts — leave the country.

Days after Mr. Trump's first tweets about the congresswomen, the House passed a resolution, largely along party lines, condemning his remarks.

Mr. Trump has denied that his words were racist and called the House resolution a "con game."

"Those Tweets were NOT Racist," Mr. Trump wrote on the day the House voted to condemn them. "I don't have a Racist bone in my body!
Looking deeper into the poll, the numbers do not look good for Trump at all:
Overall, voters as a whole say that Trump is racist, with 51% saying that he is racist and 45% saying he isn't;
Among self-identified Republicans and Democrats, the results are predictable, with 93% of Republicans saying the President is not racist while 86% of Democrats say that he is;
Among self-identified independents, 56% say that the President is racist while 38% say he is not;
Among whites overall, 50% say the President is not racist while 44% say he is;
Among white men 58% say the President is not racist while 38% say he is;
Among white women, 53% say the President is racist, while 44% say that he isn't;
Among African-Americans, 80% say the President is racist, while 11% say he isn't;
Among Latinos, 55% say that they believe the President is racist while 44% say they don't believe that he is
The conclusion that the President is a racist is not a hard one to make, of course, as long as one is willing to look at the evidence. This, after all, is the same man who engaged in housing discrimination in the 1970s. The same person who in the 1990s took out a full-page ad in The New York Times calling for the death penalty for the so-called Central Park Five, a group of five African-American teens who were falsely convicted of raping a jogger in Central Park. Even to this day, Trump refuses to apologize for that position and refuses to acknowledge the overwhelming evidence of their innocence. It's the same candidate who first dipped his toes in the political waters by embracing the racist birther conspiracy. When he became a candidate for the Republican Presidential nomination in 2016, he did so by attacking Mexicans, Muslims, disabled people, a Federal District Court Judge who happened to be Mexican-American and a Gold Star Family who happened to be Muslim.  In response to N.F.L. players who were peacefully kneeling to protest racially biased police violence, he responded by calling the largely African-American players "sons of bitches." And, of course, most recently he has spent the last two week engaged in racist attacks on four minority Congresswomen and on House Oversight Committee Chairman Elijah Cummings. This week, that target list expanded to include CNN anchor Don Lemon, who is African-American and who Trump once against described earlier today as "one of the dumbest men on television," something he has said about the CNN host in the past.
In part, of course, it's clear that Trump says these things because he knows the crowds will eat it up and that they'll not only give him and his racist tropes a pass but that they actually support and agree with them. Given their frequency, though, one can only conclude, though, that this isn't just an act, it's something that Trump believes himself. No doubt, there is evidence of this racism elsewhere in the past. There have long been rumors, for example, of incidents during the taping of episodes of The Apprentice during which Trump uttered racial epithets, including the "n-word," when referring to African-American competitors on the show. So far, the tapes of those incidents have not become public, largely because they are under the control of Mark Burnett, the producer of the show and a close Trump friend who was also behind other reality shows such as Survivor.
We don't need tapes of Trump using offensive racial epithets to know the truth, though. He reveals it for us practically every day. He is perhaps the most racially biased person to sit in the Oval Office since Woodrow Wilson, who screened the racist film Birth of A Nation in the White House and largely looked the other way as the Ku Klux Klan made a reappearance in the south, resulting in a rise in lynchings and a tightening of Jim Crow laws that it would take another five decades to bring crashing down.
The President of the United States is a racist. The polls show that the American people recognize this fact. What it means when the 2020 election is upon us remains to be seen.