National Democrats Are Still Worried About New Jersey
While the numbers seem to show that scandal-plagued Senator Bob Menendez will win re-election on Tuesday, national Democrats aren't taking any chances.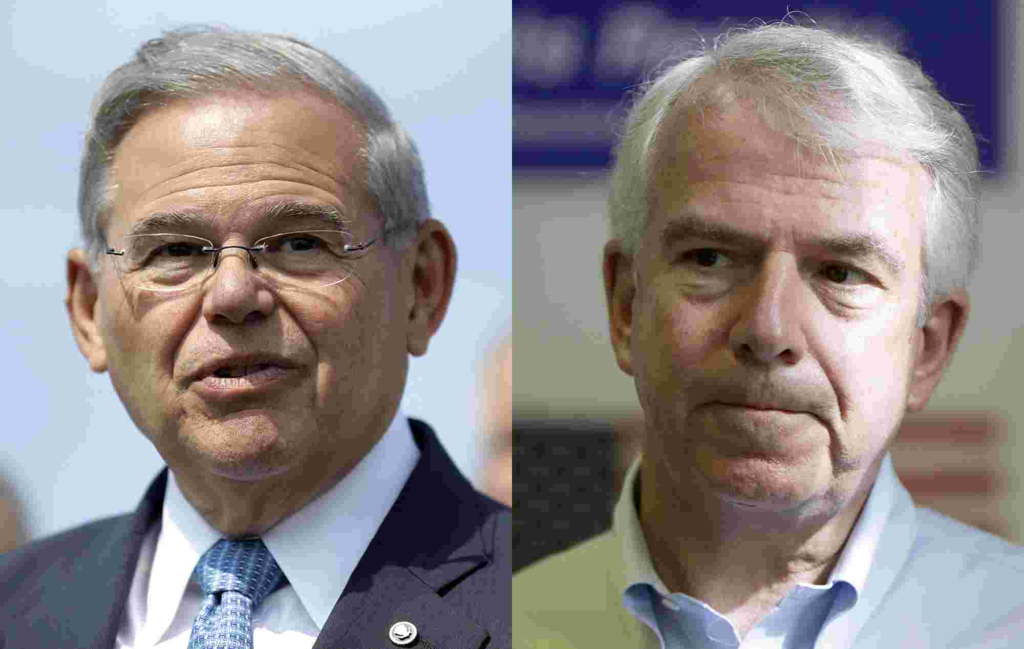 With just one weekend to go, Democrats in New Jersey are scrambling to make sure that their ethically tainted nominee is actually able to pull out a win:
UNION BEACH, N.J. — It was a rare convergence of New Jersey's governor and its two senators for an official event meant to be about policy, not politics.

But as Gov. Philip D. Murphy announced new programs to help homeowners recover from Hurricane Sandy, there was little doubt why the state's top Democrats had convened so soon before Election Day.

"I don't know where we would be without Senator Bob Menendez," Mr. Murphy said. He was followed by Senator Cory Booker, who offered his own lofty praise: "When I look to the future of this state, we need Bob Menendez."

Democrats are poised to win a number of governorships across the country and perhaps control of the House on Tuesday, thanks in large part to a suburban backlash to President Trump. But in a state rich with commuters and cul-de-sacs, party leaders are being forced to mount a last-minute, all-hands-on-deck effort to rescue Mr. Menendez's candidacy and preserve their long-shot dreams of a Senate majority.

In New Jersey, many of the suburbanites who are backing Democratic House candidates from Republican-leaning areas are still uneasy about embracing Mr. Menendez after his 2017 federal corruption trial, which ended in a mistrial. And these voters have been reminded of that case most every day by a monthslong, $30 million ad campaign financed by Bob Hugin, a wealthy former pharmaceutical executive who is Mr. Menendez's Republican opponent.

So, in an already difficult election year for Senate Democrats, when they are defending 10 states Mr. Trump carried, the party was forced to spend significant time, money and energy attempting to retain a seat in a state Hillary Clinton carried by 14 points.

New Jersey's leading Democrats — including Mr. Booker, who has been spending much of his time out of state preparing for a widely expected presidential bid — are pleading for voters to rally behind Mr. Menendez. The senator's campaign has sought to highlight the stakes by broadcasting a commercial portraying a vote for Mr. Hugin as a vote for Mr. Trump.

And most remarkably, Senate Majority PAC, a principal Democratic super PAC, has spent about $7 million on commercials in the expensive New York and Philadelphia television markets in a similar attempt to link Mr. Hugin to Mr. Trump. (The figure at the center of Mr. Menendez's trial, Salomon Melgen, routed $600,000 through the same PAC to the senator in his 2012 re-election).]

Allies of Mr. Menendez said his indictment and eventual trial made fund-raising difficult because nearly all of the money he raised was for his legal defense fund. And in the face of a self-funder like Mr. Hugin, Mr. Menendez had no choice but to rely on outside help.

In Washington, Democrats grew increasingly alarmed when in mid-October their own internal polling indicated that Mr. Menendez's lead had fallen to only two points. Continuing to watch their scandal-tarred incumbent be outspent by seven to one was not a risk national Democrats were willing to take, especially given the prospect that they could take back the Senate in 2020 if they do not lose significant ground this year.

So, perhaps grudgingly, the party's Senate super PAC began spending in a state where there are 900,000 more registered Democrats than Republicans. And it intended to continue its ad campaign through Election Day.

(…)

The concern among Democrats is being met with unbridled confidence from the Hugin campaign.

"If the election were today, I would have won," said Mr. Hugin, referring to an internal poll that his campaign would not share publicly, but that he said had him leading by a small margin with 12 days left in the election.

More and more, Mr. Hugin has been campaigning as an "independent Republican," a phrase he uses often in front of voters. He even surprised some political observers during the sole debate between the two candidates when he declared, "I am not a Trump Republican."

While he voted for Mr. Trump in 2016 and donated $200,000 to his election effort, Mr. Hugin has, at times, broken with the president — including a critical statement on Tuesday of Mr. Trump's desire to end birthright citizenship — as he seeks to establish his own identity.

He has even quoted Edward I. Koch, the popular former Democratic mayor of New York City.

"I'm open about who I am," Mr. Hugin said in an interview. "I'm not one of these ideologues."
The Washington Post's Cody Itkowitz explains what's behind the seeming panic from national Democrats over what should be a winnable race:
Jersey voters have a strong stomach for scandal, and state Democratic leaders have stayed loyal to Menendez. Yet this race is way closer than it should be.

Meanwhile, the New Jersey Star-Ledger editorial board told voters Monday to "choke it down, and vote for Menendez." The board acknowledged Menendez's flaws, wrote that he should have stepped aside to make way for a less embattled Democratic candidate, and then made the case that he is still better than the alternative — pharmaceutical CEO Bob Hugin,.

The Wall Street Journal editorial board jumped all over that argument and called Democrats hypocrites for putting pressure last year on Alabama Republicans to oppose Roy Moore, the Senate candidate accused of dating and pursuing teenage girls when he was in his 30s, while urging Jersey Democrats to support Menendez despite his Senate admonishment and questionable ethics.

"Rank-and-file Democrats can show they're a moral match for Alabama Republicans if they decide to vote for Mr. Hugin or stay home. Otherwise, spare us the lectures about the moral consequences of Donald Trump," the WSJ editorial board wrote.

It's hard to imagine a scenario in which many of the state's Democrats vote for Hugin, so the real question is whether the lackluster ticket will suppress voter turnout enough that Republicans can eke out a win.

While Menendez is likely to still survive given Democrats' primary motivation to provide a check on President Trump, it's not unheard of for politicians with a scandal hanging over them to lose their seat in a year favorable to their party.
Based on the numbers, it seems as if Democrats have very little to worry about in the Garden State. The most recent polls — from Stockton University, Emerson College, and the Rutgers-Eagleton poll which is considered the gold standard in statewide polling in New Jersey — have Menendez with a lead ranging from five points to as much as twelve points. The RealClearPolitics average gives Menendez (49.8%) a +7.6 point average lead over Hugin (42.2%). While this is closer than might be expected in a statewide race in New Jersey, it still seems healthy enough for Menendez to have little to worry about on Tuesday. This has consistently been the case at the other times that I've looked at this race in previous posts, see here, here, and here, Based on this, the last minute Democratic panic over the Garden State appears to be a bit over-wrought.
If any other Republican were President right now, the Senate race in New Jersey might actually be more competitive than the polling makes it seem to be. Notwithstanding the uncertain outcome of his criminal trial and the decision by the Justice Department not to seek a retrial, Bob Menendez stands accused of serious ethical breaches that, even if they aren't illegal certainly don't withstand the "smell test" when it comes to corruption and a lack of integrity. At the same time, Bob Hugin, while a relative newcomer to politics who has never run for office before, clearly seems to be an ideal candidate for a blue state like majority that, while it hasn't elected a Republican Senator since 1972, has elected three Republican Governors, all of whom were re-elected to a second term. He is pro-choice, supports same-sex marriage and LGBT rights, and strikes the same sort of moderate tone as other mid-Atlantic and Northeastern Republicans such as Maryland Governor Larry Hogan and Massachusetts Governor Charlie Baker. From what little I have seen of the debates between the two candidates and other appearances, he also comes across as a strong candidate who stands as a stark contrast to the sleaze and corruption that surround Menendez.
As I've noted before, though, this is not an ordinary election. While Donald Trump is staying far away from the Garden State, his presence is nonetheless being felt. It's largely because of him, for example, that long-serving Republican Members of Congress like Leonard Lance and Tom MacArthur are likely to go down on Tuesday even though they represent districts that are nominally Republican-leaning. This can all be seen in the current polls, which show Trump with a massively upside down job approval rating in the state, It's also why Menendez will be re-elected on Tuesday even though, in a sane world, he would have either been taken out by a credible challenge in the Democratic Primary in June or taken out on Tuesday. This is isn't a sane world, though, it's Donald Trump's America.