Bob Menendez Facing Tougher Than Expected Re-Election Fight
New Jersey Senator Bob Menendez continues to lead in the polls, but his lead is far from secure.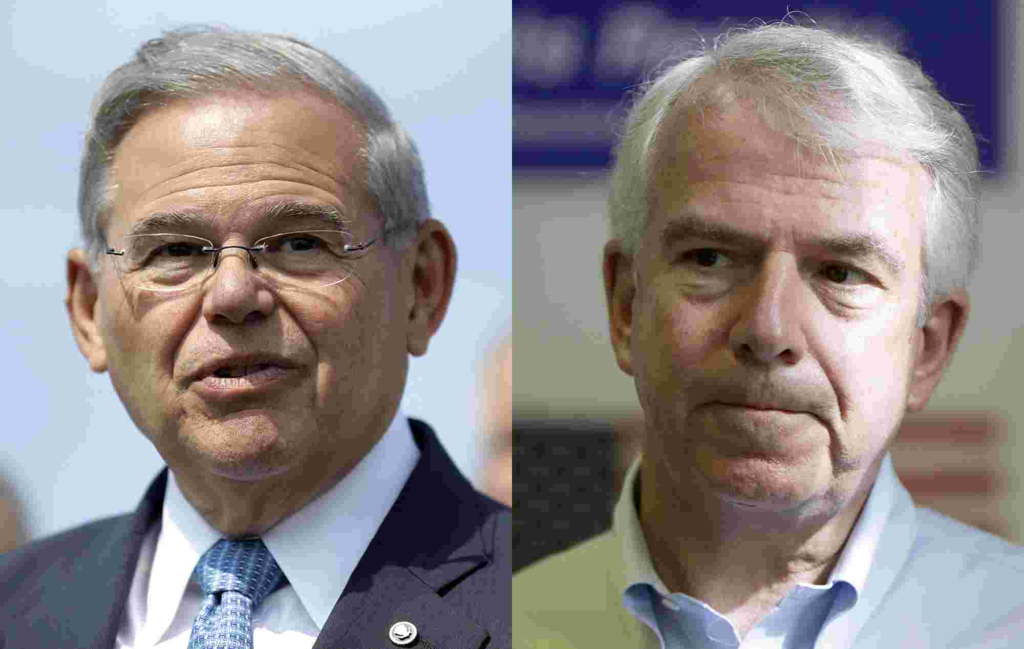 A new poll out of New Jersey suggests that the Senate race in New Jersey could end up being more of a contest than one might ordinarily expect in a strongly blue state thanks to the fact that Bob Menendez, the incumbent Democratic Senator, is running for a third term under a significant ethical cloud:
Sen. Bob Menendez (D-N.J.) is facing a tightening race as he seeks to hold on to his Senate seat in the November midterm elections, according to a new poll.

Menendez leads his Republican challenger, Bob Hugin, by just 6 points, 43 to 37 percent, in a Quinnipiac University poll released Wednesday.

Mendendez previously held a 17-point lead, 49 to 32 percent, in a March survey conducted by Quinnipiac University.

The latest poll shows a racial gap between the candidates' supporters. Hugin leads among white voters at 47 percent to Menendez's 38 percent. Meanwhile, Menendez is supported by 51 percent of nonwhite voters, while Hugin holds 18 percent.

Republicans back Hugin more heavily than Democrats support Menendez. Eighty-five percent of Republicans said they would vote for Hugin, while 74 percent of Democrats said they backed Menendez.

Independents are split almost evenly between the two, with 37 percent supporting Hugin and 33 percent backing Menendez.

Menendez was cleared of federal corruption charges in January, but the poll shows that the probe still hangs over him in voters' minds.

Forty-nine percent of New Jersey voters said Menendez was involved in serious wrongdoing, while 16 percent said that is not the case. Among Democrats, 38 percent said he was involved in serious wrongdoing, while 25 percent said he did not.

Overall, more voters than not disapprove of the two-term New Jersey Democrat, with 47 percent of those polled disapproving of the incumbent and 40 percent approving.

Hugin is less well-known in the state, with a majority of respondents, 54 percent, saying they had not heard enough about the Republican. Of those who expressed an opinion, 24 percent viewed him favorably and 20 percent viewed him unfavorably.

Twenty-five percent of voters said that ethics in government was the most important issue in their decision of who to elect as senator in November, followed by 22 percent who cited taxes, 19 percent health care, 14 percent immigration and 14 percent the economy.
So far, polling in the Garden State has been sparse, most likely because most pollsters, like the analysts at The Cook Report and other sites, still consider the state to be relatively safely in the Democratic camp. Looking at the recent polls, though, there does appear to be at least somewhat of an opening for Republican nominee Bob Hugin, a pharmaceutical company CEO who has cast himself as a fairly moderate Republican who supports same-sex marriage and abortion rights and who has not embraced the party's rightward drift under President Trump. Over at RealClearPolitics, for example, the poll average shows Menendez (41.8%) leading Hugin (33.5%) by an average of +8.3 points. However, this average includes a poll that was taken way back in April by Monmouth University that gave Menendez an 11 point lead. If we take that poll out of the equation and include just the three most recent polls that RealClearPolitics is relying on, then Menendez stands at an average of 38% and Hugin gets an average of 34%, giving Menendez a four-point advantage. If you include only the two polls taken since the June primary in the state, then Menendez stands at an average of 43% while Hugin stands at 39%, giving Menendez a four-point advantage. It goes without saying that these are not exactly ideal numbers for a Democrat running in New Jersey at this stage of the election cycle.
In an ordinary year, of course, there would be no question that Menendez should be considered as a safe bet for being re-election. He's a Democrat running in a state that has gone for the Democratic nominee for President in every election for the past 26 years — including in 2016 Hillary Clinton beat Donald Trump by nearly 550,000 votes — and which has generally been considered to be solidly blue notwithstanding the fact that voters have elected three Republican Governors to two terms in office over the past thirty-seven years. Additionally, the state has not elected a Republican Senator since Clifford Case ran for re-election in 1972. Since then, the only Republicans to serve in the Senate from the Garden State have been Nicholas Brady and Jeffrey Chiesa, both of whom were appointed by Republican Governors to fill in after the death or resignation of a Democratic Senator.
As I've noted before, though, this is no ordinary election year in the Garden State and Bob Menendez is, well, Bob Menendez with all the baggage that brings with it. Three years ago, the Senator was indicted on a host of corruption charges related to his personal and business relationship with a longtime friend who gave him access to private planes and other luxuries throughout his time in the Senate and enjoyed unusually close access to the Senator. After more than a year and a half of pretrial proceedings during which Menendez sought, mostly unsuccessfully, to get the charges dismissed before trial, the Senator went on trial for most of the original charges only to see his case end in a mistrial. While the Justice Department ultimately decided not to proceed with a second trial, Menendez was still admonished by the Senate Ethics Committee earlier this year. All of that led many to wonder if the Senator would face trouble winning his party's nomination. While Menendez walked away victorious, the fact that a candidate who operated a shoe-string campaign ended up getting one-third of the vote in a primary that Menendez should have won in a walk away as he did in 2006 and in 2012 is seemingly a sign that even his fellow Democrats aren't entirely comfortable with the idea of Menendez at the top of their ticket in 2018.
One of the main reasons that the polls between Menendez and Hugin have apparently closed in the way that they have appears to be related to the fact that Hugin has spent much of the summer going after Menendez over the criminal and ethical cloud hanging over him. Virtually from the time that he won the nomination in June, Hugin, who is apparently spending at least some of his own fortune on the campaign, has been all over the airwaves in the Garden State hitting Menendez with a withering series of attack ads that have emphasized the criminal charges against him. The Menendez campaign, meanwhile, has only recently begun its own counterattack against Hugin, which concentrates largely on his record as a pharmaceutical company CEO, a strategy that may or may not work in a state where pharamceuticals form a large portion of the business and employment community. This is likely to continue into the fall. Whether it works or not is something only time will tell.