Could New Jersey Be A Stumbling Block For Democratic Hopes In The Senate?
In an ordinary year with an ordinary candidate New Jersey should be a slam dunk for Democrats. This, however, is not an ordinary year.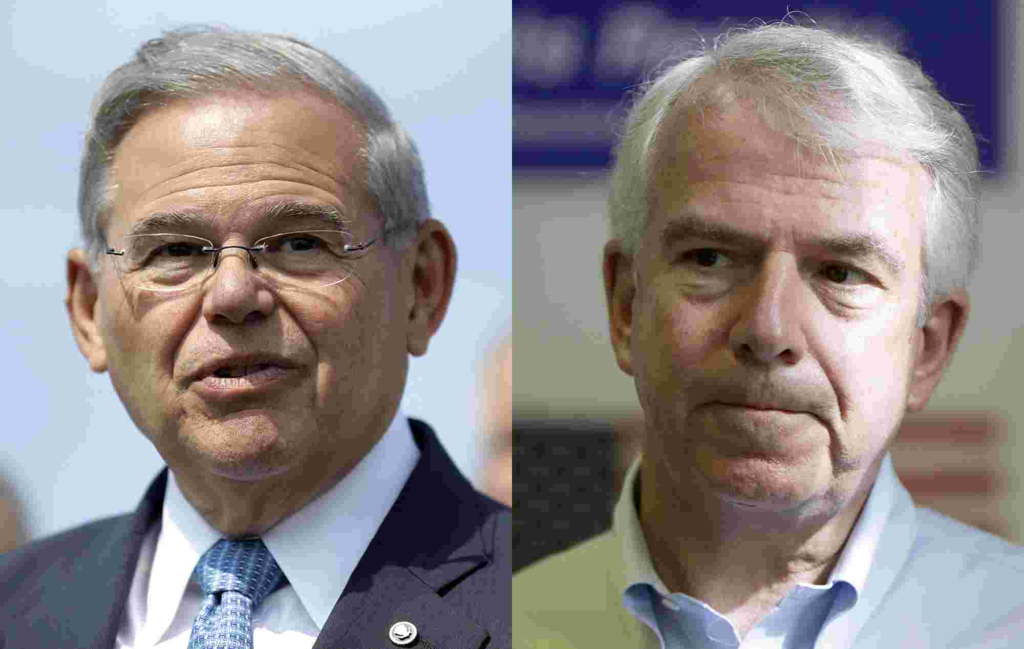 HuffPo's Igor Bobic notes that Democrats may face a roadblock in the effort to retake the Senate from one of the most unlikely of states:
If Democrats have any chance of winning the Senate in November's elections, they need to focus their time and energy on flipping traditionally safe GOP seats, like in Tennessee, while defending vulnerable incumbents in red states such as  Indiana, West Virginia and North Dakota ― a daunting task even with a historically unpopular president in the Oval Office.

What they shouldn't be doing is worrying about a deep blue state like New Jersey, where Sen. Bob Menendez (D-N.J.) seeks his third term. But Menendez, whose political career in the Garden State began when he won a school board race at age 20 in 1974, could be in trouble.

He faces a wealthy Republican opponent, former pharmaceutical executive Bob Hugin. Combined spending by Hugin and outside groups backing him so far has outstripped by more than 2-to-1 the expenditures by Menendez and his allies.

What's fueling the GOP money and Hugin's hopes is the ethical cloud hovering over Menendez. He was indicted in 2015 on charges including bribery and fraud. Federal prosecutors accused him of engaging in a quid pro quo relationship with a friend ― advancing the man's business interests and in return accepting an array of gifts, including luxury trips abroad.

A judge declared a mistrial in the case last year because of a hung jury, and the Justice Department decided against retrying him. In April, he was "severely admonished" for his relationship with his friend by the Senate ethics committee.

A Quinnipiac poll released in late August showed Menendez ahead of Hugin by just 6 percentage points ― a concerning data point given that registered Democrats vastly outnumber Republicans in New Jersey, that Menendez cruised to re-election in 2012 and that Democratic presidential nominee Hillary Clinton carried the state by nearly 15 points in 2016.

"When you have a multimillionaire spending unlimited amounts of money, it always makes it a little bit more challenging," Menendez told HuffPost this week when asked about the status of his campaign.

"But we'll win," he predicted confidently.
As Bobic goes on to note, one problem that Menendez is facing is a monetary one:
While Republican groups have come to Hugin's aid, national Democratic groups have been largely steering clear of the race, viewing concerns about Menendez's vulnerability as overblown. Still, the Democratic Senatorial Campaign Committee, the group focused on electing party members to the Senate, went on air with a $117,000 ad buy in conjunction with Menendez's campaign earlier this month. Although that's a relatively paltry amount committed to New Jersey's expensive media markets, Republicans pointed to it as evidence that the incumbent is "in danger of losing" re-election.

DSCC spokesman David Bergstein expressed confidence in Menendez and praised his spending strategy, saying in a statement to HuffPost that the senator's campaign "smartly held their resources until their ads would have maximum impact" in the election's closing weeks.
Hugin, meanwhile, is running on a two-pronged strategy that seeks to emphasize Menendez's shady ethical while at the same time playing up his own business experience as the CEO of pharmaceutical company Celgene and the fact that he is far more moderate on many issues, especially social issues, as compared to other Republicans. On the first note, and as The New York Times noted in a piece this weekend, there are at least some political risks in doing so. For example, during his time at Celgene, the company raised U.S. prices for Revlimid, a new breakthrough treatment for cancer, by 30% while at the same time cutting the price for the same drug in other nations such as Russia by as much as 45%. This has resulted in negative ads on Hugin's corporate experience from both the Menendez campaign and a SuperPAC purporting to represent patients that are running frequently in the Garden State.
Additionally, while Hugin has attempted to differentiate himself from the national GOP, the albatross of Donald Trump looms large over the race. Hugin was a delegate to the 2016 Republican National Convention, for example, and cast his vote for Trump on the floor. He also served as the finance chairman for Trump's campaign in New Jersey and donated a considerable amount of money to pro-Trump groups during the campaign. This is notable in no small part due to the fact that the President appears to be having a negative impact on Republican candidates further down the ballot. For example, a Monmouth University poll released last week showed Congressman Leonard Lance, a Republican who represents the state's 7th Congressional District, which covers well-to-do areas in the central part of the Garden State, trailing his Democratic opponent by ten points. This poll also found that a major factor impacting voters in that District, which has been largely Republican, is the negative assessment of President Trump. That disdain is likely even greater in more Democratic parts of the state, meaning that any Republican candidate, including Hugin, faces a huge uphill battle notwithstanding the fact that, in any other year, Menendez should be a thoroughly beatable candidate.
So far, polling in the Garden State has been sparse, most likely because most pollsters, like the analysts at The Cook Report and other sites, still consider the state to be relatively safely in the Democratic camp. Polling in the race, meanwhile, has been relatively sparse. The most recent poll was conducted at the end of August and gave Menendez a six-point advantage over Hugin. This is closer than one would ordinarily expect in a blue state like New Jersey and many attribute this to the Senator's ethical problems and his trial last year, of course, but it's unclear if it will be enough to cause problems for Democrats in the fall. Over at RealClearPolitics,  the poll average shows Menendez (41.8%) leading Hugin (33.5%) by an average of +8.3 points. However, this average includes a poll that was taken way back in April by Monmouth University that gave Menendez a 21 point lead. If we take that poll out of the equation and include just the three most recent polls that RealClearPolitics is relying on, then Menendez stands at an average of 38% and Hugin gets an average of 34%, giving Menendez a four-point advantage. If you include only the two polls taken since the June primary in the state, then Menendez stands at an average of 43% while Hugin stands at 39%, giving Menendez a four-point advantage. It goes without saying that these are not exactly ideal numbers for a Democrat running in New Jersey at this stage of the election cycle.
Ultimately, Menendez will probably squeak out a victory over Hugin. This is, after all, New Jersey, a state that has not elected a Republican to the Senate since Clifford Case ran for re-election in 1972. Since then, the only Republicans to serve in the Senate from the Garden State have been Nicholas Brady and Jeffrey Chiesa, both of whom were appointed by Republican Governors to fill in after the death or resignation of a Democratic Senator. As Bobic notes, though, every dollar that national Democrats spend trying to keep Menendez from slipping through the cracks is a dollar that cannot be spent somewhere else. In that sense, the race presents as much of a dilemma for Democrats as the race in Texas between Ted Cruz and Beto O'Rourke does for Republicans. Given that this seems like such a big year for Democrats, though, it's possible that this won't be the kind of problem it ordinarily would be. However, it will be worth keeping an eye on the Garden State in case Hugin is able to pull off a surprise.