Bob Menendez Appears To Be Out Of Danger
Despite his ethical issues, Bob Menendez appears to be solidifying his position in New Jersey's Senate race.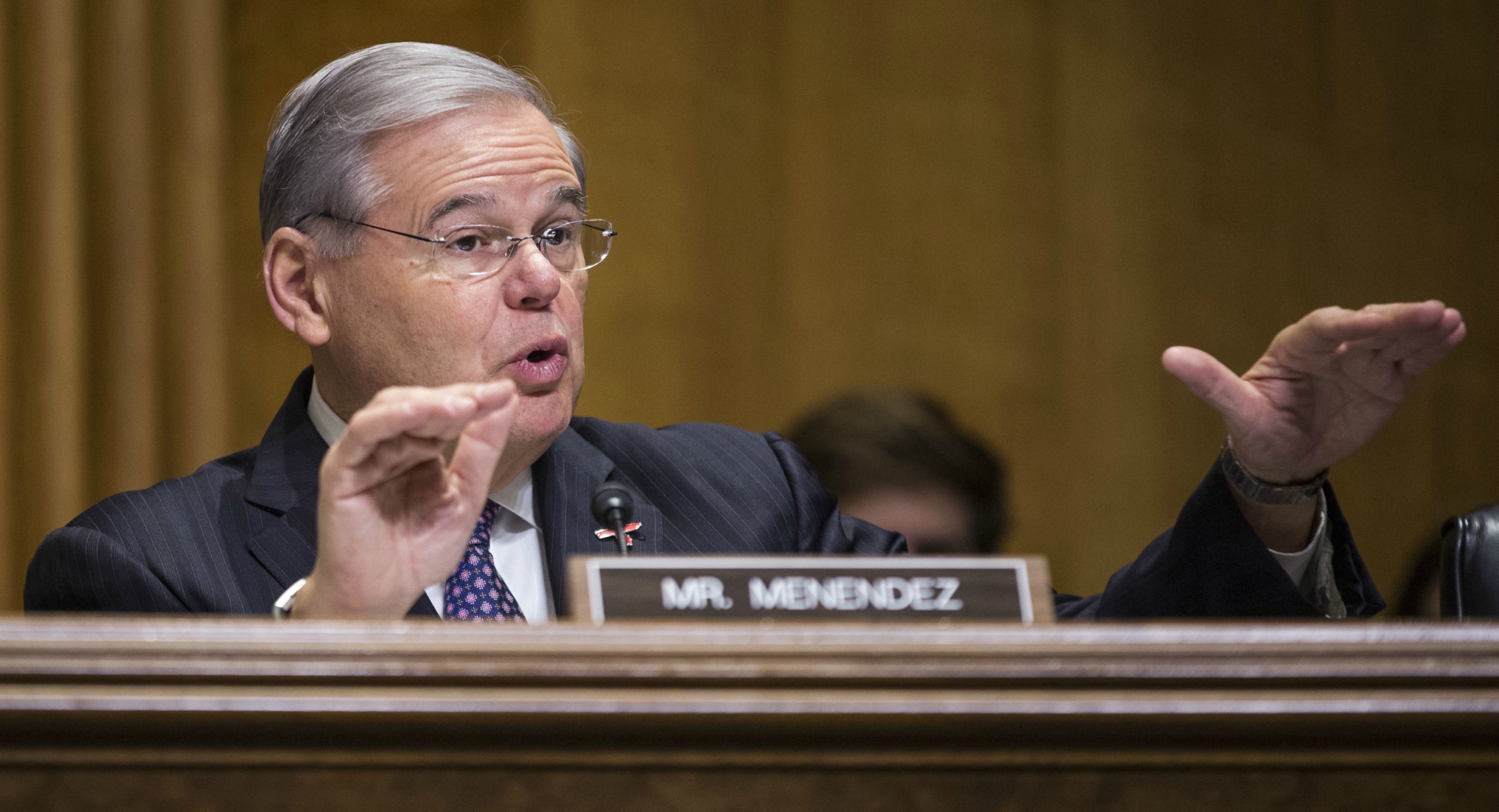 A set of new polls out of New Jersey is seemingly putting to rest the idea that Democrats may face a surprise in the Garden State in November due to the ethically checkered past of incumbent senior Senator Bob Menendez and that the state will, if anything, become even bluer in the upcoming elections.
First up, a new poll out of Quinnipiac University gives Senator Menendez a double-digit lead over his opponent, pharmaceutical company executive and Republican nominee Bob Hugin:
New Jersey Sen. Bob Menendez (D) enjoys a comfortable 11-point lead over Republican challenger Bob Hugin in a poll released Wednesday.

In the Quinnipiac University poll of likely midterm voters, Menendez leads 53-42 percent, with just 5 percent of voters remaining undecided.

Each candidate has the support of 93 percent of their own party and six percent of their opponent's party, according to the poll. Hugin leads the Democratic incumbent by single digits among independents, Quinnipiac found, but trails more than 40 percent among nonwhite voters.

Menendez, who fought corruption charges that were dismissed earlier this year, holds a net positive job approval rating, with 46 percent approving and 44 percent disapproving.

But more voters said they had an overall unfavorable opinion, 53 percent, than favorable, 34 percent.

Working in the Democrat's favor, however, is New Jersey voters' attitude towards President Trump. A majority of likely voters in the state, 63 percent, say they want Congress to act more as a check on Trump's agenda compared to those who want Congress to work with the president.

(…)

"New Jersey likely voters may prefer Sen. Menendez over Republican challenger Bob Hugin, but they certainly make it clear they are not fond of Menendez," Quinnipiac polling analyst Mary Snow said a statement accompanying the poll results.

"Only one quarter of voters believe the incumbent is honest. Hugin, a former pharmaceutical executive, scores higher on honesty, at 39 percent, but just about as many people don't know enough about him to say for sure," she added.
The second poll released today comes from Farleigh Dickenson University and shows Menendez leading by six points among likely voters:
Sen. Bob Menendez's path to winning reelection this year could be with undecided Democrats, according to a poll released Wednesday.

Menendez (D-N.J.), beset by political problems springing from a federal corruption trial he survived last year, leads Republican challenger Bob Hugin, 43 percent to 37 percent, among likely voters, according to the latest Fairleigh Dickinson University's PublicMind poll.

According to the new FDU poll, 18 percent of likely voters remain undecided as to whom they prefer. That includes 22 percent of Democrats, 6 percent of Republicans and 42 percent of independents. But there's little evidence of cross-party appeal, as just 4 percent of likely Democratic voters say they'll vote for Hugin — barely more than the 3 percent of Republicans who back Menendez.

"If Menendez is able to capture the support of undecided Democrats, plus some of the independents, he will be able to decisively pull ahead of Hugin by November," poll director Krista Jenkins said in a release that accompanied the results. "It will be harder for Hugin to do the same, given the smaller base of undecided Republicans in the state. But, as they say, the only poll that matters is the one on Election Day."

There are 900,000 more registered Democrats than Republicans in New Jersey, though many voters who are officially unaffiliated tend to identify with one party or the other.

Despite his small lead over Hugin, Menendez — who in April was admonished by the Senate Ethics Committee over his relationship with Florida eye doctor and Medicare fraudster Salomon Melgen — remains deeply unpopular. Fifty-three percent of likely voters questioned have an unfavorable opinion of him, while 35 percent have a favorable one.

Hugin, the former CEO of New Jersey pharmaceutical company Celgene and major financial backer of President Donald Trump, is seen favorably by 36 percent and unfavorably by 30 percent, while 33 percent haven't heard of him.

Trump's unpopularity in New Jersey could help Menendez: The president has a 38 percent approval rating and a 59 percent disapproval rating among likely voters.
While both of these polls tend to show a tighter race than you might expect in a state as solidly blue as New Jersey, especially given the fact that the President's disapproval rating in the state is far worse than it is a nation as a poll, they're likely to give Menendez and his supporters some small degree of comfort. As I've noted in previous posts, here and here, there have been at least some indications that Hugin was making this a far more competitive race than one might expect. This was especially true in light of a poll from Stockton University in southern New Jersey that showed the race to be effectively a dead heat, with Menendez holding on to a slender two-point lead. Taking all these recent polls together, the RealClearPolitics average gives Mendendez (47.0%) a +6.3 point lead over Hugin (40.7%). As I've said before, this is hardly the kind of lead you'd expect for an incumbent Democrat in New Jersey, but it seems to suggest that any worries that Hugin might make this race competitive were premature to say the least.
In an ordinary year, of course,  Menendez would be considered as a safe bet for being re-election. He's a Democrat running in a state that has gone for the Democratic nominee for President in every election for the past 26 years — including in 2016 Hillary Clinton beat Donald Trump by nearly 550,000 votes — and which has generally been considered to be solidly blue notwithstanding the fact that voters have elected three Republican Governors to two terms in office over the past thirty-seven years. Additionally, the state has not elected a Republican Senator since Clifford Case ran for re-election in 1972. Since then, the only Republicans to serve in the Senate from the Garden State have been Nicholas Brady and Jeffrey Chiesa, both of whom were appointed by Republican Governors to fill in after the death or resignation of a Democratic Senator.
As I've noted before, though, this is no ordinary election year in the Garden State and Bob Menendez is, well, Bob Menendez with all the baggage that brings with it. Three years ago, the Senator was indicted on a host of corruption charges related to his personal and business relationship with a longtime friend who gave him access to private planes and other luxuries throughout his time in the Senate and enjoyed unusually close access to the Senator. After more than a year and a half of pretrial proceedings during which Menendez sought, mostly unsuccessfully, to get the charges dismissed before trial, the Senator went on trial for most of the original charges only to see his case end in a mistrial. While the Justice Department ultimately decided not to proceed with a second trial, Menendez was still admonished by the Senate Ethics Committee earlier this year. All of that led many to wonder if the Senator would face trouble winning his party's nomination. While Menendez walked away victorious, the fact that a candidate who operated a shoe-string campaign ended up getting one-third of the vote in a primary that Menendez should have won in a walk away as he did in 2006 and in 2012 is seemingly a sign that even his fellow Democrats aren't entirely comfortable with the idea of Menendez at the top of their ticket in 2018. Nonetheless, New Jersey is New Jersey and he's likely to eke out a win in the end.