Nevada Senator Dean Heller Looking Increasingly Vulnerable In Reelection Bid
The GOP's most vulnerable incumbent is still looking very vulnerable.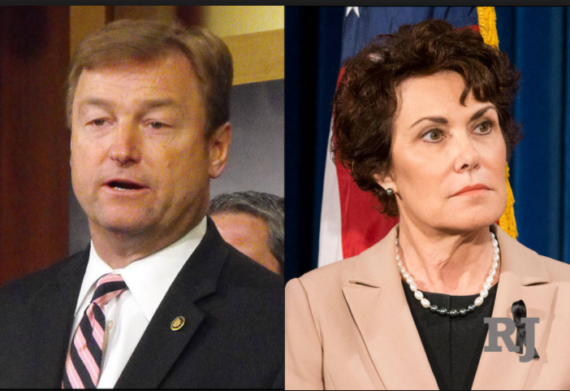 A new poll shows that incumbent Republican Senator Dean Heller is in a fight for his political life:
Nevada Sen. Dean Heller (R) leads his Democratic challenger by just 1 point in a new poll.

A survey from the Nevada Independent/Mellman Group finds that Heller leads Democratic Rep. Jacky Rosen (Nev.) 40-39 in the state, with 21 percent of respondents still undecided about their vote in the upcoming midterms.

Heller is considered one of the most vulnerable senators on the ballot in November, after Hillary Clinton won Nevada in 2016.Notably, Rosen leads Heller by 2 percent in the category of voters who "strongly" support a candidate, suggesting an enthusiasm gap that favors Democrats. Thirty percent of respondents "strongly" support Rosen, according to the poll, while just 28 percent "strongly" support Heller.

Heller's favorability in the state is underwater in the poll, with 40 percent of voters viewing him unfavorably compared to 38 percent who approve of his job performance as senator. Rosen, meanwhile, enjoys a 20 percent favorability rating compared to 15 percent who view her unfavorably.

Heller benefits from name recognition, however. Just 8 percent of Nevada voters say they hadn't heard of Dean Heller, compared to 34 percent who said they hadn't heard of Rosen.
As I've noted before, Heller has long been deemed the most vulnerable Republican Senator up for reelection this year. In part, this is due to the fact that Heller only won election six years ago by a narrow one-point margin and that, while the state has a Republican Governor, its other Senator is a Democrat who won election two years ago by a three-point margin. This polls, which actually shows Heller with a lead, is largely consistent with previous polling that had shown Heller's likely opponent, Democratic Congresswoman Jacky Rosen, with a slight lead, all of these polls also shows as many as 20% of the respondents undecided. It's also worth noting that Hillary Clinton won the state in 2016, although she failed to win the support of a majority of Nevada voters. Additionally, the race is listed as a Toss-Up by the Cook Political Report, the Rothenberg Political Report, and Larry Sabato's Crystal Ball. While there are still six months left until Election Day, all of this adds up to bad news for Heller, who has sought for the past two years to navigate a course  between being a Republican in Washington in the Trump Era and keeping himself politically alive in a state where, thanks in no small part to a growing Latino population, President Trump isn't necessarily very popular.
All of this matters, of course, because the Republican Party is looking at a what is likely to be a difficult midterm year over the next six months, In addition to a House majority that is looking increasingly precarious, especially in the wake of yesterdays surprisingly close finish in Arizona's 8th Congressional District, their Senate majority is looking increasingly precarious. In addition to Heller's seat, Republicans also appear to be facing trouble in Arizona and Tennessee. Given the fact that Republicans currently hold only a one-seat majority in the Senate and that current polling shows that Republicans are trailing in red state challenges to Democrats in states such as West Virginia, Indiana, Missouri, and North Dakota, the current status of the race in Nevada should be concerning to the GOP.
Obviously, it's far too early to make any predictions but as things stand right now it's apparent that Heller is hanging on a very small branch, as is the GOP majority in the Senate.