Republican Wins Arizona Special Election, But Still Sends A Warning To The GOP
As expected, a Republican won the Special Election in Arizona's 8th Congressional District, but it's not a win Republicans should really be celebrating.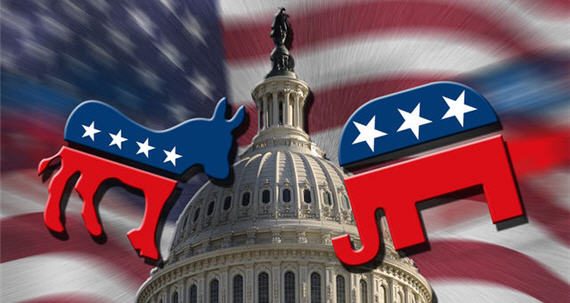 Republican candidate Debbie Lesko ended up winning yesterday's Special Election in Arizona's 8th Congressional District to replace the retired Congressman Trent Franks, but the win comes with foreboding for a Republican Party already facing headwinds in 2018:
WASHINGTON — The former Arizona state senator Debbie Lesko fended off an unusually strong Democratic challenge to win a special congressional election on Tuesday, according to The Associated Press, demonstrating the resilience of the Republican base but also the eagerness of liberals to compete in even the most heavily conservative districts.

Lifted by more than $1 million in outside spending from Republican groups determined to avoid another electoral embarrassment, Ms. Lesko defeated Hiral Tipirneni, a physician and first-time candidate, in a district President Trump carried by over 20 points.

With nearly all of the early ballots counted Tuesday night, which were expected to make up the bulk of the vote, Ms. Lesko was ahead by nearly six percentage points.

Ms. Lesko was helped by an aggressive intervention from Republican leaders that included a wave of robocalls from Mr. Trump and fund-raisers hosted by House Speaker Paul D. Ryan and Representative Kevin McCarthy of California, the majority leader.

Republican officials described their efforts as precautionary, a nod toward the party's humiliating special election losses in Alabama and Pennsylvaniaand an acknowledgment that they must fortify their defenses in even the reddest of districts.

The Phoenix-area seat for the Eighth Congressional District, a haven for sunshine-seeking retirees from the Midwest, is so reliably Republican that Democrats did not even field a candidate in the last two elections.

But after the previous representative, Trent Franks, resigned following revelations he had offered $5 million to an aide in exchange for carrying his child, Arizona Democrats rallied to Ms. Tipirneni. She outraised Ms. Lesko in what was the first high-profile congressional election since 2016 between two women.

National Democrats, however, stayed away from the race, deducing that a district that has sent only Republicans to Congress for four decades was out of reach. And any hopes Ms. Tipirneni had to win outside support may have faded this month when a local TV station reported that she had not practiced medicine since 2007 and had settled a malpractice lawsuit with a woman who blamed her for contracting tetanus.

In contrast, the Republican National Committee, the National Republican Congressional Committee and the Congressional Leadership Fund, the primary House Republican super PAC, each poured hundreds of thousands of dollars into the race. The investment proved critical in what became an unexpectedly close race.

"It's a warning shot," Senator Jeff Flake, Republican of Arizona, said of the results. "Anything below a 10-point margin is not good news."

Ms. Lesko, 59, ran as a dependable supporter of Mr. Trump and assailed Ms. Tipirneni for not backing White House priorities like the construction of a wall on the Mexican border. With help from the battery of outside Republican organizations, Ms. Lesko sought to polarize the district along traditional partisan lines, branding Ms. Tipirneni as a liberal and a puppet of Representative Nancy Pelosi, the House Democratic leader.

Rather than wait for the contest to tighten, the groups helped Ms. Lesko build an early advantage in a race in which the vast majority of voters cast their ballots early. Registered Republicans far outnumbered Democrats in the early voting period, and the median age was 67 among those voting before Election Day, an indication of a heavily conservative electorate.

Ms. Tipirneni, 50, found energetic support among some women in the district who were uneasy about Mr. Trump and had been roused to get active in politics. As Representative Conor Lamb of Pennsylvania did in a special election last month, she offered herself as a moderate who would not support Ms. Pelosi for House speaker.

But unlike Mr. Lamb's Pittsburgh-area seat — which includes an array of vote-rich, upscale suburbs — the Arizona district is full of AARP-eligible snowbirds, reliably Republican Mormons and military families who work at nearby Luke Air Force Base. And this race was a head-to-head contest — there was no Libertarian on the ballot, as in Pennsylvania, who could have allowed Ms. Tipirneni to eke out a win had it proved closer.
In the end, Lesko's win is not a surprise. Indeed, the 8th Congressional District in Arizona is a district that any Republican should win easily. Its population consists largely of voters that tend to vote Republican, such as retired people from the Midwest, Mormons, and military families and retirees, many of whom have ties to Luke Air Force Base, which is located nearby. Additionally, as The New York Times the race between Conor Lamb and Rick Saccone in Pennsylvania notes in the article linked above, unlike last month which had a Libertarian on the ballot who siphoned away at least some of the support that might have gone to the Republican candidate, this was a head-to-head race between Lesko and Tipirneni. Furthermore, as noted above, unlike national Republicans, Democrat largely decided to stay away from the race for the most part, deciding that the district quite simply leaned too far Republican to justify expending large amounts of money as they had done in the past in Special Elections in Georgia, Pennsylvania, and, of course, Alabama. Finally, the district is so heavily Republican that Democrats didn't even both putting up a candidate in either 2016 and 2014 elections and both President Trump and Mitt Romney won the district by double digits.
Given all of this, Lesko's win is no surprise. What is a surprise, though, is the fact that Lesko only managed to win by less than ten percent in a district that is so heavily Republican. According to the current tally at Politico, Lesko leads her opponent by just over 9,000 and the margin of victory between the two is just 5.06%, far below what you'd expect from a Republican in a district like this, especially in a Special Election where the electoral is presumably smaller and more Republican-leaning than it would be in a General Election. This is worth noting because, as this chart from The New York Times shows, Republicans have lost support in every Special Election that's taken place since Donald Trump took office: (click to enlarge)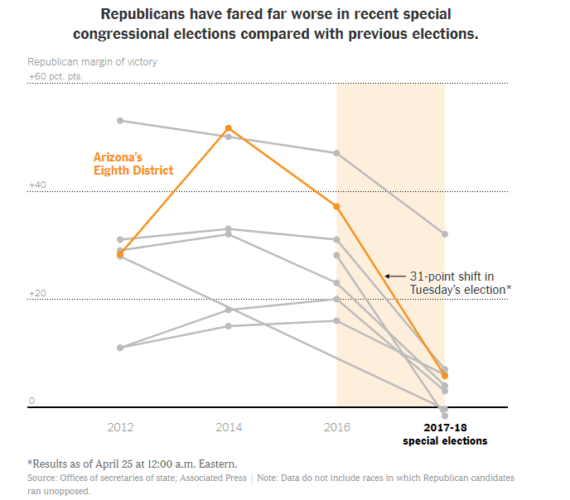 You can find further analysis, and charts, at the link, but it all stands for the proposition that, even in races that they've won the Republican Party has shown a loss of support compared to both the previous margins of victory on the party of the Congressional candidate being replaced and with respect to the performance of recent candidates for President in the district. Taken together with all of the other storm clouds gathering for the GOP as November gets closer, this ought to be setting off warning bells at the Republican National Committee, on Capitol Hill, and in the campaign offices of Republican candidates across the country. As the Cook Report's Dave Wasserman noted last night on Twitter, there are 147 House Districts across the country that are less Republican than AZ-08 and one has to wonder what these numbers mean for those races in the fall. And Nate Silver notes that the results last night are bad news for the GOP notwithstanding the win. Finally, as Ed Morrissey notes at Hot Air, the fact that a Republican candidate only won by five points in the deepest-red part of Arizona does not bode well for the battle for Jeff Flake's Senate seat. This is especially true given recent poll numbers showing that the Democratic candidate for that seat is leading all of her potential Republican rivals. After all, if the GOP is losing support even in districts that are heavily Republican what does that say for more marginal districts? It certainly can't be anything good.