Rudy Giuliani Lawyers Up
Caught in the middle of the Ukraine scandal, the President''s lawyer has gotten his own lawyers.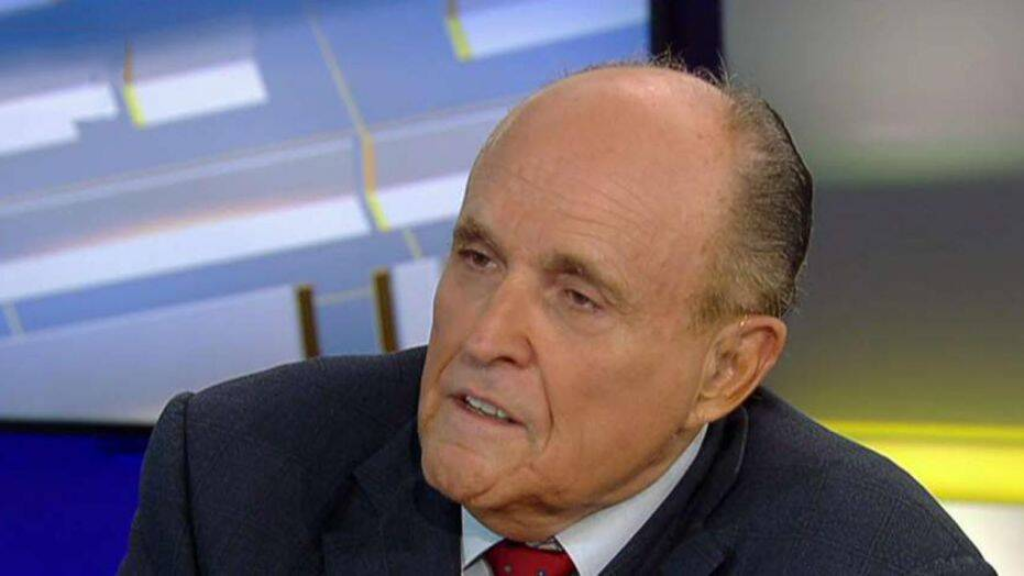 Rudy Giuliani. who has served as both one of President Trump's private attorneys and the President's defender-in-chief on Fox News Channel and other cable networks has retained his own lawyers as the ongoing impeachment investigation continues to reveal his own involvement with what appears to be a shadow foreign policy being conducted by the White House vis a vis Ukraine:
President Trump's personal lawyer, Rudolph W. Giuliani, said on Wednesday that he had assembled a legal team to represent him in the criminal investigation into his activities related to Ukraine, an announcement that came after weeks of sputtered attempts to find a lawyer willing to take him on as a client.

Mr. Giuliani said on Twitter that he would be represented by three lawyers, including his longtime friend, Robert J. Costello. The hires show how serious Mr. Giuliani is treating the inquiry by federal prosectors in Manhattan, who are investigating whether he violated lobbying laws in his efforts to dig up damaging information about Mr. Trump's rivals.

"The evidence, when revealed fully, will show that this present farce is as much a frame-up and hoax as Russian collusion, maybe worse, and will prove the President is innocent," Mr. Giuliani said on Twitter, just before naming his new lawyers.

The hires came after a weekslong search to find a lawyer who would represent Mr. Giuliani, who rose to prominence as the United States attorney for the Southern District of New York, the same office that is now investigating him. He has a wide range of close associates — including former prosecutors and judges — who could have taken him on as a client.

But at least four prominent attorneys declined for various reasons, according to people familiar with the matter. They included Mary Jo White, who also once led the United States attorney's office for the Southern District, as well as Theodore V. Wells Jr., a trial lawyer at Paul, Weiss, according to people familiar with those discussions.

Another was Daniel L. Stein, a former senior prosecutor who recently held top posts in the Southern District, where he oversaw the prosecutions of public officials including Sheldon Silver, the former speaker of the New York State Assembly, and Dean Skelos, the State Senate majority leader.

Mr. Stein, whose tenure and relationships in the Southern District would afford him credibility with prosecutors there, negotiated with Mr. Giuliani for two weeks and seemed close to reaching an agreement. But the deal ultimately fizzled because of a conflict at Mr. Stein's firm, Mayer Brown, according to one person with knowledge of the matter.

Paul L. Shechtman, a partner at the law firm Bracewell and a former prosecutor who worked in federal and state courts in Manhattan, was approached roughly two weeks ago about representing Mr. Giuliani, who is also the former mayor of New York. But the firm, where Mr. Giuliani once worked, rejected the idea, according to two people with knowledge of the matter.

Big law firms are, for the most part, conservative institutions that often represent a wide range of clients with varying business interests, many of whom tend to shy away from controversy, regardless of their politics. Mr. Giuliani's connection to Mr. Trump, his unpredictability and his recent history of outbursts in his frequent television appearances could make him a challenging client.

Lawyers who are solo practitioners were concerned that Mr. Giuliani, who is known to have difficulty delegating, would try to manage his own case, according to a person close to Mr. Giuliani.

Mr. Giuliani's trouble in hiring a lawyer mirrored Mr. Trump's own difficulties attracting a top law firm to represent him as the probe by the special counsel, Robert S. Mueller III, dragged into a second year. That difficulty — and Mr. Trump's desire for a more vocal representative — was how the president ended up hiring Mr. Giuliani.

Mr. Costello and Mr. Giuliani's relationship dates to their time in the United States attorney's office in Manhattan, where Mr. Costello was Mr. Giuliani's intern.

Mr. Costello, who later became the deputy chief of the office's criminal division, now works for a Manhattan law firm, Davidoff Hutcher & Citron. Mr. Costello declined to comment.
It's certainly understandable why Giuliani would feel the need to retain representation at this point. It was just a month ago, after all, that two of his close associates were arrested on their way out of the country in connection with an unstated ongoing criminal investigation. Several days after that, it was reported that Giuliani himself was under investigation by the U.S. Attorney's Office for the Southern District of New York. In addition to this, Giuliani has been at the center of much of the ongoing testimony that has been released in the House Intelligence Committee's ongoing investigation into the Ukraine matter. For example, the former American Ambassador to Ukraine testified that it was pressure from Giuliani that led to her being forced out of her position and others have essentially stated that the President was letting Giuliani run a shadow foreign policy vis a vis Ukraine, bypassing the State Department and normal procedure. It was Giuliani, of course, who was the primary person pressuring Ukraine to open investigations of Hunter and Joe Biden, one of the demands the President had before he would release the hold on military aid that had already been authorized by Congress.
In addition to this, Giuliani's defense of Trump in the media has raised questions of its own. Thanks to what can only be called a bizarre legal and media strategy, there are dozens of instances of Giuliani appeared on television, principally Fox News and CNN, advancing the President's interests with regard to the Russia investigation, the accusations against Joe and Hunter Biden, and the bizarre conspiracy theory that attempts to blame Ukraine rather than Russia for 2016 election interference. Whether the matters involving Giuliani end the same way that those involving Michael Cohen have remains to be seen, but at the very least it's clear that this President has really bad instincts when it comes to picking attorneys.
All that being said, it bears repeating that the fact that someone is under investigation and has retained counsel does not mean that an indictment is imminent or that it will ever materialize. Even an indictment does not mean that someone is guilty. Nonetheless, the vultures appear to be circulating for Rudy Giuliani and the prospect for what would be a massive fall for someone who was once without question one of the most highly regarded people in the country in the wake of the September 11th attacks appear to be highly likely. Taking all that into account, getting legal representation is obviously the smart thing to do on his part.