Two Giuliani Associates Arrested While Heading Out Of The Country
Two associates of President Trump's attorney Rudy Giuliani were arrested on their way out of the country, and the question is what connection Giuliani may have to the reasons behind their arrest.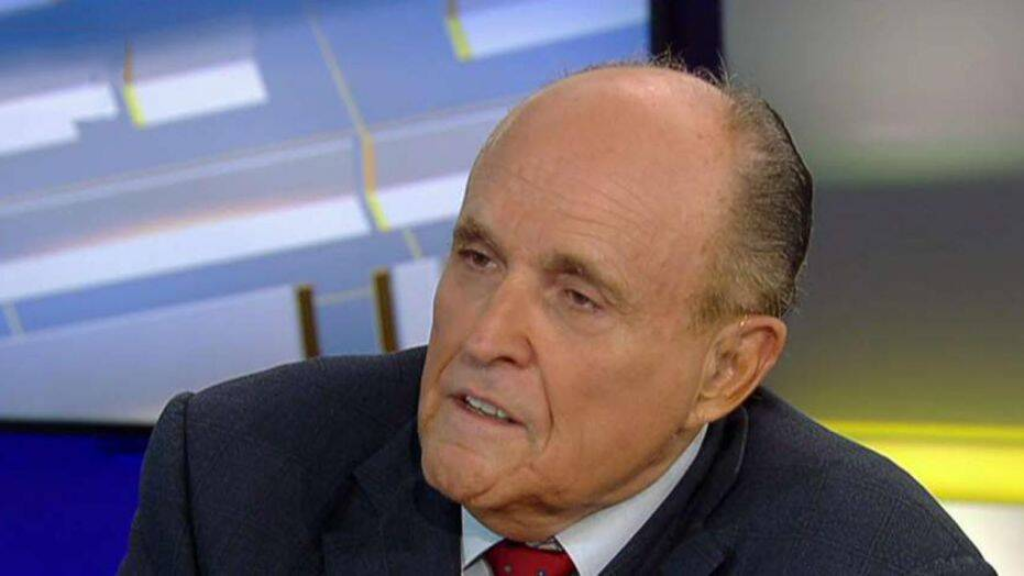 Two foreign-born men associated with President Trump's private attorney Rudy Giuliani were abruptly arrested at Dulles Airport earlier this week, raising questions about whether or not Giuliani himself may be in legal jeopardy and what connection, if any, it may have to the ongoing Ukraine controversy:
Federal prosecutors unsealed charges on Thursday against two men who have aided President Trump's efforts to gather damaging information in Ukraine about his political opponents, a criminal case that signaled growing legal exposure for the president's allies as Mr. Trump tries to blunt an impeachment inquiry in Congress.

The indictment of the two men, Lev Parnas and Igor Fruman, sketched a complex scheme to violate campaign finance laws and did not accuse Mr. Trump of wrongdoing. But it revealed new details about the push to pressure Ukraine: a campaign encouraged by Mr. Trump, led by his private lawyer Rudolph W. Giuliani and assisted by obscure figures like Mr. Parnas and Mr. Fruman.

Mr. Trump continues to defend the effort, which is the focus of the impeachment inquiry that House Democrats opened last month. The new indictment, however, suggests the first criminal implications of the shadow foreign policy that Mr. Giuliani pushed on behalf of the president.

And it is another example of the extent to which the messy power dynamics of Ukraine — a former Soviet republic and close American ally with a recent history of political upheaval — now dominate discussions about Mr. Trump's future. The impeachment inquiry began after a C.I.A. officer who has worked at the White House raised alarms about a July telephone call in which Mr. Trump seemed to suggest that American military aid was contingent on Ukraine's help in unearthing information that could help Mr. Trump politically.

Mr. Giuliani has been public about his hunt for damaging information about Democrats, and the indictment gives a more complete picture about how he seems to have subcontracted part of the work to Mr. Parnas and Mr. Fruman, two of his longtime associates.

It directly connected the two men to a key element of the pressure campaign, an effort to recall the United States ambassador to Ukraine, Marie L. Yovanovitch, after she became a focus of criticism from many of Mr. Trump's allies. Mr. Parnas and Mr. Fruman donated money and pledged to raise additional funds in 2018 — some violating legal limits — for a congressman who was then enlisted in the campaign to oust her, court papers showed.

Geoffrey S. Berman, the United States attorney for the Southern District of New York, announced that the two men were charged with making illegal campaign donations, and law enforcement officials harshly criticized the scheme.

On Thursday, William F. Sweeney Jr., the top agent in the F.B.I.'s New York office, said during a news conference that "campaign finance laws exist for a reason."

"The American people expect and deserve an election process that hasn't been corrupted by the influence of foreign interests," he said, "and the public has a right to know the true source of campaign contributions."

"Laws make up the fabric of who we are as a nation," Mr. Sweeney added. "These allegations aren't about some technicality, a civil violation or an error on a form. This investigation is about corrupt behavior and deliberate lawbreaking."

The lawmaker is named in the indictment only as "Congressman-1," but campaign finance filings identify him as former Representative Pete Sessions, Republican of Texas. Mr. Sessions, then the chairman of the powerful House Rules Committee, wrote a letter in 2018 to Secretary of State Mike Pompeo saying that Ms. Yovanovitch should be fired for privately expressing "disdain" for the current administration.

Mr. Sessions, who lost his re-election bid last year, said in a statement that he could not confirm that he was "Congressman-1" but that he would "vigorously defend myself against any allegations of wrongdoing" and that he had no knowledge of the scheme detailed by prosecutors.
It's not clear what connection if any, all of this may have to the Ukraine investigation currently taking place in Congress and the efforts to solicit information about potential 2020 rivals such as former Vice-President Biden from Ukrainian officials. It does appear, though, that these men are connected to what appears to be Giuliani's other project on behalf of Donald Trump, which is to chase down a conspiracy regarding the 2016 election that dismisses the idea of Russian interference in the election in favor of a different, and quite honestly bizarre, theory.
According to that theory, it was Ukraine rather than Russia who interfered in the 2016 election and that it was the Clinton campaign, not the Trump campaign, that was colluding with a foreign power to dig up dirt on an opponent. None of this conspiracy theory is credible, of course, but Giuliani appears to have convinced the President of its validity and the opinion hosts on Fox News Channel that are among Trump's favorites on that network have been feeding the fire have helped in that regard as well. There's no evidence to support this theory, of course, and it absolutely defies both credulity, the conclusions of America's intelligence agencies, the investigation by Special Counsel Robert Mueller, and all of the available evidence.
In any case, these men were arrested as they were headed to Vienna on one-way tickets and it just happens that Giuliani was supposed to be headed there himself, although he bizarrely claimed after their arrest that he was not scheduled to meet with the men until they were all back in the United States. Whether or not one believes that Giuliani was not going to meet up with two men who have been working with him while all three of them were in the same European city at the same time. Giuliani's trip was apparently canceled, but it's unclear whether or not that cancelation took place before or after the two men were arrested.
The obvious question here is whether or not Giuliani himself is involved in this investigation, which ironically is being conducted by the same U.S. Attorney's Office that he once headed in the 1980s. That's not clear, and one should be careful about concluding that Giuliani is wrapped up in all this personally but there are several signals that suggest that the former Mayor and current attorney for the President of the United States could be facing legal trouble that may or may not be related to his work for the President. For example, CNN reported last night that Giuliani's dealings with these two men is a part of the underlying investigation. Meanwhile, Giuliani himself is saying that he is not aware of being part of any such investigation and that he has not been contacted by the U.S. Attorney's Office. Of course, if Giuliani were a target or potential target then he would not necessarily have been contacted at this point.
Of course, if Rudy is being investigated he would be the second of the President's lawyers to be under criminal investigation. The first one, you may recall, was indicted, plead guilty, essentially identifying the President as an unindicted co-conspirator, and is currently serving a three-year sentence in Federal prison. Does Rudy need to start worrying about a similar fate? Only time will tell.
Update: Here's the indictment:
US V. Parnas Indictment by Doug Mataconis on Scribd