Michael Cohen Sentenced To Three Years For His Role In Various Trump Schemes
The President's former lawyer and "fixer" Michael Cohen has been sentenced to three years in prison for his role in assisting the President in various scandals and cover-ups.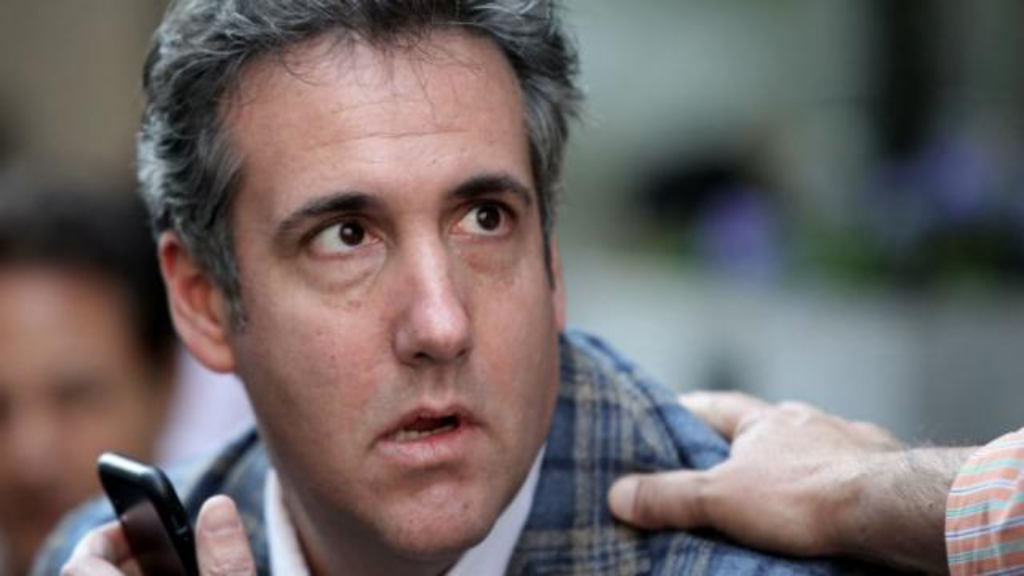 Michael Cohen, President Trump's long-time attorney and "fixer," was sentenced to three years in prison today for his role in a scheme to payoff an adult film star and a Playboy model who allege they had affairs with the President while his wife was pregnant with Trump's youngest child:
Michael D. Cohen, the former lawyer for President Trump, was sentenced to three years in prison on Wednesday morning in part for his role in a scandal that could threaten Mr. Trump's presidency by implicating him in a scheme to buy the silence of two women who said they had affairs with him.

The sentencing in federal court in Manhattan capped a startling fall for Mr. Cohen, 52, who had once hoped to work by Mr. Trump's side in the White House but ended up a central figure in the inquiry into payments to a porn star and a former Playboy model before the 2016 election.

Judge William H. Pauley III said Mr. Cohen had committed a "smorgasbord" of crimes involving "deception" and motivated by "personal greed and ambition."

"As a lawyer, Mr. Cohen should have known better," the judge said.

Before he was sentenced, a solemn Mr. Cohen, standing at a lectern, sounded emotional but resolved as he told the judge he had been tormented by the anguish and embarrassment he had caused his family.

"I blame myself for the conduct which has brought me here today," he said, "and it was my own weakness and a blind loyalty to this man" – a reference to Mr. Trump – "that led me to choose a path of darkness over light."

Mr. Cohen said the president had been correct to call him "weak" recently, "but for a much different reason than he was implying."

"It was because time and time again I felt it was my duty to cover up his dirty deeds rather than to listen to my own inner voice and my moral compass," Mr. Cohen said.

Mr. Cohen then apologized to the public: "You deserve to know the truth and lying to you was unjust."

Federal agents raided Mr. Cohen's office and home in April, and he later turned on Mr. Trump, making the remarkable admission in court that Mr. Trump had directed him to arrange the payments.

Mr. Trump at first denied knowing anything about the payments, but then acknowledged that he had known about them. This week, he insisted that the payments were "a simple private transaction" — not election-related spending subject to campaign-finance laws.

He also maintained that even if the hush-money payments were campaign transactions in violation of election regulations, that should be considered only a civil offense, not a criminal one.

Since Mr. Cohen came under investigation, Mr. Trump has mocked him as a "weak person" who was giving information to prosecutors in an effort to obtain leniency when he is sentenced.

In fact, Mr. Cohen did not formally cooperate with prosecutors in the United States attorney's office in Manhattan. In addition to the campaign-finance violations, the sentence covered Mr. Cohen's guilty pleas to charges of tax evasion, bank fraud and making false statements to Congress.

He took a calculated gamble in pleading guilty to this litany of federal crimes without first entering into a cooperation agreement with the government. He offered to help prosecutors, but only on his terms, and there were some subjects he declined to discuss.

His lawyers argued he should not serve time in prison. Federal prosecutors in Manhattan said he deserved around four years.

Judge Pauley had the final say. The judge said Mr. Cohen's assistance to the special counsel's office, though useful, had not "wiped the slate clean," and a "significant term" of prison was justified.

In the end, the judge gave Mr. Cohen three years for the crimes he committed in New York and two months for lying to Congress, to be served at the same time. He was also asked to pay nearly $2 million in fines, forfeitures and restitution.
Cohen's hearing was somewhat unusual in that it ended up involving two separate guilty pleas in two separate cases, some of which did not involve Cohen's work for Donald Trump, although the majority of both cases covered those areas.
The first case, which is being handled by the U.S. Attorney for the Southern District of New York, involved a number of charges against Cohen dealing with his handling of business transactions involving New York City Taxi Medallions but also involved the role that Cohen played in the negotiation of agreements in October 2016 with adult film star Stormy Daniels and Playboy model Karen McDougal under which the women were paid $150,000 and $130,000 respectively in exchange for their silence regarding sexual relationships they had with Trump in 2006 when Melania Trump was pregnant with their son Barron. At first, Cohen denied that the President was aware of those payments and stated that the Daniels payment specifically was made without the President's knowledge using Cohen's personal funds, an act for which Cohen was never personally reimbursed. The President, of course, repeated these denials at least until his personal attorney Rudy Guiliani acknowledged that the President knew about the payoff to Daniels and that he had reimbursed Cohen for the $130,000 that was paid to Daniels. Subsequently, recordings that Cohen had made of a conversation with Trump revealed that the then-candidate was aware of the ongoing negotiations regarding a similar payoff to McDougal. Later, Cohen admitted that he did not choose to pursue an agreement with Stormy Daniels until after the release of the Access Hollywood tape, a development that makes it far more likely that this payoff to Daniels, as well as the contemporaneous payoff to McDougal, was made to benefit the Trump campaign rather than protect the Trump marriage or shield Melania Trump from embarrassment. This made both contributions, neither one of which was authorized by or properly reported to the Federal Election Commission, violations of the law that could subject both Trump and Cohen, as well as various people involved in the Trump campaign potentially subject to both civil and criminal charges. Cohen pled guilty to these charges in August. In his plea, Cohen admitted that his involvement in the payments to purchase the silence of Stormy Daniels and Karen McDougal were done for the purpose of trying to protect the campaign in the final weeks of the election and that it was done at the direction and with the full knowledge of his boss Donald Trump. These payments both violated applicable Federal election laws and Cohen's admission essentially meant that he is an unindicted co-conspirator in an effort to violate the law.
The second case is being handled by the office of Special Counsel Robert Mueller and involved other aspects of Cohen's work for Trump's business dealings with Russia. In this case, Cohen ended up pleading guilty just a couple weeks ago to charges of lying to Congress regarding Trump's efforts to build a hotel, office, and residential tower in Moscow, efforts that began as early as 2014 and which continued during the time that Trump was running for President. Previously, the President had claimed in public statements that he had no business dealing with Russia. In addition to all of this, both Donald Trump Jr. and Eric Trump, both of whom were already serving in high-ranking positions in their father's business at this time, were quoted at the time as saying in an almost braggadocious manner that the real estate developer was getting a lot of money from Russian banking interests. We also know that Trump had an interest in building a tower in Moscow that dates back to the 1990s, that he openly pursued relationships with people close to Putin in an effort to get permission to hold the Miss Universe pageant there (which happened in 2013), and that he had at least signed a letter of intent to build in Moscow back in 2015 just months before he entered the race for President. Finally, several news outlets have reported that Trump has a long history with Russian banking interests, including banks owned by individuals known to be within the inner circle of Russian President Vladimir Putin, that raise serious questions about whether or not he has a conflict of interest regarding U.S. relations with Russia in general and Putin in particular
Although four months have passed since then, we have yet to fully understand what the consequences of that admission on Cohen's part will be for the President. At the very least though, while the terms of Cohen's plea agreement did not require him to formally agree to cooperate with Mueller's investigation or to reveal everything he may know about Trump, his businesses, and the ties that either may have to Russia or Russian business interests, it's clear that he has been cooperating and did provide at least some useful information to both Mueller and to the ongoing investigation in the Southern District of New York, which has recently expanded its investigation beyond Cohen to include Trump's businesses. Because of that, the revelations by Cohen made it clear that Trump has been lying about potential business interests and dealings with Russia for an extended period of time. This is significant both because it is potentially a link that could substantiate charges of collusion and conspiracy as well as an explanation for why the Trump White House may have sought to obstruct the Russia investigation from the beginning.
In theory, Cohen could have faced far more time in prison without a guilty plea, and even less had he entered a formal cooperation agreement with the government. At the same time, though, it does appear that Cohen has provided both the U.S. Attorney in Manhattan and Special Counsel Mueller with significant assistance with regard to their investigation. Cohen apparently stated in Court that he never entered into a formal cooperation agreement with either prosecutor and that he would continue to do so in the future. In any case, given his level of involvement in assisting Trump, a role that Cohen apparently stated in Court that getting involved with Trump was the biggest mistake of his career, this cooperation no doubt played a role in a granting him what is clearly a rather lenient sentence under the charges against him. It also goes to further embarrass the President and to implicate him in a pair serious criminal conspiracies.