Rudy Giuliani Under Criminal Investigation
Trump attorney Rudy Giuliani is under criminal investigation by the same office he once headed as U.S. Attorney.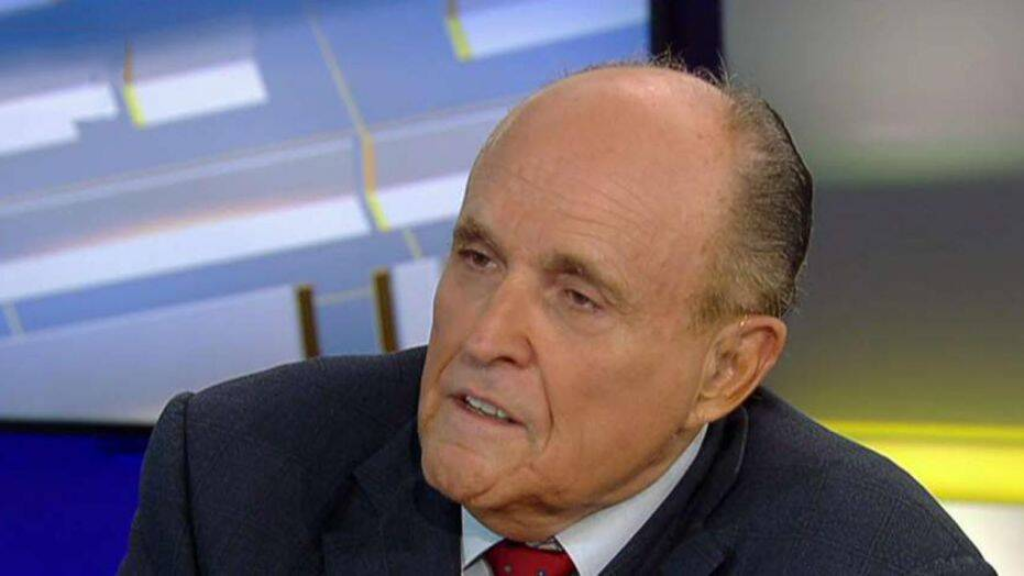 The New York Times is reporting that Rudy Giuliani, who has been acting as President Trump's attorney with respect to the Russia investigation and, apparently, other matters, is under criminal investigation by the same office he once headed and where he earned the reputation that sent him to national political prominence:
WASHINGTON — Federal prosecutors in Manhattan are investigating whether President Trump's personal lawyer Rudolph W. Giuliani broke lobbying laws in his dealings in Ukraine, according to two people familiar with the inquiry.

The investigators are examining Mr. Giuliani's efforts to undermine the American ambassador to Ukraine, Marie L. Yovanovitch, one of the people said. She was recalled in the spring as part of Mr. Trump's broader campaign to pressure Ukraine into helping his political prospects.

The investigation into Mr. Giuliani is tied to the case against two of his associates who were arrested this week on campaign finance-related charges, the people familiar with the inquiry said. The associates were charged with funneling illegal contributions to a congressman whose help they sought in removing Ms. Yovanovitch.

Mr. Giuliani has denied wrongdoing, but he acknowledged that he and the associates worked with Ukrainian prosecutors to collect potentially damaging information about Ms. Yovanovitch and other targets of Mr. Trump and his allies, including former Vice President Joseph R. Biden Jr. and his younger son, Hunter Biden. Mr. Giuliani shared that material this year with American government officials and a Trump-friendly columnist in an effort to undermine the ambassador and other Trump targets.

Federal law requires American citizens to disclose to the Justice Department any contacts with the government or media in the United States at the direction or request of foreign politicians or government officials, regardless of whether they pay for the representation. Law enforcement officials have made clear in recent years that covert foreign influence is as great a threat to the country as spies trying to steal government secrets.

A criminal investigation of Mr. Giuliani raises the stakes of the Ukraine scandal for the president, whose dealings with the country are already the subject of an impeachment inquiry. It is also a stark turn for Mr. Giuliani, who now finds himself under scrutiny from the same United States attorney's office he led in the 1980s, when he first rose to prominence as a tough-on-crime prosecutor and later ascended to two terms as mayor of New York.

It was unclear how far the investigation has progressed, and there was no indication that prosecutors in Manhattan have decided to file additional charges in the case. A spokeswoman for the United States attorney in Manhattan, Geoffrey S. Berman, declined to comment.

(…)

CNN and other news organizations reported that federal prosecutors were scrutinizing Mr. Giuliani's financial dealings with his associates, but it has not been previously reported that federal prosecutors in Manhattan are specifically investigating whether he violated foreign lobbying laws in his work in Ukraine.

Ms. Yovanovitch told impeachment investigators on Friday that Mr. Trump had pressed for her removal for months even though the State Department believed she had "done nothing wrong."

Mr. Giuliani had receded from the spotlight in recent years while he built a brisk international consulting business, including work in Ukraine. But he re-emerged in the center of the political stage last year, when Mr. Trump retained him for the special counsel's investigation into Russian election interference.

Russia's sabotage also ushered in a new focus at the Justice Department on enforcing the laws regulating foreign influence that had essentially sat dormant for a half-century and under which Mr. Giuliani is now being investigated.
It was just a few days ago, of course, that two associates of Giuliani's were arrested on their way out of the country on charges that, as of yet, don't appear to directly implicate the former Mayor. However, it isn't uncommon for indictments in Federal Court to be amended after the fact to include additional facts and additional counts. Additionally, if Giuliani is the target here, as seems likely, then prosecutors will no doubt be trying to get one or both of these men to flip on their former associate and testify against him.
This news broke just hours after President Trump appeared to begin distancing himself from Giuliani, who has been a long-time Trump friend long before coming to represent him as an attorney:
We've heard this before, of course, in the case of Michael Cohen, President Trump's longtime attorney and "fixer" Michael Cohen. Cohen, of course, found himself in legal jeopardy beginning last year and ended up pleading guilty and essentially fingering the President as a co-conspirator in a scheme to violate Federal election laws. It seems apparent that Trump is preparing to treat Rudy the same way he did Cohen when it was apparent he was going down. That effort failed when it was revealed that Cohen had recordings in which he and Trump were discussing the effort to pay off Stormy Daniels and Rudy Giuliani and failed completely when Cohen plead guilty to a scheme in which the President was clearly an active participant.
In Giuliani's case, we don't really need tapes of conversations between the President and the former Mayor. Thanks to what can only be called a bizarre legal and media strategy, there are dozens of instances of Giuliani appeared on television, principally Fox News and CNN, advancing the President's interests with regard to the Russia investigation, the accusations against Joe and Hunter Biden, and the bizarre conspiracy theory that attempts to blame Ukraine rather than Russia for 2016 election interference. Whether the matters involving Giuliani end the same way that those involving Cohen have remains to be seen, but at the very least it's clear that this President has really bad instincts when it comes to picking attorneys.
All that being said, it bears repeating that the fact that someone is under investigation does not mean that an indictment is imminent or that it will ever materialize. And an indictment does not mean that someone is guilty. Nonetheless, the vultures appear to be circulating for Rudy Giuliani and the prospect for what would be a massive fall for someone who was once without question one of the most highly regarded people in the country in the wake of the September 11th attacks appear to be highly likely.