Former Ambassador Describes Effort By Trump Associates To Push Her Aside
Former U.S. Ambassador to Ukraine Marie Yovanovitch described how the President's allies intimidated her out of her position, while the President intimidated her live on Twitter.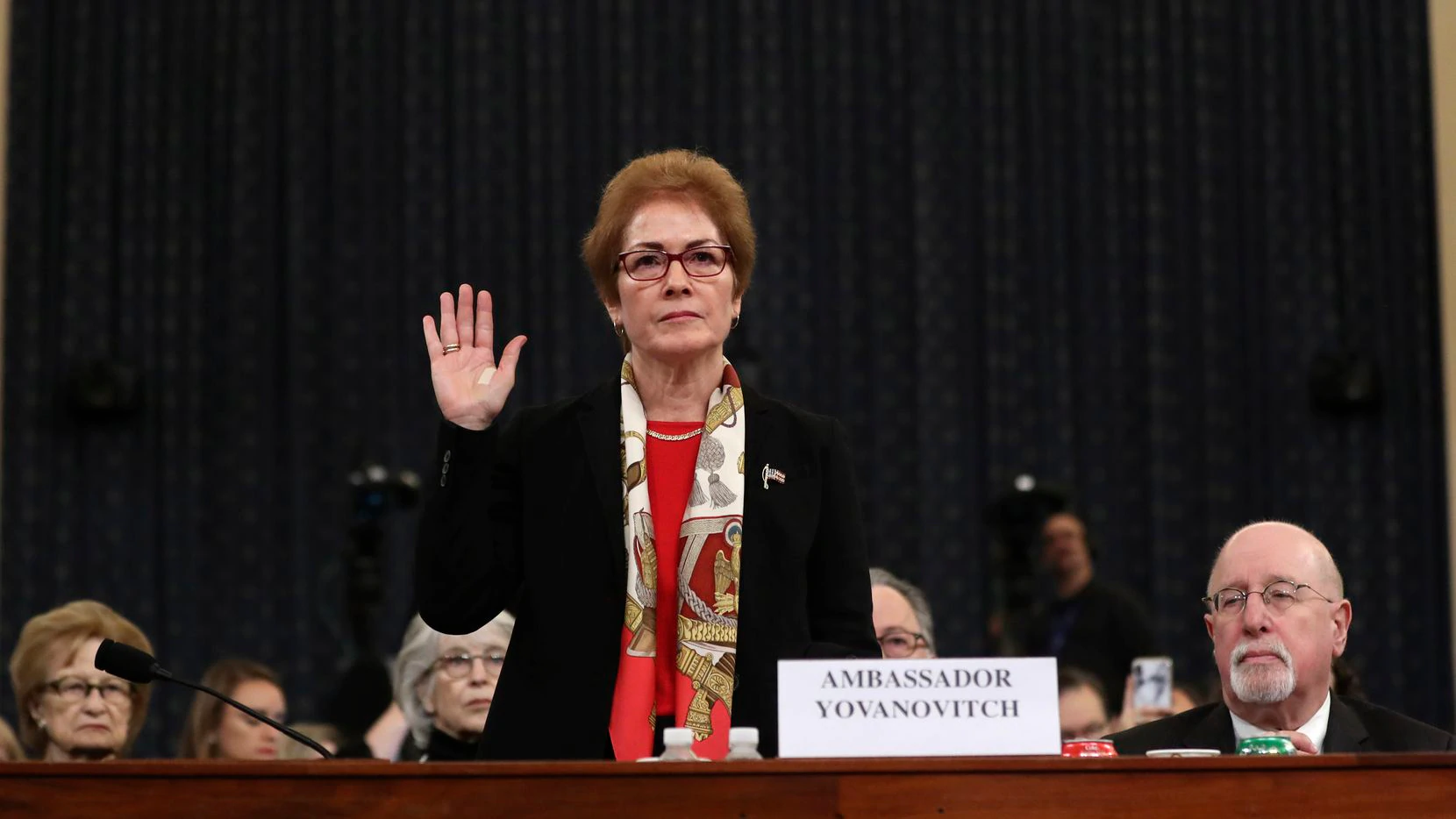 The second day of public hearings in the House of Representatives public hearing in the ongoing impeachment investigation we far different from the first. In that first hearing, the House Intelligence Committee heard from two men who had at least some knowledge regarding the Trump Administration's effort to get the Ukrainian government to cooperate in efforts to investigate political rivals. Yesterday, though, former U.S. Ambassador to Ukraine Maria Yovanovitch testified regarding the extent to which American policy toward Ukraine was taken over by an unusual cabal that was seemingly headed by the President's private attorney. Meanwhile, as the hearing folded, President Trump engaged in what many observers characterized as witness intimidation:
WASHINGTON — "In my line of work, perhaps in your line of work as well, all we have is our reputation," Marie L. Yovanovitch, the ousted American ambassador to Ukraine, said on Friday. "This has been a very painful period."

It was just after 9 a.m. and the career diplomat and self-declared "private person" found herself engulfed in a ritual camera burst. She had entered the hearing room by a side door, as if she could avoid a fuss.

After a career of far-flung postings and a diplomat's ease for sizing up exotic cultures, her mission before the House Intelligence Committee still resembled that of a wayward stopover in a strange land. Known as Masha, Ms. Yovanovitch, 61, looked every bit the outsider in a dangerous village.

She walked to her seat with a story to tell. She exited nearly seven hours later — after a presidential tweet denigrating her drew gasps from the audience — to applause.

Ms. Yovanovitch started with some basic housekeeping, the kind you could easily skip past in a less suspicious time. "I come before you as an American citizen," she said in her opening statement. She also came as a human story, a witness to collateral damage — namely her own.

Ms. Yovanovitch would be the first to assert there is nothing spectacular about her 33 years at State. She was but one of many unsung Foreign Service officials who toiled with distinction on behalf of the country. "Like my colleagues, I entered the Foreign Service understanding that my job was to implement the foreign policy interests of this nation," she said. "I had no agenda other than to pursue our stated foreign policy goals."

President Barack Obama gave her Ukraine in 2016, where she would become the highest-ranking female ambassador at the State Department. By nearly all accounts she served with professionalism and a commitment to anti-corruption. Then along came Mr. Trump.

The president, by way of his personal lawyer, Rudolph W. Giuliani, targeted Ms. Yovanovitch as an impediment to the investigations they were trying to advance in Ukraine at the expense of former Vice President Joseph R. Biden Jr. and his son Hunter — the events leading Mr. Trump to the brink of impeachment.

Ms. Yovanovitch was disdained by Mr. Trump's allies as an Obama-appointed stooge (Don Jr. called her a "joker"). She was accused without proof of disparaging the president and said she was warned (by Ukraine's interior minister) to "watch her back."

When, according to her closed-door testimony, she asked the Trump-appointed ambassador to the European Union, Gordon D. Sondland, how she might improve her crippled standing in Washington, he suggested she tweet something nice about the president. Not normal.

After being derided as "bad news" by Mr. Trump in a fateful July phone call with President Volodymyr Zelensky of Ukraine, Mr. Trump said ominously that "she's going to go through some things."

Friday was quite a thing.

"I was shocked and appalled," the former ambassador said when she learned that Mr. Trump had disparaged her to the Ukrainian president. "The woman," Mr. Trump told Mr. Zelensky, "was bad news."

"The woman."

"It was a terrible moment," Ms. Yovanovitch said of her reaction. She quoted a person who observed her at the moment she learned of the president's characterization of her: "The color drained from my face."

Dan Goldman, the majority counsel, invited her to continue, hopefully "without upsetting you too much." Ms. Yovanovitch then spoke of her disbelief that an American president would talk like this to a foreign head of state about his own diplomat. And not just any diplomat.

"It was me," she said, her voice creeping off, as she appeared to relive her shock.

And then the president tweeted. About the witness. As she testified, in real time, a little after 10 a.m. It is safe to assume this was another first.

"Everywhere Marie Yovanovitch went turned bad," came the president's just-discharged words.

Representative Adam B. Schiff, the California Democrat who is chairman of the intelligence committee, jumped in to narrate the breaking tweet: "She started off in Somalia, how did that go?" There were head shakes and maybe a grimace or two from even the staunchest Republicans on the panel.

This was not your parents' impeachment (Clinton) or grandparents' (Nixon).

Perhaps it should not have been a surprise, but the ambassador appeared freshly shaken. "I don't think I have that power," she said after

Mr. Schiff asked about the president blaming her for "turning bad" every place that she served. "I made things better," she countered, less with conviction than disbelief.

"It's very intimidating," she said a minute later, of what it was like to have the president of the United States denounce your entire career by tweet and learn about it, along with millions of other people, on live television. She rocked slowly in her chair.
The Washington Post has more:
Yovanovitch said that when she first read how Trump had talked about her to his Ukrainian counterpart in a July phone call — saying ominously that "she's going to go through some things" — the color drained from her face.

"It sounded like a threat," she said.

Yovanovitch's five-hour testimony, which began with a passionate defense of American diplomacy and ended to a crescendo of applause, took a dramatic turn when Trump took to Twitter to denigrate her again as she spoke.

"Everywhere Marie Yovanovitch went turned bad," Trump wrote shortly after the diplomat's opening statement.

Trump's attack on a widely respected Foreign Service officer — while she calmly but forcefully denounced previous attempts to smear her — drew widespread criticism, with many Democratic lawmakers calling it witness intimidation and some Republicans distancing themselves from the president's scorched-earth tactics even as they pushed back against the Democrats' charge.

Yovanovitch called the tweets "very intimidating."

"I can't speak to what the president is trying to do," she said after House Intelligence Committee Chairman Adam B. Schiff (D-Calif.) read Trump's tweets to her. "But I think the effect is to be intimidating."

While the second day of the House public impeachment hearings ended with both parties still firmly entrenched behind their battle lines, Yovanovitch's highly personal testimony put Republicans on the defensive, undercutting GOP talking points with a sober account of what she called a "smear campaign" conducted by Trump's allies in Ukraine.

While her interactions with Trump were minimal, Yovanovitch described how actions by the president and Giuliani served to undermine American interests in Ukraine. A campaign led by Giuliani and supported by corrupt officials led to her abrupt ouster from her post in Kyiv, she said.
Here are the President's tweets on the hearing as it unfolded
While it appears to me that this falls short of being the crime of witness intimidation as described in 18 USC 1512 notwithstanding the suggestion of some that it did meet the standards, there is no question in my mind that Trump's tweets were meant to be intimidating without necessarily crossing the legal line. That being said, the fact that the President was lashing out at a long-serving and distinguished foreign service officer who has served both Republican and Democratic Presidents shows the extent to which he is willing to go to protect himself and his interests.
As the hearing went on, it became clear the Republicans on the committee were there to do, particularly Ohio Congressman Jim Jordan and New York Congresswoman Elise Stefanik, both of whom went after Yovanovitch particularly hard in ways that were clearly motivated more by a desire to please the President, While this may have gotten them favorable coverage on Fox News Channel, it didn't really accomplish anything and, for the second hearing in a row, Republicans largely failed to do anything to create any reasonable doubts about the veracity of the witness.
As anticipated, the biggest takeaway from Yovanovitch's narrative is the extent to which she was pushed aside when it came to Ukraine policy in the months before being recalled in favor of a cabal close to the President led by the President's private attorney Rudy Giuliani. We have learned from the testimony of others, for example, that the effort to push her aside came directly from Giuliani himself although Yovanovitch said she never met the former Mayor and had no idea why he would target her. The obvious conclusion, of course, is that Giuliani and those working with him saw her as an impediment to their efforts to influence the Ukrainian government to do the President's bidding with respect to the investigations of the Bidens and chasing down the ridiculous and discredited conspiracy theory regarding
As Yovanovitch made clear during her opening statement, she had no direct knowledge of the events that led to the July 25th phone call between Presidents Trump and Zelensky, and she was not part of that phone call. Nonetheless, her testimony made clear that the President was seeking to take responsibility for the relationship between the United States and Ukraine out of normal diplomatic channels and hand it over to Giuliani, who was traveling back and forth to Kyiv and other cities in Europe seeking support for the idea of investigating the former Vice-President and his son as well as the discredited conspiracy theory that it was Ukraine, not Russia, that was behind the interference in the 2016 election. Second, it demonstrated both in retrospect and in real-time the manner in which the President is willing to treat even esteemed career diplomats like Yovanovitch when he believes they are not loyal to him. In other words, her testimony, while not directly dispositive of the central facts of the impeachment investigation it did fill in another piece of the puzzle that is likely to lead to the President's impeachment.