Democrats Begin To Make Their Case In First Day of Public Impeachment Hearings
There were few fireworks during the first day of public impeachment hearings, but the ground work for a case against the President was laid.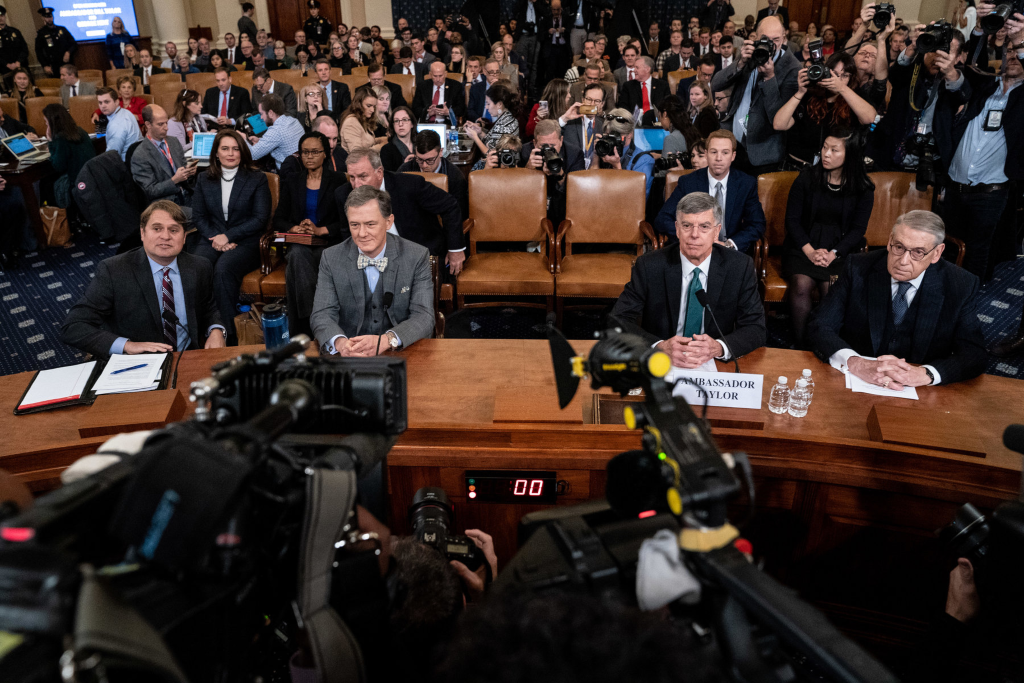 Yesterday's opening public hearings in the impeachment investigation of President Trump lacked any bombshell moments, leading the White House and Republicans to call the proceeding "boring," but the proceedings featuring testimony from Ambassador William Taylor and State Department official George Kent did contain some new revelations:
WASHINGTON — The House of Representatives opened historic impeachment hearings on Wednesday and took startling new testimony from a senior American diplomat that further implicated President Trump in a campaign to pressure Ukraine to publicly commit to investigating former Vice President Joseph R. Biden Jr.

In a nationally televised hearing from a stately committee room across from the Capitol, William B. Taylor Jr., the top American diplomat in Ukraine, brought to life Democrats' allegations that Mr. Trump had abused his office by trying to enlist a foreign power to help him in an election.

Mr. Taylor testified to the House Intelligence Committee that he learned only recently of a July telephone call overheard by one of his aides in which the president was preoccupied with Ukraine's willingness to say it would look into Mr. Biden and work by his son Hunter Biden for a Ukrainian energy firm. Immediately afterward, Mr. Taylor said, the aide had been informed that Mr. Trump cared more about "investigations of Biden" than he did about Ukraine.

A powerful witness for Democrats, Mr. Taylor appeared as Congress embarked on the third set of presidential impeachment hearings in modern times. Forceful, detailed and unflappable in the face of Republican taunts, the veteran diplomat delivered a remarkable rebuke of the actions taken by the president and his allies inside and outside of the government who placed Mr. Trump's political objectives at the center of American policy toward Ukraine.

"Security was so important for Ukraine, as well as our own national interests," Mr. Taylor testified, describing his growing sense of alarm at learning that $391 million in vital military aid for the former Soviet republic had been held up. "To withhold that assistance for no good reason other than help with a political campaign made no sense. It was counterproductive to all of what we had been trying to do. It was illogical. It could not be explained. It was crazy."

The proceedings pushed into the public gaze an epic impeachment clash between Mr. Trump, his Republican allies and Democrats that has shifted into high gear less than a year before the presidential election. In the first impeachment hearing in more than two decades, Mr. Taylor and another seasoned diplomat, George P. Kent, sketched out, in testimony by turns cinematic and dry, a tale of foreign policymaking distorted by a president's political vendettas with a small country facing Russian aggression caught in the middle.

Democrats toiled to make their case to a deeply divided nation that Mr. Trump had put the integrity of the 2020 election at risk by withholding the security assistance for Ukraine's war with Russia to try to extract a political advantage for his re-election campaign.

"If this is not impeachable conduct," demanded Representative Adam B. Schiff, Democrat of California and the chairman of the committee, "what is?"

Showing no sign of doubts, Mr. Trump's Republican defenders raged against a process they called unfair and illegitimate. They dismissed Mr. Taylor and Mr. Kent — who between them have 70 years of experience as public servants under presidents of both parties — as part of a "politicized bureaucracy" who were offering nothing more than hearsay and supposition, rather than evidence of impeachable conduct.

"The American people see through all this," said Representative Jim Jordan, Republican of Ohio. "They understand the facts support the president. They understand this process is unfair. And they see through the whole darn sham."

At the White House on Wednesday, Mr. Trump sought to project an air of confidence in the face of an existential threat to his presidency. Before a working meeting with President Recep Tayyip Erdogan of Turkey, Mr. Trump told reporters of the hearing: "It's a hoax. I'm too busy to watch it."

But even so, Mr. Trump was busy all day retweeting allies defending him. His re-election campaign blasted out a fund-raising solicitation accusing Democrats of "playing a sick game." And the Republican National Committee circulated memes making fun of the witnesses as gossips who lacked firsthand information.

Asked for his reaction after the hearing ended, Mr. Trump said he had heard "it is a joke" and insisted that he had not watched it "for one minute." He called the impeachment effort a sham and said, "It shouldn't be allowed."

(…)

Mr. Taylor said a member of his staff overheard a telephone conversation in which the president mentioned "the investigations" to Gordon D. Sondland, the United States ambassador to the European Union, who then told Mr. Trump "that the Ukrainians were ready to move forward."

he conversation took place in a restaurant in Kiev one day after the July 25 phone call in which Mr. Trump personally pressed President Volodymyr Zelensky of Ukraine to investigate the Bidens and unproven allegations that Ukraine conspired with Democrats to interfere in the 2016 election.

When Mr. Holmes inquired after the call what the president thought about Ukraine, Mr. Sondland "responded that President Trump cares more about the investigations of Biden, which Giuliani was pressing for," in Mr. Taylor's telling. Rudolph W. Giuliani, the president's personal lawyer, led what Mr. Taylor called a "highly irregular" policymaking channel on Ukraine that ran counter to goals of longstanding American policy.

The episode was not included in Mr. Taylor's interview with investigators last month because he was not aware of it at the time. But the new disclosure promises to figure prominently when Mr. Sondland appears next week for his own public testimony.

Asked Wednesday afternoon about the call, Mr. Trump said, "I know nothing about that."

(…)

The revelation came as Mr. Taylor recounted publicly what he had already told investigators privately. He said he had discovered that Mr. Trump was conditioning "everything" about the United States' relationship with Ukraine — including needed military aid and a White House meeting for Ukraine's president — on the country's willingness to commit publicly to investigations of his political rivals. Mr. Taylor's testimony made it clear that the Ukrainians were well aware of the prerequisite at the time.

Asked by a Democratic lawyer if he had ever seen "another example of foreign aid conditioned on the personal or political interests of the president of the United States," Mr. Taylor, in a sonorous voice that echoed through the hearing room, said, "I have not."
The revelation of a new phone call during which the Ukrainian matter was discussed is perhaps the only "big news" to come out of yesterday's opening day of hearings, but that doesn't mean that the hearings were by any means boring or unimportant. Over the course of the better part of a day, Taylor and Kent acknowledged in public what they had already testified to in their closed-door depositions. Specifically, that there was significant pressure being put on Ukraine and on the newly-inaugurated Ukrainian President to commit to an investigation of Joe and Hunter Biden and to commit to cooperation in the investigation of the discredited Republican conspiracy theory that it was Ukraine, rather than Russia that had interfered in the 2016 election and that it did so to benefit the campaign of Hillary Clinton. Additionally, Taylor specifically testified that there was an unusual amount of pressure being applied to State Department and other officials to yield policy toward Ukraine toward to a cabal led by Rudy Guiliani, the President's private attorney. To say the least, Taylor found the arrangement to be unusual.
For their part, Republicans on the committee, led by close Trump ally Congressman Devin Nunes, did their best to protect the President and to divert attention from the issues actually before the committee. As noted, they spent significant amounts of time trying to extract information about Ukraine's alleged collusion with the Clinton campaign in 2016, something that both Taylor and Kent said they knew nothing about, Additionally, on several occasions they came close to mentioning the name of the whistleblower without actually doing so and demanding that the Democrats consent to issue a subpoena for him and his attorney. Of course, Committee Chairman Adam Schiff and the Democrats denied this demand, citing the fact that the committee has an obligation to protect the identity of the whistleblower and that, in any case, his testimony is not relevant due to the fact that we now have first-hand confirmation of all of the allegations first made in the complaint that was made public in September some of it, such as the summary of the July 25th phone call between Presidents Trump and Zelensky, from the White House itself. To the extent that Republicans were seeking to discredit either the hearings or the witnesses, yesterday was largely a failure.
This first hearing is, of course, just the beginning of the process. Tomorrow we will hear from former US Ambassador to Ukraine Marie Yovanovitch, who was ousted at the same time she was pushing back against Administration efforts to hand over Ukraine policy to Giuliani and others. As demonstrated by her closed-door testimony, Yovaoovitch stands as the most direct victim of the efforts of the White House to place Ukraine policy in the hands of civilians who were apparently pursuing an agenda utterly at odds with previously stated American policy and which had the primary effect of seemingly undermining efforts to provide at least some assistance to Ukraine in a civil war where the opposing side is clearly and openly being aided by Russia.
For the first day of public hearings, I'd say that things went well for Democrats seeking to lay out the case for impeachment to the public. There will be more witnesses to fill in the blanks in the coming weeks. For Republicans, it was not a good day, Unless you live in the fever swamps of the right such as Fox News Channel and the online pro-Trump conservative media, much of what they were touching on likely came across as a bizarre, disjointed, and utterly confusing attempt to create an alternative reality where the Trump campaign and the GOP was the victim of a conspiracy between the Clinton campaign and the previous President of Ukraine. That no doubt led to favorable coverage from the usual sources and the approval of the President, but it didn't appear to accomplish much of anything.