Top U.S. Diplomat Confirms Quid Pro Quo On Ukraine Aid
A top U.S. diplomat involved in Ukraine policy confirmed the existence of a quid pro quo regarding U.S aid to Ukraine.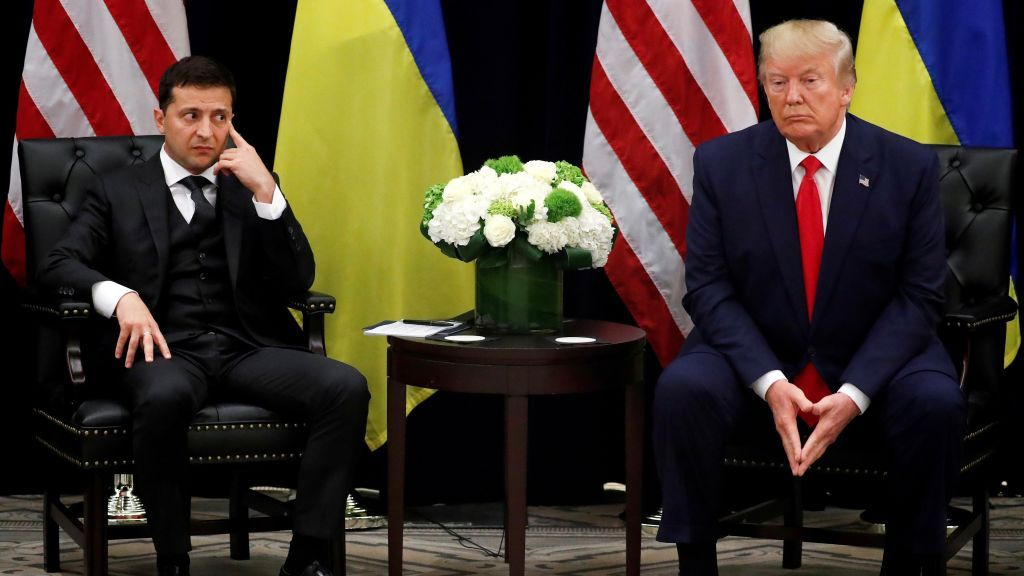 A top Trump Administration diplomat involved in the relationship between the United States and Ukraine over the past three years testified yesterday that there was a direct link between providing aid to Ukraine and the eastern European nation undertaking investigations against the President's political adversaries back home:
America's top diplomat in Ukraine delivered a forceful blow to President Trump's account of his "perfect" dealings with that nation, telling lawmakers Tuesday that the White House had threatened to withdraw much-needed military aid unless Kyiv announced investigations for Trump's political benefit.

The explosive, closed-door testimony from acting ambassador William B. Taylor Jr. undermined Trump's insistence that he never pressured Ukrainian officials in a potentially improper "quid pro quo." It also offered House investigators an expansive road map to what Taylor called a "highly irregular" channel of shadow diplomacy toward Ukraine that lies at the heart of the impeachment inquiry.

In a 15-page opening statement, obtained by The Washington Post, Taylor repeatedly expressed his shock and bewilderment as he watched U.S. policy toward Ukraine get overtaken by Trump's demand that newly elected president Volodymyr Zelensky "go to a microphone and say he is opening investigations of [Democratic presidential candidate Joe] Biden and 2016 election interference."

" 'Everything' was dependent on such an announcement, including security assistance," Taylor said he was told by Gordon Sondland, U.S. ambassador to the European Union.

A seasoned diplomat, Army veteran and meticulous note taker, Taylor told lawmakers that former national security adviser John Bolton and other officials from the Pentagon, the State Department and the CIA tried unsuccessfully to get a meeting with Trump to persuade him to release the money — nearly $400 million intended to help Ukraine defend itself against Russia.

But Trump's hold on the aid extended well into September, and Taylor said he found himself considering resignation. "I could not and would not defend such a policy," Taylor said.

The blockbuster testimony came hours after Trump escalated his attack on the impeachment inquiry, tweeting that it was a "lynching" and drawing swift condemnation from Democrats and some Republicans for equating the constitutional process with the barbaric killing of African Americans.

Taylor's unspooling of events not only contradicted Sondland's testimony, delivered last week, but also posed a test for Republicans who have uniformly defended Trump amid the fast-moving Ukraine saga. Many have cast evidence of a "quid pro quo" — U.S. aid used as leverage for political favors — as the red line that would cause Trump to lose their support.

But Taylor's testimony made plain that, even as Sondland and others told him that the president was not seeking a "quid pro quo," it was clear to him that the arrangement met the dictionary definition.

(…)

In his testimony, Taylor told lawmakers that on Sept. 8, after he had begun raising alarms about pressure on Zelensky, Sondland explained that Trump approached the foreign policy matter as a business proposition.

"Ambassador Sondland tried to explain to me that President Trump is a businessman. When a businessman is about to sign a check to someone who owes him something, he said, the businessman asks that person to pay up before signing the check."

Sondland told House investigators last week that he recalls "no discussions" with anyone at the State Department or White House about investigating Biden or his son Hunter Biden, who sat on the board of a Ukrainian gas company, Burisma.

Taylor also pointed to Trump's lawyer Rudolph W. Giuliani as a source of trouble.

"The push to make President Zelenskyy publicly commit to investigations of Burisma and alleged interference in the 2016 election showed how the official foreign policy of the United States was undercut by the irregular efforts led by Mr. Giuliani," Taylor wrote, using an alternate spelling for the Ukrainian leader's name.
New York Times reporter Peter Baker calls yesterday "damning,":
In by far the most damning account yet to become public in the House impeachment inquiry Mr. Taylor described a president holding up $391 million in assistance for the clear purpose of forcing Ukraine to help incriminate Mr. Trump's domestic rivals. Mr. Trump's actions, he testified, undercut American allies desperately fighting off Russia's attempt to redraw the boundaries of Europe through force.

"If Ukraine succeeds in breaking free of Russian influence, it is possible for Europe to be whole, free, democratic and at peace," Mr. Taylor said in his opening statement to House investigators, which was provided to reporters after he delivered it behind closed doors. "In contrast, if Russia dominates Ukraine, Russia will again become an empire, oppressing its people and threatening its neighbors and the rest of the world."

(…)

[Walker] recalled being stunned to learn during a secure video conference call on July 18 that the aid to Ukraine had been delayed with no explanation other than that "the directive had come from the president to the chief of staff to" the Office of Management and Budget.

I and others sat in astonishment," he testified. "The Ukrainians were fighting the Russians and counted on not only the training and weapons, but also the assurance of U.S. support."

No one told the Ukrainians at first, and Mr. Taylor recalled meeting with President Volodymyr Zelensky in Kiev on July 26, the day after Mr. Trump pressed the newly elected Ukrainian leader on the telephone to investigate Mr. Biden and the 2016 election conspiracy theory.

After the meeting, Mr. Taylor joined Mr. Zelensky and Kurt D. Volker, the State Department special envoy for Ukraine, on a trip to northern Donbas, the front line of the conflict with Russian-backed separatists, where they were briefed by the commander of Ukrainian forces.

"The commander thanked us for security assistance, but I was aware that this assistance was on hold, which made me uncomfortable," Mr. Taylor said. "Ambassador Volker and I could see the armed and hostile Russian-led forces on the other side of the damaged bridge across the line of contact. Over 13,000 Ukrainians had been killed in the war, one or two a week. More Ukrainians would undoubtedly die without the U.S. military assistance."

As weeks went by without a resolution of the aid impasse, Mr. Taylor said he began preparing to resign. His resolve was strengthened when Mr. Sondland and Timothy Morrison, the senior director for European and Russian affairs at the National Security Council, both indicated to him that the aid was conditioned on Ukraine opening the investigations sought by the president.

Mr. Sondland explained that Mr. Trump saw it through a transactional lens. "When a businessman is about to sign a check to someone who owes him something, he said, the businessman asks that person to pay up before signing the check," Mr. Taylor said, quoting Mr. Sondland. Mr. Volker "used the same terms several days later."
Commentary's John Podhoretz says yesterday's testimony essentially guarantees that impeachment will occur:
There's no need to talk about the "whistleblower" and his findings any longer, and there's no need for the whistleblower to be heard any further. We have a veteran U.S. diplomat on the record saying that a Trump intimate told him Trump was holding up Congressionally authorized and appropriated military aid to Ukraine because he wanted a public statement from the Zelensky government that it was investigating Joe Biden's son.

Taylor said this of a September 1 phone call with Gordon Sondland, our ambassador to the European Union about the $275 million in U.S. security assistance to Ukraine as well as a possible meeting between Trump and Ukranian president Zelensky:

"Ambassador Sondland told me that President Trump had told him that he wants President Zelensky to state publicly that Ukraine will investigate Burisma and alleged Ukrainian interference in the 2016 U.S. election. Ambassador Sondland also told me that he now recognized that he had made a mistake by earlier telling the Ukrainian officials to whom he spoke that a White House meeting with President Zelenskyy was dependent on a public announcement of investigations—in fact, Ambassador Sondland said, 'everything' was dependent on such an announcement, including security assistance. He said that President Trump wanted President Zelenskyy 'in a public box' by making a public statement about ordering such investigations."

So that's it. Unless Trump and Sondland deny this, and offer evidence that Taylor is wrong or lying, we now have contemporaneous confirmation that the president intended to hold up military aid to the Ukranians to secure domestic political advantage.

That's the ballgame. That's impeachment. In doing this Trump was contravening U.S. law, which does not give the president the right to deny Ukraine the money appropriated by Congress for Ukraine.
Podhoretz is largely correct, of course. While the laws governing the solicitation of aid for an American political campaign from foreign sources do not require a quid pro quo, the existence of one as has been indicated since the Ukraine scandal first broke has been the driving force behind the impeachment inquiry. The initial documents released in connection with that scandal — such as the transcript of President Trump's phone call with Ukrainian President Zelensky, the whistleblower's complaint, and the report of the intelligence community's Inspector General — have provided at least circumstantial evidence of such a demand on the Administration's part.
With Taylor's testimony, though, we have direct evidence that a quid pro quo existed between the release of the military aid being withheld by the United States as well as further advances in the relationship between the United States and Ukraine and Ukraine's agreement to undertake investigations of the President's political rivals. This, of course, goes against all of the denials that we've heard from the Trump Administration and its apologists in Congress and in the conservative media. Unless Taylor is completely fabricating his testimony, which seems hard to believe given his reputation and long career or public service, we now have direct testimony that there was, in fact, a direct link between progress in the U.S.-Ukrainian relationship and agreement of the Ukrainian government to undertake investigations of both Hunter and Joe Biden and the allegations behind a bizarre conspiracy theory involving the 2016 election and the claim that it was Ukraine that interfered in the campaign to benefit the Clinton campaign despite all the evidence pointing to Russia and its goal of assisting the Trump campaign.
Taylor's testimony also sheds more light on the issues surrounding the role that Rudy Giuliani has played in this matter and the extent to which the White House and even the State Department was subletting American foreign policy in Ukraine to him and his cronies. Essentially, Taylor testified, Giuliani, rather than the President or even the Secretary of State, had become the point person on Ukraine-U.S. relations. To say that this is unusual is a major understatement, and would certainly seem to call into question exactly what role Giuliani has been playing in this Administration dating back to even before he became Trump's personal attorney.
WhileTaylor's testimony isn't a "smoking gun" in the sense that it directly links the quid pro quo to the President himself. However, it does link that demand to people who were in direct contact with the President and suggests strongly that this was what the President wanted. Because of this, it appears that we're at the point where impeachment is, as Podhoretz put it, inevitable. The only question seems to be when it will happen and what impact the entire process will have on the 2020 election.
Here's Taylor's opening statement:
Amb.. William Taylor Testimony by Doug Mataconis on Scribd