Key Diplomat And Trump Supporter Confirms Existence Of Ukraine Quid Pro Quo
A key diplomat and close supporter of the President has essentially confirmed the existence of a quid pro quo between Ukrainian aid and negative information about the President's political opponents.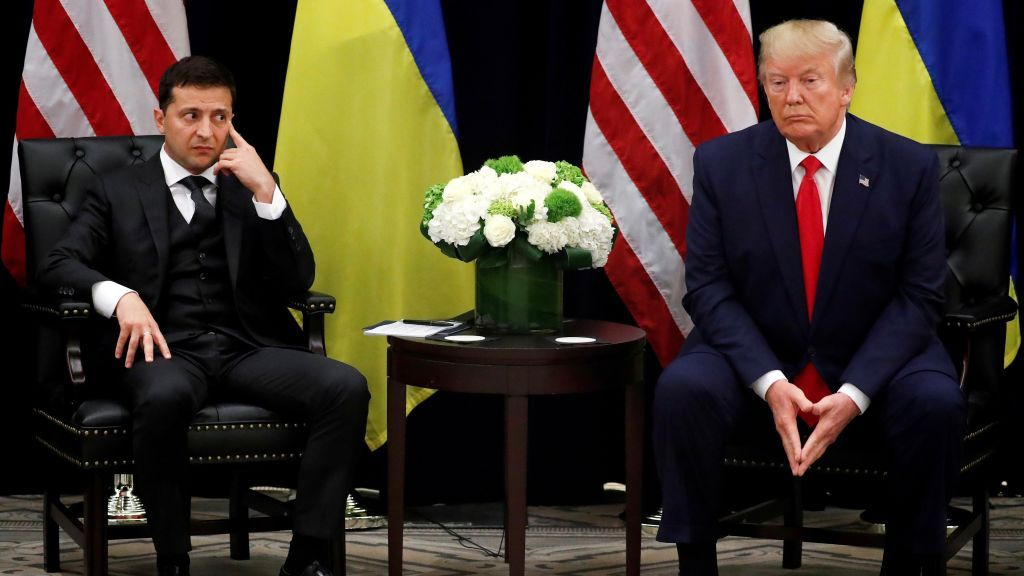 In addition to yesterday's election results in Virginia and Kentucky, the Trump White House also received bad news on the impeachment front when Gordon Sondland, the President's Ambassador to the European Union revised his previous testimony to the House Intelligence Committee and essentially confirmed the existence of a quid pro quo with Ukraine:
WASHINGTON — A crucial witness in the impeachment inquiry reversed himself this week and acknowledged to investigators that he had told a top Ukrainian official that the country would most likely have to give President Trump what he wanted — a public pledge for investigations — in order to unlock military aid.

The disclosure from Gordon D. Sondland, an ally of Mr. Trump who is the United States ambassador to the European Union, confirmed his role in laying out a quid pro quo to Ukraine that conditioned the release of security assistance from the United States on the country's willingness to say it was investigating former Vice President Joseph R. Biden Jr. and other Democrats.

That admission, included in a four-page sworn statement released on Tuesday, directly contradicted his testimony to investigators last month, when he said he "never" thought there was any precondition on the aid.

"I said that resumption of the U.S. aid would likely not occur until Ukraine provided the public anticorruption statement that we had been discussing for many weeks," Mr. Sondland said in the new statement, which was made public by the House committees leading the inquiry, along with the transcript of his original testimony.

Mr. Sondland's disclosure appeared intended to insulate him from accusations that he intentionally misled Congress during his earlier testimony, in which he frequently said he could not recall key details and events under scrutiny by impeachment investigators.

It also provided Democrats with a valuable piece of evidence from a critical witness to fill out the picture of their abuse-of-power case against the president. Unlike other officials who have offered damaging testimony about Mr. Trump, Mr. Sondland is a political supporter of the president who has interacted directly with him.

The question of a quid pro quo is at the heart of the impeachment investigation into Mr. Trump, which turns on whether the president abused his power when he asked a foreign power to target his political rivals.

Mr. Trump initially strongly denied there was any quid pro quo involving Ukraine, and numerous Republicans took up that refrain. But as the inquiry has unfolded, he and Republican lawmakers have gradually begun to move away from that position. Instead they have adopted the argument that a president insisting on a quid pro quo from a foreign government to benefit himself politically may be of concern, but it is not — in the words of Mr. Trump himself — "an impeachable event."
More from The Washington Post:
In a significant revision to his testimony nearly three weeks ago before House impeachment investigators, the U.S. ambassador to the European Union, Gordon Sondland, now says he told a Ukrainian official that security assistance to the country would be likely to resume only if the authorities in Kyiv opened investigations requested by President Trump that could be damaging to former vice president Joe Biden.

In a "supplemental declaration" provided to the House impeachment inquiry Monday, Sondland wrote, "I now recall speaking individually" with a Ukrainian official and in that conversation saying "that resumption of U.S. aid would likely not occur until Ukraine provided the public anti-corruption statement that we had been discussing for many weeks."

Sondland's new statement adds to testimony by other national security officials that describes an effort directed by Trump and his personal attorney Rudolph W. Giuliani to link nearly $400 million in security assistance to investigations that could politically benefit the president.

(…)

In his new declaration, Sondland stated that "by the beginning of September 2019, and in the absence of any credible explanation for the suspension of aid, I presumed that the aid suspension had become linked" to Ukraine having not yet committed publicly to the investigation of Burisma and another into a discredited theory about Ukrainian involvement in the 2016 U.S. election.

"It would have been natural for me to have voiced what I had presumed," Sondland said, acknowledging that he told Yermak that "resumption" of U.S. aid would probably not occur until Ukraine provided the public anti-corruption statement that the officials had been discussing.

Sondland and Volker testified about Trump's long-held suspicions of Ukraine and the un­or­tho­dox role Giuliani played in crafting a U.S. policy.
In a meeting with Trump in the Oval Office on May 23, Volker, Sondland and Energy Secretary Rick Perry tried to persuade Trump to engage with Ukraine's new president, Zelensky, whom they had just met after his inauguration.

Trump would hear none of it, Sondland testified.

"The president was railing about Ukraine . . . he was going on and on and on about his dissatisfaction with Ukraine," Sondland testified. "He didn't even want to deal with it anymore. And he basically waved and said: 'Go talk to Rudy, he knows all about Ukraine.' "

Sondland, Volker and Perry were disappointed about having to work with Giuliani because it was abnormal and was another impediment to scheduling a Trump meeting with Zelensky, Sondland said.

"Until Rudy was satisfied, the president wasn't going to change his mind," he said.

Sondland negotiated with Ukrainian officials in August to craft a press statement that said they would investigate corruption, as part of a bid to schedule a meeting between the two leaders, he said.

The initial draft, he said, had no specific commitments: "It just said corruption per se."

Later, he said, Giuliani added new conditions about referencing Burisma, the Ukrainian company that employed Biden's son.

"Mr. Giuliani was the one giving the input as to what the president wanted in the statement," Sondland testified. "He wanted Burisma and 2016 election mentioned in the statement.

(…)

As the pressure campaign on Ukraine continued, Trump became more frustrated. In one exchange, Sondland described the president as "in a very bad mood" when Sondland called to ask what Trump hoped to achieve by pressing Ukraine on negotiations.

The call took place moments after Taylor had raised sharp concerns in a text message with Sondland about a possible illicit quid pro quo regarding aid to Ukraine.

Taylor texted Sondland and Volker on Sept. 9: "I think it's crazy to withhold security assistance for help with a political campaign."

That prompted Sondland's call to Trump, which he described to investigators:

"There were all kinds of rumors. And I know in my few previous conversations with the President, he's not big on small talk, so I would have one shot to ask him. And rather than asking him, 'Are you doing X because of X or because of Y or because of Z?' I asked him one open-ended question: What do you want from Ukraine?"

The president replied, "I want nothing. I want no quid pro quo. I want Zelensky to do the right thing," according to Sondland's account.
"And I said: 'What does that mean?' And he said: 'I want him to do what he ran on.' And that was the end of the conversation," Sondland said. "I wouldn't say he hung up me, but it was almost like he hung up on me."
About five hours after Taylor's text, Sondland wrote back to Taylor: "The President has been crystal clear no quid pro quo's of any kind."

"I had gotten as far as I could," Sondland told House investigators. "I had asked the boss what he wanted. He wouldn't tell me, other than: I want nothing."
As I have said before, the laws governing solicitation of donations or "things of value" in the context of a political campaign do not require the existence of a quid pro quo. All that is required is that a candidate, campaign representative, or individual have solicited a foreign citizen, government, or entity for the donation of "thing of value," which would obviously include potentially damaging information about a candidate. Such information is generally known as "opposition research<' and is considered to be valuable enough that it is common for sophisticated political campaigns to spend tens of thousands of dollars on such research.
Notwithstanding that, the existence of a quid pro quo would obviously enhance the impeachment case against the President since it would lay bare the extent to which the President tried to abuse the powers of his office to help his political fortunes. It would also lay bare the extent to which foreign policy has become transactional for this President to the extent that complying with the explicit wishes of Congress to provide military aid to Ukraine for its battles against Russian-backed rebels in the eastern part of the country. Finally, it would undercut what amounts to the final line of defense on the facts that Republicans and the White House have been relying upon, namely the claim that there was no quid pro quo tying military aid, has been revealed to be a lie.
Because of this Sondland's revised testimony is incredibly important. Not only does it help tie together the testimony and statements released by other witnesses, it also helps to put context into the text messages that Sondland exchanged with fellow Ambassador Bill Taylor and others regarding the Ukraine matter, the military aid, and the pressure that was being put on Ukraine by Rudy Giuliani and others to investigate both Joe and Hunter Biden and various discredited conspiracy theories regarding the 2016 election. Other witnesses have done the same thing, of course, but Sondland is one of the highest-ranking people to do so, and among the closest to Trump himself.
There is one caveat to Sondland's revisions that ought to be kept in mind going forward, and that is the extent to which his changes to the transcript of his testimony, which is generally permitted under the rules, constitute substantive changes that appear to change what he said initially under oath. This obviously raises the question of whether he was telling the complete truth when he testified the first time and has led some Republicans to allege that he may have perjured himself. Sondland responded to this in advance by stating that he is making the changes because his recollection of events had been "refreshed" by reading through the opening statements of other witnesses who were involved in the Ukraine matter along with him. This is a perfectly valid reason for such revisions, but it does open up Sondland to cross-examination on the question of which version of his testimony on the quid pro quo issue is the correct one. One point in favor of Sondland's credibility here is the fact that Sondland's testimony is in fact corroborated by what other witnesses have testified to. Nonetheless, if and when Sondland does testify publicly you can expect that Republicans will focus heavily on these apparent contradictions.
All that being said, the importance of Sondland's testimony cannot be understated. Unlike previous witnesses, he is not a career State Department or intelligence community employee, nor is he someone who is known to be a critic of the President. Thus he can't simply be dismissed as a member of the so-called "Deep State" or a "Never Trumper" as the President and his supporters have done with other recent witnesses. Instead, Sondland was a strong Trump supporter and fundraiser who, in exchange for his loyalty, was made Ambassador to the European Union. Undercutting his credibility would thus be incredibly difficult. This is a big hit for the President and just piles on the bad news he's been dealing with for the better part of two months now. There's going to be a lot more to come.