Proof Of A Quid Pro Quo On Ukraine Is Coming From Inside The White House
The proof of a quid pro quo is coming from inside the President's own Administration.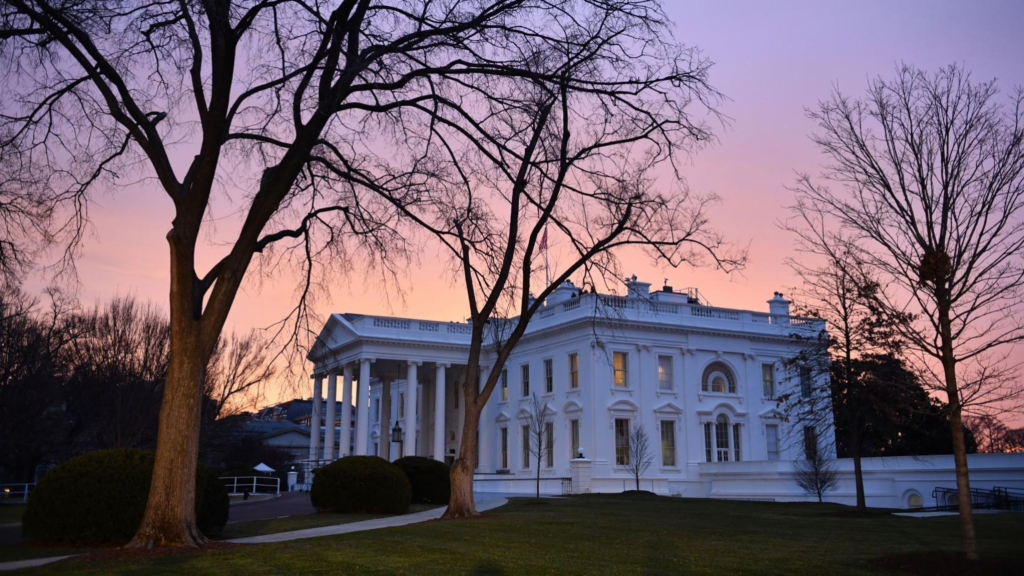 A top aide at the White House who until recently worked at the National Security Council has confirmed the existence of a quid pro quo between military aid and better relations between the United States and President Trump's demand that the nation investigate President Trump's political enemies:
A White House adviser on Thursday corroborated key impeachment testimony from a senior U.S. diplomat who said last week he was alarmed by efforts to pressure the Ukrainian government to investigate President Trump's political rivals in exchange for nearly $400 million in military aid.

Tim Morrison, the top Russia and Europe adviser on President Trump's National Security Council, told House investigators over eight hours of closed-door testimony that the "substance" of his conversations recalled by William B. Taylor Jr., the acting ambassador to Ukraine, was "accurate," according to his prepared remarks and people familiar with Morrison's testimony.

In particular, Morrison verified that Trump's envoy to the European Union, Gordon Sondland, conveyed to a Ukrainian official that the military aid would be released if the country investigated an energy firm linked to the son of former vice president Joe Biden. Morrison, who announced his resignation the night before his testimony, said he did not necessarily view the president's demands as improper or illegal, but rather problematic for U.S. policy in supporting an ally in the region.

His testimony is significant given his proximity to decision-making in the White House and his status as a Trump political appointee rather than one of several career officials who in recent weeks have offered critical testimonies of Trump's Ukraine policy. Democrats hope Morrison's testimony will take away an often-cited Republican complaint that many of the accounts from U.S. officials describing a quid pro quo are secondhand.

(…)
Morrison corroborated that he spoke with Taylor at least twice in early September. The first conversation was to alert him that Sondland had told the Ukrainians that no U.S. aid would be forthcoming until they announced an investigation of Burisma, the Ukrainian energy company that had hired Biden's son Hunter, a person familiar with Morrison's testimony said.

Morrison also told lawmakers that he spoke with Taylor again on Sept. 7 to share his "sinking feeling" about a worrisome conversation between Trump and Sondland, this person said. Morrison said that, during that conversation, Trump said he was not seeking a "quid pro quo" but then went on to insist that Ukrainian President Volodymr Zelensky must publicly announce he was opening investigations of Biden and 2016 election interference. Trump has espoused a debunked theory that the campaign to undermine American democracy was carried out in Ukraine and not Russia, as the U.S. intelligence agencies unanimously concluded.
Robert Luskin, an attorney for Sondland, said that Sondland never mentioned Biden by name and did not know that Burisma was linked to the vice president's son.

Despite confirming Taylor's account about the pressure Trump's associates placed on Ukraine, Morrison did not come off during his closed-door testimony as outraged or particularly troubled by the effort, said people familiar with his deposition.

Yet Morrison twice reached out to the National Security Council's attorneys with apparent concerns about Trump's conversations pertaining to Ukraine policy, according to various witness' testimony. People familiar with his deposition said that Morrison reported the July 25 phone call between Trump and Zelensky — as another White House official, Lt. Col. Alexander Vindman, had done. In September, Morrison also alerted NSC lawyers about a separate conversation between Trump and Sondland, according to Taylor's testimony to Congress.

Morrison told lawmakers he notified the lawyers because he had specific concerns that a rough transcript of Trump's call with Zelensky could be leaked. Its disclosure could prove problematic in politically polarized Washington, he said, adding that he was worried, too, it could affect bipartisan support for Ukraine in Congress, and that it could affect how Ukraine perceived its relationship with the United States.
He said the rough transcript "accurately and completely reflects the substance of the call," which some Democratic lawmakers have challenged in recent days.

Morrison told investigators he learned "that the White House was holding up the security sector assistance passed by Congress" from former deputy national security adviser Charles Kupperman, who directed him to design a policy to show the U.S. government still supported giving military aid to Ukraine. Morrison said he was "confident" that the cadre of high-ranking national security officials "could convince President Trump to release the aid" because Zelensky and the Ukrainian legislature "were genuinely invested in their anti-corruption agenda."

He added, however, that he had "no reason to believe" the Ukrainians knew U.S. aid was being withheld until Aug. 28, and that he did not suspect a possible quid pro quo surrounding the aid until Sondland told him as much on Sept. 1 — information he relayed to Taylor later that day.

Morrison's testimony differs from Taylor's slightly on the details of what the arrangement entailed. Morrison recalled Sondland having told a senior Ukrainian official that the United States would be satisfied if Ukraine's prosecutor-general would publicly commit to conducting the investigations Trump desired. Taylor's account said Ukraine's president would need to be the one who committed to the probes.

Morrison has been on the job for about 15 months, having joined the National Security Council during Bolton's tenure as national security adviser. In a statement on Wednesday, a senior U.S. official said Morrison "decided to pursue other opportunities — and has been considering doing so for some time."

Morrison has been brief with lawmakers about why he is leaving the White House and appears uncomfortable answering those questions, said people familiar with his testimony.
You can read the full text of Morrison's Opening Statement at the link.
As I've said before, the relevant law that makes it illegal for campaigns or candidates to solicit or accept donations of cash or "things of value" from foreign citizens, officials, or governments, which can be found at 50 U.S.C. 30121, does not require that there be a quid pro quo accompanying the exchange. All that is required that there be a solicitation (or donation) and that the solicitation or donation involves money or some "thing of value" to the campaign. While Trump, and his surrogate Rudy Giuliani, who has spent much of the past year traveling to Ukraine, did not necessarily receive anything from Ukraine there can be no question that they were soliciting the newly installed President of Ukraine to give something of value to the President's campaign, namely damaging information about the man who at the moment appears to be the President's most formidable adversary.
Of course, even though there is no legal requirement for a quid pro quo to establish that the President broke the law there are tremendous political advantages in being able to do so as it relates to the ongoing impeachment investigation. Mainly this is because the existence of a direct relationship between what the Ukrainians needed, and the case of a Trump-Zelensky summit wanted, and cooperation on the investigations makes it much easier to explain the matter to the public. Finally, the mounting proof of a quid pro quo undercuts what has been the main defense of President Trump and his Republican acolytes, who are increasingly running out of things that they can legitimately object to in connection with the ongoing impeachment investigation.
The fact that there is mounting evidence that the President specifically linked military aid and diplomatic progress between the two countries to Ukraine investigating his political rivals is far more damning for impeachment purposes than the mere solicitation for such information. This damaging information includes two items. First, there is the investigation of both Joe and Hunter Biden regarding the circumstances under which Hunter received a high paying job with a Ukrainian gas company. Second, there's the bizarre conspiracy theory that its own previous President and his government were somehow the ones behind the foreign interference in the 2016 election rather than Russia, which is the conclusion that the Mueller investigation and all of the President's own intelligence chiefs have reached.
What makes it worse for the President is the fact that confirmation of the existence of a quid pro quo is coming from inside the Administration:
At the end of the day, the specific question of "quid pro quo" doesn't matter much in the question of impeaching President Trump. Impeachment is politics, loosely predicated on wrongdoing. If Congress determines that an action is impeachable, it's impeachable.

That said, the impeachment inquiry targeting Trump is specifically focused on his interactions with Ukraine and, secondarily, whether he withheld aid or a meeting with Ukrainian President Volodymyr Zelensky to force Zelensky to announce new investigations into Russian interference in the 2016 U.S. election or into former vice president Joe Biden.

Trump's obvious and open requests that Zelensky open those investigations, requests documented in the rough transcript released by the White House last month, are by themselves questionable. It's illegal to solicit foreign assistance for a political campaign, and Trump's insistence that he wanted a probe of Biden because he's worried about corruption in Ukraine and not because he wants to damage a possible 2020 opponent has not been universally accepted as believable. That Trump may have leveraged congressionally approved aid or the power of his position to get an announcement of investigations that would be politically useful is another thing entirely.
Philip Bump, the author of the article quoted immediately above, goes on to recite in detail too lengthy to be fairly quoted the extent to which witnesses comprised of current and former White House officials who have provided corroboration for the existence of the same quid pro quo that the President and his supporters have been denying. So far, we've only heard summaries of what these people have testified to. In a few weeks, we will start to hear from them publicly, and that will only make it harder for the White House, Republicans on Capitol Hill, and the pro-Trump conservative media, to deny what happened.