Scott Walker Wants To Drug Test Welfare Recipients, But It Doesn't Work, And It's Unconstitutional
A popular idea that does nothing useful while simultaneously violating the Constitution.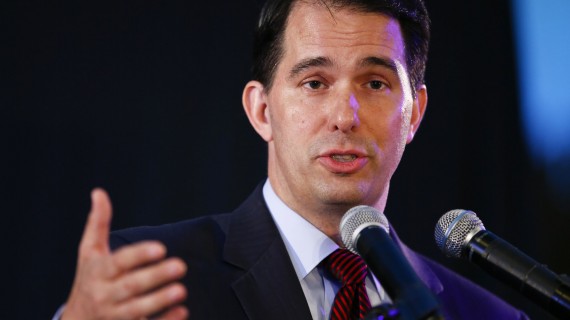 Fresh off his third election victory in four years, and already hinting that he's at least thinking about running for the Republican nomination for President, Wisconsin Governor Scott Walker is proposing a plan that would require all Wisconsin residents receiving public benefits to undergo regular drug testing:
Wisconsin could have one of the nation's most sweeping drug-testing requirements for those receiving public benefits if the proposal by Gov. Scott Walker to test those who apply for unemployment checks and food stamps becomes law.

But with scant details, it's unclear whether any expansion beyond the current testing of drug felons would be allowed under federal law governing the state's FoodShare program. It's also unclear how Wisconsin could craft any broad-based testing program for public benefits recipients that would be found constitutional.

The newly re-elected governor and Assembly Speaker Robin Vos, R-Rochester, both say a top priority of the upcoming legislative session is to require that recipients receiving food assistance and unemployment compensation be drug free to qualify for benefits.

In Wisconsin, an estimated 836,000 people receive FoodShare benefits, about 40 percent of them children, according to the state Department of Health Services. As of last week, 39,958 people had filed weekly unemployment compensation claims, according to the Wisconsin Department of Workforce Development.

As part of his re-election campaign platform, Walker vowed to require "a drug test for those requesting unemployment and able-bodied, working-age adults requesting food stamps from the state." But no further details, including the cost and scope of the proposal, were available last week from the Walker administration.

(…)

Eleven states require testing of at least some recipients receiving cash welfare, NCSL data show. Four states have drug-testing requirements for at least some people seeking unemployment compensation, the NCSL said. Two states — Kansas and Mississippi — have both requirements, according to Jeanne Mejeur, senior researcher at the National Conference on State Legislatures.

While acknowledging no details on Walker's proposal are yet available, Department of Workforce Development spokesman John Dipko said the agency "is committed to ensuring those who receive public assistance such as unemployment benefits are ready and willing to work."

But some state programs in which everyone receiving or applying for public benefits is drug tested have been slapped down as unconstitutional. And more narrowly tailored programs testing only suspected drug users have resulted in very few beneficiaries being dropped from welfare rolls.
To at least some degree, drug testing of welfare recipients is authorized by a 1996 Federal law that allows states to drug test welfare benefits. Additionally, Federal law allows states to bar some benefits to people convicted of certain drug offenses, and to require further testing of people with a record of convictions of drug related crimes. the kind of broad based testing that Walker is talking about here remains controversial, and its legality is still very much up in the air. In the wake of the 2010 elections, which brought Republican Governors and legislators in to offices in many states, though, the move to expand drug testing of this group of people has expanded greatly. Florida is, of course the most prominent example due to the law that Governor Rick Scott signed not long after taking office in 2011, and other Republican politicians such as South Carolina Governor Nikki Haley, and Texas Governor Rick Perry brought the issue up during the final gasps of his Presidential campaign in late 2011. It was Florida's program, though, that drew the most attention from supporters of the idea of drug testing and opponents. Not long after the law came into effect, a lawsuit was filed against the program alleging that it constituted the kind of unconstitutional suspicionless search barred by the Fourth Amendment. As I noted at the time, this argument, while untested in the Courts, seemed fairly strong based on other precedent from both the Supreme Court and lower Federal Courts. By October of 2011, a Federal Judge had issued an injunction against the program by a Federal District Court Judge, and that injunction was eventually upheld by the 11th Circuit Court of Appeals. Earlier this year, after a full hearing on the merits, the Federal District Court Judge hearing the case issued a full injunction against the program, finding that it does indeed violate the Fourth Amendment due to the fact that it mandates warrantless searches without either reasonable suspicion or probable cause. The State of Florida has vowed to appeal that ruling, but given the often slow pace of litigation in the 11th Circuit it does not appear that the case has made it very far down the appellate path as of yet.
Outside of the Florida rulings, there has only been one other ruling that is directly on point. In Marchwinski v. Howard, a 2003 decision from Michigan, a Federal District Court found a similar Michigan law to be unconstitutional. In that case, the District Court relied heavily on Chandler v. Miller, a 1997 Supreme Court case in which the Court struck down a law that required candidates for state office to pass a drug test in order to get on the ballot. In Marchwinski, the District Court said:
If the State is allowed to drug test FIP recipients in order to ameliorate child abuse and neglect by virtue of its financial assistance on behalf of minor children, that excuse could be used for testing the parents of all children who receive Medicaid, State Emergency Relief, educational grants or loans, public education or any other benefit from the State. In all cases in which the State offers a benefit on behalf of minor children, the State could claim that it has a broad interest in the care of those children which overcomes the privacy rights of the parents. Indeed, the query posed by Justice Marshall in his dissent inWyman v. James, 400 U.S. 309, 91 S.Ct. 381, 27 L.Ed.2d 408 (1971), is a pertinent inquiry to make here:

Would the majority sanction, in the absence of probable cause, compulsory visits to all American homes for the purpose of discovering child abuse? Or is this court prepared to hold as a matter of constitutional law that a mother, merely because she is poor, is substantially more likely to injure or exploit her children? Such a categorical approach to an entire class of citizens would be dangerously at odds with the tenets of our democracy.

Id. at 342, 91 S.Ct. 381.

Upholding this FIP suspicionless drug testing would set a dangerous precedent.
Additionally, this portion of Justice Ginsburg's opinion seems particularly on point:
What is left, after close review of Georgia's scheme, is the image the State seeks to project. By requiring candidates for public office to submit to drug testing, Georgia displays its commitment to the struggle against drug abuse. The suspicionless tests, according to respondents, signify that candidates, if elected, will be fit to serve their constituents free from the influence of illegal drugs. But Georgia asserts no evidence of a drug problem among the State's elected officials, those officials typically do not perform high risk, safety sensitive tasks, and the required certification immediately aids no interdiction effort. The need revealed, in short, is symbolic, not "special," as that term draws meaning from our case law.

(…)

However well meant, the candidate drug test Georgia has devised diminishes personal privacy for a symbol's sake. The Fourth Amendment shields society against that state action.
Leaving aside the legal issues, which may ultimately end up being resolved by the Supreme Court, the simple fact of the matter is that there is absolutely no evidence that these programs actually show any higher tendency for people who receive public benefits to be illegal drug users, nor have they been shown to save money. Back in August 2011, for example, it was noted that the first round of testing in Florida that had occurred the month before found the percentage of those tested who were positive was exceedingly low, a finding that is consistent with studies conducted before hand that showed that people who receive public benefits are no more likely to be drug users than members of the general population. Subsequent analysis of the Florida program had shown that there was absolutely no savings from the drug testing program, and that it may have actually cost the state money given the fact that the number of people who tested positive was so low. Alan Pike notes that the results are similar when you look at drug testing programs in other states:
Tennessee has found one drug user out of 800 welfare recipients tested. With an overall drug use rate of 8 percent in Tennessee, the crackdown indicates that the poor are 64 times less likely to use drugs than everyone else. Utah spent $30,000 testing welfare recipients and produced just 12 positive tests. While 6 percent of Utahns overall say they use drugs, the state's tests found drug use by just 2.5 percent of those tested and 0.2 percent of the total welfare recipient population.

(…)

While food stamps recipients are a bit more likely to use drugs casually than the general population according to one study, age is a far better predictor of drug use than economic status or public assistance enrollment. And the raw numbers are too low to justify a dragnet policy of testing everyone who applies, according to critics at theAmerican Civil Liberties Union (ACLU) and the Centre for Addiction and Mental Health in Canada.

Just 3.6 percent of welfare recipients qualify as having a drug abuse or dependence problem according to 2011 data. About 8 percent of Americans and 9 percent of Wisconsin residents used drugs in the past month, according to the National Survey of Drug Use and Health.
No doubt programs like this are popular with members of the general public, which is probably one reason why Walker mentioned this idea frequently during his re-election campaign. The fact that something is popular, though, doesn't mean that it actually accomplishes anything useful, or that it complies with the requirements of the Constitution. In this case, it seems clear that these types of drug testing programs do neither.