Florida's 'Drug Tests For Welfare Recipients' Law Is, Most Likely, Unconstitutional
Florida's new law requiring welfare recipients to pass drug tests seems to clearly violate the Fourth Amendment.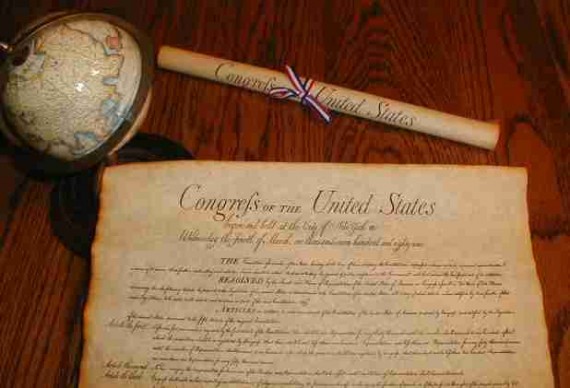 Back in June, Florida Governor Rick Scott signed into law a bill that, among other things, requires all recipients of cash welfare from the state to undergo mandatory drug testing as a condition of receiving certain forms of state aid. The first round of testing was recently completed, but the legal controversy is just beginning. As one Tampa Bay television station has reported, in the past Federal Courts have generally held that drug testing requirements for public assistance are unconstitutional:
In a 1997 ruling from Georgia by the U.S. Supreme Court, Justice Ruth Bader Ginsburg wrote, "The Fourth Amendment precludes suspicionless search… the drug test diminishes personal privacy."

In 2003, a U.S. Circuit Court of Appeals ruling from Michigan backed that up saying, "Michigan law authorizing suspicionless drug testing of welfare recipients was unconstitutional."

Florida law professors agree.

Stetson University's James Fox, an expert on constitutional law, wrote, "Ironically, the Florida Republican Party, which opposes federal health-care legislation as being unconstitutional, has adopted a welfare law far more likely to be found unconstitutional. This new law reveals hypocrisy."

Fox's colleague at Stetson, Bruce Jacob agrees, "It seems to me, the result would have to be, that if suit is brought here that the Florida law would be declared unconstitutional."
The 1997 case noted above is Chandler v. Miller, which challenged a Georgia law that required all candidates for certain state offices to take and pass a urinalysis test before being certified on the ballot. In addition to the quote noted above, Justice Ginsburg, noting that the Georgia drug testing requirement clearly implicated Fourth Amendment concerns despite the fact that it was not a criminal statute and didn't necessarily impose a criminal penalty, said the following:
What is left, after close review of Georgia's scheme, is the image the State seeks to project. By requiring candidates for public office to submit to drug testing, Georgia displays its commitment to the struggle against drug abuse. The suspicionless tests, according to respondents, signify that candidates, if elected, will be fit to serve their constituents free from the influence of illegal drugs. But Georgia asserts no evidence of a drug problem among the State's elected officials, those officials typically do not perform high risk, safety sensitive tasks, and the required certification immediately aids no interdiction effort. The need revealed, in short, is symbolic, not "special," as that term draws meaning from our case law.

(…)

However well meant, the candidate drug test Georgia has devised diminishes personal privacy for a symbol's sake. The Fourth Amendment shields society against that state action.
As David Drumm notes, the Florida law requiring drug testing for all welfare recipients is functionally identical to the Georgia law struck down in Chandler. Welfare recipients do not perform the type of  "high risk, safety sensitive tasks" that might justify randomized testing. Additionally, randomized testing of recipients of state aid does nothing to aid in the enforcement of anti-drug laws because it is far too broad to be of any use to law enforcement. The testing, therefore, is entirely symbolic and, as Justice Ginsburg noted, the Fourth Amendment simply does not permit the state to violate individual's privacy interests for the sake of symbolism.
Supporting the Constitutional arguments is the empirical fact that these welfare drug tests aren't really uncovering anything of interests. The first round of testing in July showed that a mere 2% of those receiving some form of cash assistance from the State of Florida tested positive for some illegal drug:
.Since the state began testing welfare applicants for drugs in July, about 2 percent have tested positive, preliminary data shows.

Ninety-six percent proved to be drug free — leaving the state on the hook to reimburse the cost of their tests.

The initiative may save the state a few dollars anyway, bearing out one of Gov. Rick Scott's arguments for implementing it. But the low test fail-rate undercuts another of his arguments: that people on welfare are more likely to use drugs.
Scott's argument in favor of the provision was that the state shouldn't be subsidizing drug addiction, and that implementing the testing 0.0552808988764045 would say the state money. If these numbers hold up, though, the state won't save any significant money at all:
Cost of the tests averages about $30. Assuming that 1,000 to 1,500 applicants take the test every month, the state will owe about $28,800-$43,200 monthly in reimbursements to those who test drug-free.

That compares with roughly $32,200-$48,200 the state may save on one month's worth of rejected applicants.

The savings assume that 20 to 30 people — 2 percent of 1,000 to 1,500 tested — fail the drug test every month. On average, a welfare recipient costs the state $134 in monthly benefits, which the rejected applicants won't get, saving the state $2,680-$3,350 per month.

But since one failed test disqualifies an applicant for a full year's worth of benefits, the state could save $32,200-$48,200 annually on the applicants rejected in a single month.

Net savings to the state — $3,400 to $8,200 annually on one month's worth of rejected applicants. Over 12 months, the money saved on all rejected applicants would add up to $40,800-$98,400 for the cash assistance program that state analysts have predicted will cost $178 million this fiscal year.
That amounts to, at most,  0.055% of the state's entire cash assistance budget, hardly worth the effort that Scott is putting into the program.
None of these should be a surprise, since it's fairly well established that welfare recipients are no more likely to be drug users than the general population as a whole:
Random drug testing of welfare recipients is scientifically and medically unsound:

Welfare recipients are no more likely to use drugs than the rest of the population.

According to a 1996 study by the National Institute of Alcohol Abuse and Alcoholism, differences between the proportion of welfare and non-welfare recipients using illegal drugs are statistically insignificant.[2]
Before the Michigan policy was halted, only 10% of recipients tested positive for illicit drugs. Only 3% tested positive for hard drugs, such as cocaine and amphetamines[3]  – rates that are in line with the drug use rates of the general population.[4]
Seventy percent of all illicit drug users (and presumably a much higher percentage of alcohol users), ages 18-49, are employed full-time.[5]
Studies like this, along with the empirical evidence from Florida's own program, would be potent ammunition for a challenge to the law. So far, no such challenge has been filed in Court. However, I can only assume that's because groups like the ACLU are looking for the right Plaintiff. When this does make its way to Court, I would expect the law to be struck down quite easily.