Is Romney's Welfare Ad Deceptive?
Romney's new ad on a ruling issued by HHS on welfare-to-work requirements doesn't pass the smell test.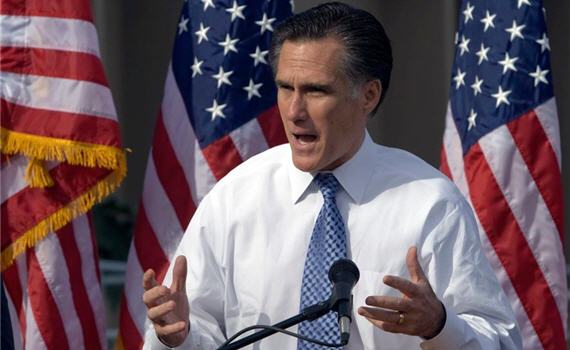 Mitt Romney is taking political fire for an ad attacking the President for a decision announced several weeks ago by the Department of Health and Human Services regarding work requirements for welfare recipients under the welfare reform act passed back in 1996. Many on the right, starting with Rush Limbaugh apparently, have been spreading the claim that the Administration has essentially voided the work requirements for welfare completely. When I first looked into the details of the decision, that claim didn't seem credible, but I didn't write about the matter mostly because it wasn't getting much coverage to begin with outside the usual conservative circles. That all changed yesterday, though, when the Romney campaign unveiled a new ad campaign hitting the Obama Administration on the issue:
Seven years ago, Mitt Romney joined other governors to urge the federal government to grant "increased waiver authority" to states to experiment with implementation of the federal welfare-to-work program.

But as he runs for president, Mr. Romney and his Republican allies are now accusing President Obama of "gutting" the welfare program by saying it will consider waivers to states.

On Tuesday, Mr. Romney elevated that argument to a new level, releasing a new attack ad accusing Mr. Obama of quietly announcing "a plan to gut welfare reform by dropping work requirements."

"Under Obama's plan, you wouldn't have to work and wouldn't have to train for a job. They just send you your welfare check," the ad says.

Mr. Romney's campaign bases that accusation on concerns expressed by conservatives who say they fear new waivers for states could be used to undermine the federal rules that were overhauled in 1996 to require welfare recipients to work or receive training.

An assessment of Mr. Obama's waiver change by the Heritage Foundationdescribes it as a "trick to get around work requirements."

"The new welfare dictate issued by the Obama administration clearly guts the law," the Heritage Foundation concluded. "The administration tramples on the actual legislation passed by Congress and seeks to impose its own policy choices — a pattern that has become all too common in this administration."

In a memorandum released Tuesday, Lanhee Chen, Mr. Romney's policy director, writes that Mr. Obama's willingness to grant waivers to states reflects a desire to do away with work requirements that were central to the reforms of the mid-1990s.

"This policy change undermines the very premise of welfare reform," Mr. Chen writes. "It is an insult to Americans on welfare who are looking for an opportunity to build better lives for themselves. And it is a kick in the gut to the millions of hard-working middle-class taxpayers struggling in today's economy."
Here's the ad itself:
The Obama campaign struck back soon after the ad went public by accusing the Romney campaign of misrepresenting the facts and trying to change the subject, and Bill Clinton issued a statement saying pretty much the same thing:
Former President Clinton issued a statement late Tuesday night denouncing a new ad from the Romney campaign that accuses President Obama of "gutting" the bipartisan welfare reforms enacted during his administration.

"We need a bipartisan consensus to continue to help people move from welfare to work even during these hard times, not more misleading campaign ads," Clinton said in the statement.

"The recently announced waiver policy was originally requested by the Republican governors of Utah and Nevada to achieve more flexibility in designing programs more likely to work in this challenging environment," Clinton said. "The Administration has taken important steps to ensure that the work requirement is retained and that waivers will be granted only if a state can demonstrate that more people will be moved into work under its new approach."

Clinton went on to blast the ad as "especially disappointing" because Romney requested welfare waivers as a governor of Massachusetts in 1995.
Despite these push backs, the Romney campaign continued the welfare theme in candidate appearances today, and Newt Gingirch came on board to assist in the attack on the President. Not all Republicans are backing Romney on this one, though. Ron Haskins, who was a staff attorney for the House Ways and Means Committee in the 1990s and was heavily involved in drafting the 1996 law, accused the Romney campaign of completely misrepresenting the nature of the waivers granted under the law.
Politifact, which yesterday sided with Romney over the Harry Reid tax claims, rates the ad's claims as "Pants on Fire" false:
Romney's ad says, "Under Obama's plan (for welfare), you wouldn't have to work and wouldn't have to train for a job. They just send you your welfare check."

That's a drastic distortion of the planned changes to Temporary Assistance to Needy Families. By granting waivers to states, the Obama administration is seeking to make welfare-to-work efforts more successful, not end them. What's more, the waivers would apply to individually evaluated pilot programs — HHS is not proposing a blanket, national change to welfare law.

The ad tries to connect the dots to reach this zinger: "They just send you your welfare check." The HHS memo in no way advocates that practice. In fact, it says the new policy is "designed to improve employment outcomes for needy families."

The ad's claim is not accurate, and it inflames old resentments about able-bodied adults sitting around collecting public assistance. Pants on Fire!
Glenn Kessler gives Romney "Four Pinocchios" but also chides the Obama campaign for claiming that Romney had requested similar waivers when he was Governor of Massachusetts when there is little evidence that this is the case.  CBS News's AdWatch joins in the evaluation and points out that the entire case for the argument that the Romney ad makes depends on a rather odd assumption:
The ad released by Romney's campaign paints Obama as attempting to gut the work requirements that have played such a critical factor trimming the welfare rolls. It echoes conservatives' worst fears that a July 12 letter from the Obama administration to the states amounts to an end-run around the program's work requirements.

But that letter does not unilaterally repeal or waive the law. Instead, it gives states the chance to make changes to their welfare programs and still be counted as meeting work participation requirements. It's a leap to assume that governors and legislators will seek to return to "plain old welfare" and that the Obama administration will give them the go-ahead.

(…)

The ad also ignores that governors from both parties have called for more flexibility in determining what constitutes allowable work activities under the law. For example, in August 2011, the state of Utah called for waivers that expanded the definition of countable work activities.

"It is the narrow definitions of what counts and the burdensome documentation and verification processes that are not helpful," the Utah letter said.
Essentially in order to believe the Romney campaign here you'd have to believe that every Governor who is going to take advantage of the waiver authority granted here is going to do it to eliminate the work requirement completely, and that HHS is going to approve that proposed change. Considering that many of the Governor's who have been asking for an increase in waiver authority are Republicans, it seems entirely unlikely. Indeed, given the continued strong public support for the 1996 reforms, it seems rather unlikely that any Governor, Republican or Democrat, would try to do make this kind of wholesale change to welfare programs. Finally, considering the strain such changes would put on state budgets, it seems rather absurd that anyone would consider it at this time.
So yes, it does some pretty clear that the Romney campaign is engaging in some rather unfair exaggeration and assumptions here. The HHS letter does not 'end welfare as we know it,' to borrow a phrase from Bill Clinton. It gives states greater flexibility in administering the program which, in an era of high unemployment, seems like a fairly logical thing to do. After all, with the national unemployment rate at 8.3% and broader unemployment at 15%, it's tough for anyone to find a job, least of all of welfare recipient who likely doesn't have many skills to begin with. Welfare to work is a still the rule, though, and Romney is being dishonest in claiming otherwise.