Romney Campaign Reportedly Planning 'Aggressive' Campaign Against Obama
The Romney Campaign is reportedly planning a more aggressive campaign against the President for the fall.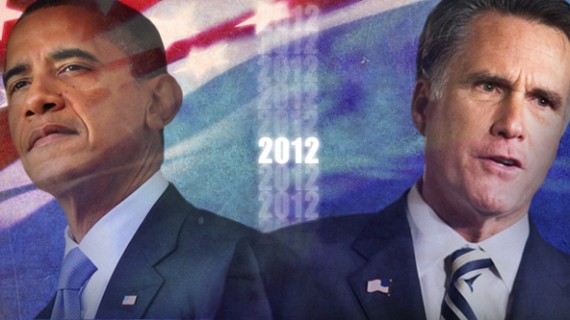 The New York Times reports that the Romney/Ryan campaign intends to unveil a more aggressive campaign against President Obama once they shift into General Election mode after the Republican convention:
Mitt Romney is heading into his nominating convention with his advisers convinced he needs a more combative footing against President Obama in order to appeal to white, working-class voters and to persuade them that he is the best answer to their economic frustrations.

Having survived a summer of attacks but still trailing the president narrowly in most national polls, Mr. Romney's campaign remains focused intently on the economy as the issue that can defeat Mr. Obama. But in a marked change, Mr. Romney has added a harder edge to a message that for most of this year was focused on his business and job-creation credentials, injecting volatile cultural themes into the race.

Some elements of that revised strategy will be evident at the Republican convention, which was set to open here on Monday but will be delayed until Tuesday because of safety concerns from Tropical Storm Isaac. The Romney campaign was hastily rearranging the schedule, but officials said the convention would still amplify the conservative arguments against the president with speakers like Gov. Nikki R. Haley of South Carolina and Gov. Chris Christie of New Jersey.

"We will absolutely be able to get our message out," said Russ Schriefer, a senior campaign adviser. "We still have an opportunity to tell the story of the last four years of how President Obama has failed the country."

The strategic shift in the campaign message that has been unfolding in recent weeks reflects a conclusion among Mr. Romney's advisers that disappointment with Mr. Obama's economic stewardship is not sufficient to propel Mr. Romney to victory on its own.

Republican strategists said that many middle-class voters had proved reluctant to give up entirely on Mr. Obama, and that they still needed to be convinced that Mr. Romney would look out for their interests.

Steven J. Law, the president of the conservative group American Crossroads, said some swing voters in focus groups had helped explain why support for Mr. Obama had not collapsed despite his poor marks on the economy.

"They're somewhat seduced by the thought, 'If the guy had more time, maybe he'd be able to turn it around,' " said Mr. Law, whose group is spending tens of millions of dollars to change that.
In part, this change in strategy is based on something I've been pointing out repeatedly this summer, most recently late last week. Namely, the fact that President Obama has more paths to an Electoral College victory than Governor Romney does. In order to change that, the campaign needs to find a way to attract those swing state voters that are likely to decide this election:
The battleground map has remained remarkably stable in recent months, which leaves Mr. Obama with more paths to winning 270 electoral votes and places a burden on Mr. Romney to break through in states where he so far has not. But Republicans suddenly see encouraging signs in Wisconsin after the selection of Representative Paul D. Ryan as his running mate.  Mr. Romney's chances hinge to a large degree on running up his advantage among white voters in swing states who show deep strains of opposition to Mr. Obama but do not yet trust Mr. Romney to look out for their interests, Republican strategists say.

Many of those voters are economically disaffected, and the Romney campaign has been trying to reach them with appeals built around an assertion that Mr. Obama is making it easier for welfare recipients to avoid work. The Romney campaign is airing an advertisement falsely charging that Mr. Obama has "quietly announced" plans to eliminate work and job training requirements for welfare beneficiaries, a message Mr. Romney's aides said resonates with working-class voters who see government as doing nothing for them.

The moves reflect a campaign infused with a sharper edge and overtones of class and race. On Friday, Mr. Romney said at a rally that no one had ever had to ask him about his birth certificate, and Mr. Ryan invoked his Catholicism and love of hunting. Democrats angrily said Mr. Romney's remark associated him with the fringe "birther" camp seeking falsely to portray Mr. Obama as not American.

The convention will focus on a dual fire-Obama-hire-Romney message that will be presented in an abbreviated fashion from Tuesday through Thursday. Party leaders said Saturday evening that the themes of the convention would be preserved, despite the disruption from Tropical Storm Isaac. Through videos, speeches and carefully staged programming, the convention will amplify what will constantly be described as Mr. Obama's failures, with a focus on accusations that he has undercut middle-class workers and small-business owners.

But with Ann Romney, Mr. Romney's wife, taking the stage on Tuesday night, the Republican gathering will be as much about presenting Mr. Romney as a warm-blooded family man who understands the tribulations of everyday people. The campaign, after spending months arguing that the family's Mormon faith was off limits, invited speakers from Mr. Romney's church to testify how he had helped them when they were in need.

Those concurrent themes reflect a realization by strategists inside the Romney campaign and its allies at outside groups in recent weeks: Republicans need to do more than critique Mr. Obama's economic record for Mr. Romney to win. With the race entering its final, decisive phase, strategists on both sides agree that Mr. Obama maintains a razor-thin edge.

(…)

"For undecided voters, Obama's job performance weighs more heavily than Mitt's current image," said Neil Newhouse, the pollster for Mr. Romney. "They can measure what Obama has done, and his job performance numbers among those voters are extraordinarily weak."

Central to the weeks ahead, strategists from both parties said, will be the perceptions of voters in battleground states like Florida, Iowa, North Carolina, Ohio, Virginia and Wisconsin. Both sides agree that Mr. Romney's choice of Mr. Ryan has given Mr. Romney a new opportunity in Wisconsin. But, even Republicans say, the bigger electoral prize of Ohio, as of now seems to be tilting in Mr. Obama's direction.
That last point is true, but it's worth noting that there are some signs that appear to suggest that Romney may be breaking through in the Buckeye State. The most recently released poll from the state has Obama ahead by only three points, a lead inside the margin of error, and leaving the RCP average at +2.0 in Obama's favor. Additionally, the chart shows, Romney's numbers have been inching upward the last several weeks: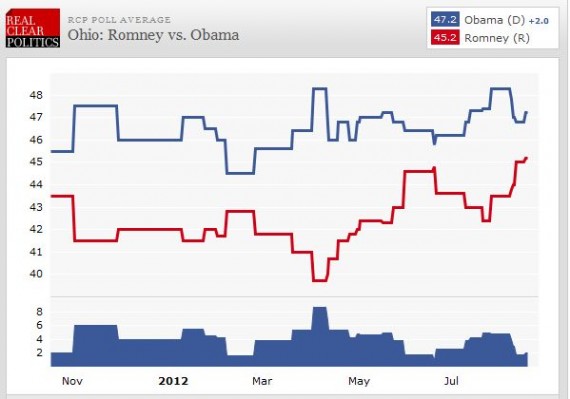 Not yet included in these numbers is a new Columbus Dispatch poll which essentially has the race tied at 45% for both Presidential candidates, and, most surprisingly, shows the Senate race between Sherrod Brown and Josh Mandel tied at 44% each. I'd still say that Ohio looks like an easier win for Obama than Romney at the moment, which is a problem for Romney on many levels, but a Republican victory there is not at all beyond the realm of possibility. The question is whether this new strategy is going to do the trick.
After all, as the authors correctly point out, one part of the Romney campaign's new strategy involves an attack on supposed changes in welfare work requirements that Republicans claim that a recently announced Administration policy change effectively ends the work requirement that became part of the welfare program when Presidenti Clinton signed the Welfare Reform Bill in to law in 1006. As I pointed out several weeks ago, that simply isn't true and it's fairly clear that Romney's ad on the issue is inherently deceptive. Conor Friedersdorf has also pointed out the inaccuracies inherent in the Romney campaigns welfare claims. Romney and Ryan are also making claims about how the Affordable Care Act that Politifact has rated as only "Half True." Of course, they said the same thing about Barack Obama's claims about the Ryan Plan's impact on Medicare, so that's mostly a wash.  Politics being what it is, though, these kind of subtleties typically don't get absorbed by the electorate. As unfortunate as it is, the Romney campaign likely has hit upon a powerful message with the welfare and Medicare ad claims, and they will continue to exploit them as long as they can. Of course, the Obama campaign will continue to do the same with its own claims about the Ryan Plan, along with its endorsement by silence of the absurdities that have come out of groups like Priorities USA with respect to Mitt Romney's time at Bain, it's really all quite distressing.
The thing I've got to wonder, though, is what the campaign really means by this new aggressive strategy. I tend not to agree with those who claim that Mitt Romney's joke about his birth certificate in Michigan the other day was some kind of a wink and a nod at the birthers. It was a joke, a dumb one I agree, but more akin to his line about the trees in Michigan being the "right height" than an attempt to appeal to an idea that he has explicitly rejected in publish any number of times. Nonetheless, Romney hasn't shied way from embracing other bizarre conservative ideas about the President, such as the largely debunked idea that he has gone around the world "apologizing for America," or that he has exhibited a weak foreign policy. I would expect we'll see more stuff like that in the coming weeks. Whether it will work or not is, of course, another story.