Rick Perry: Drug Test All Welfare Recipients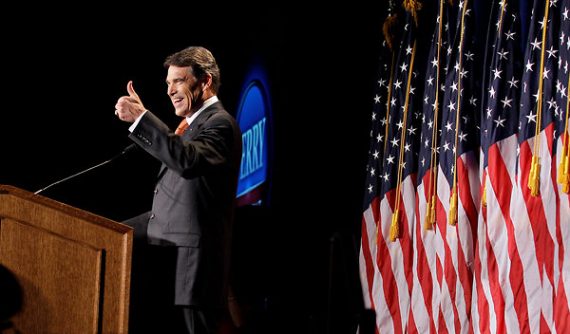 Rick Perry wants anyone who receives government assistance to be forced to undergo drug testing:
MT. PLEASANT, Iowa – Texas Gov. Rick Perry said on Wednesday he wouldn't be opposed to welfare recipients also being drug-tested, joining fellow candidate Newt Gingrich in suggesting that federal aid should be tied to substance use.

"I don't have a problem with–before you get any dollars from the federal government–that you're drug-tested," Perry said in response to a man who suggested the idea at a meet-and-greet in Mt. Pleasant that drew more than 80 people.

Perry pointed out that as a pilot in the Air Force, he himself had been tested. "I don't have a problem in the world with that," he said.

Gingrich made waves on the same subject when he told Yahoo News in late November that one of the ways to curb drug use is to make it more expensive. "It could be through testing before you get any kind of federal aid–unemployment compensation, food stamps, you name it," he said.
A similar plan was put into place earlier this year in Florida. As I noted at the time, the Florida is likely unconstitutional and, indeed, a Federal Judge recently issued an injunction preventing the law from being enforced until a final hearing is held. Of course, Perry and Gingrich care nothing about the Constitution and individual rights in matters like this, this is pure political pandering and demonization of the poor, most of whom just happen to be members of minority groups. But, hey, if it gets you votes, right?