Trump Associate And Confidante Roger Stone Convicted
One of Donald Trump''s closest associates has been convicted by a Federal jury.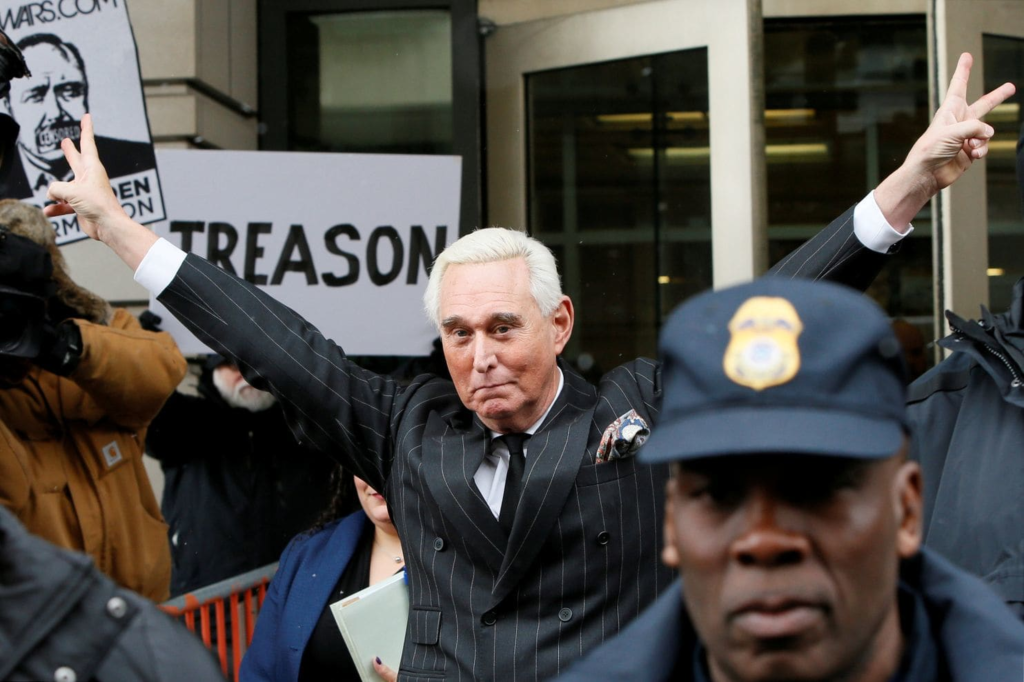 Roger Stone, who has been a close associate and confidante of President Trump for decades and who was long believed to be the Trump campaign's primary link to Wikileaks during the 2016 campaign for President, has been convicted on seven counts of lying about his role in the campaign to Congress and other Federal officials:
A federal jury has convicted longtime Trump confidant Roger Stone of lying to Congress and tampering with a witness about his efforts to learn about the anti-secrecy group WikiLeaks release of hacked Democratic emails in the 2016 U.S. presidential election.

The panel of nine women and three men deliberated for less than two days before finding Stone, 67, guilty on all seven counts resulting from his September 2017 testimony to a House intelligence committee investigating Russian interference in the 2016 election and the Kremlin's efforts to damage Trump's Democratic opponent, Hillary Clinton.

Stone, in a blue suit, stood at the defense table with his left hand in his pants pocket, watching impassively as the verdicts were read. He sighed and frowned as he left the courtroom, offering a half-smile to reporters who had covered the proceedings while his wife hugged crying supporters.

(…)

In arguments and testimony over the past two weeks, prosecutors revealed a series of phone calls at critical times in 2016 between Stone, Trump and some of the highest-ranking officials on the Trump campaign — Stephen K. Bannon, Paul Manafort and Rick Gates.

Gates and Bannon took the witness stand, describing how the campaign viewed Stone as a sort-of conduit to WikiLeaks who claimed — even before the Russian hacking was known — to have insider information. Gates testified to overhearing a phone call in which Trump seemed to discuss WikiLeaks with Stone, calling into question the president's assertion to Mueller's office that he did not recall discussing the organization with his longtime friend.

Prosecutors buttressed the witness testimony with call and message records, which they said helped show Stone's claims to the House Intelligence Committee were false.

In hopes of keeping himself out of prison, Stone's defense team urged jurors to treat his case as a referendum not on him but on Mueller's entire Russia investigation.

Stone's lawyers conceded that a raft of emails, texts and extensive other documentation showed Stone claiming inside information on WikiLeaks' releases and wanting to get even more that could be relayed to the Trump campaign. But in its closing, the defense urged jurors to reframe the question from whether Stone lied to whether that issue mattered, asserting that his hectic efforts to get information from WikiLeaks never amounted to anything.

"So much of this case deals with that question that you need to ask . . . so what?" Rogow asked.

Stone's defense repeated his position that there was "no collusion" with Russia on the presidential race and thus any of Stone's misstatements, as his lawyers cast them, about his WikiLeaks pursuits were inconsequential. They portrayed their client as hapless and merely engaging in his usual political chicanery.

"There was nothing illegal about the campaign being interested in information that WikiLeaks was going to be sending out," Rogow said.
Stone's conviction is the last major act of former Special Counsel Robert Mueller's investigation of Russian interference in the 2016 election and the question of coordination between the Trump campaign and Russian officials. While it does not in and of itself provide a smoking gun link in that investigation, it does tend to establish that there was coordination of some kind between the Trump campaign and Wikileaks, which was the primary means by which the email and other material that was uncovered by hackers linked to Russia was made public. In fact, both the Mueller report and the evidence adduced at the Stone trial established what can only be called a remarkable level of coinciding rhetoric from the Trump campaign that seemed to anticipate that new Wikileaks document dumps would be coming during the course of the 2016 campaign. Additionally, there is at least circumstantial evidence to establish that Wikileaks founder Julian Assange was well aware of the fact that the source of the email and other documents that his organization was dumping into the public domain were coming from the Russians. While this does not establish a direct connection between Russia and the Trump campaign, it does raise questions that were not completely answered by the Mueller Report.
In any case, Stone has been allowed to go free until his sentencing in February, which is not unusual for non-violent felons who have otherwise indicated that there are reasons to deny them bail. In theory, the relevant sentencing guidelines provide that the maximum sentence could send Stone to jail for decades. In reality, given the fact that he does not have a prior criminal record, it's likely that Stone will get something less than that. Nonetheless, the record will show that this is the sixth person with ties to the President to either plead guilty or be convicted of a crime. The others include:
And now Roger Stone.

For an investigation that the President has repeatedly dismissed as a witch hunt that's a lot of witches.