Trump Threatens NBC, Upping The Ante In His Despicable War On Freedom Of The Press
Donald Trump is continuing to up the ante in his rhetorical war against one of America's most fundamental freedoms.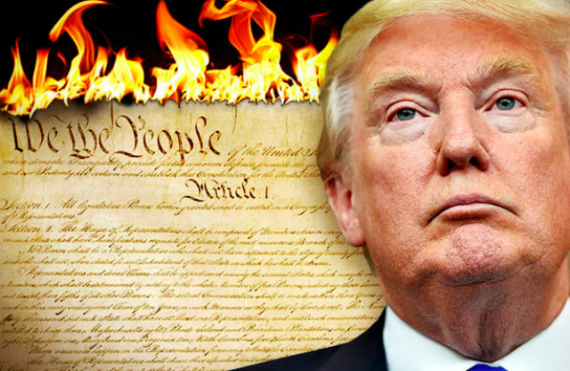 Donald Trump is responding to this morning's report about his remarks about nuclear weapons during a national security meeting with his top advisers, but threatening the news network that reported the news:
WASHINGTON — President Trump threatened on Wednesday to use the federal government's power to license television airwaves to target NBC in response to a report by the network's news division that he contemplated a dramatic increase in the nation's nuclear arsenal.

In a story aired and posted online Wednesday morning, NBC reported that Mr. Trump said during a meeting last summer that he wanted what amounted to a nearly tenfold increase in the nation's nuclear weapons stockpile, stunning some members of his national security team. It was after this meeting that Secretary of State Rex W. Tillerson reportedly said Mr. Trump was a "moron."

Mr. Trump objected to the report in two messages on Twitter later Wednesday and threatened to use the authority of the federal government to retaliate.

He repeated his complaint later in the day when reporters arrived to cover his meeting with the Canadian prime minister, Justin Trudeau. "It is frankly disgusting the press is able to write whatever it wants to write," Mr. Trump said.

The comments immediately drew criticism that the president was using his office to undermine First Amendment guarantees of free speech and free press. And, in fact, the networks themselves — and their news departments — do not hold federal licenses, though individual affiliates do.

"Broadcast licenses are a public trust," said Tom Wheeler, who until January was chairman of the Federal Communications Commission, appointed by President Barack Obama. "They're not a political toy, which is what he's trying to do here."

In suggesting that a broadcast network's license be targeted because of its coverage, Mr. Trump once again evoked the Watergate era when President Richard M. Nixon told advisers to make it difficult for The Washington Post to renew the F.C.C. license for a Florida television station it owned. A businessman with ties to Mr. Nixon filed paperwork to challenge The Post's ownership of the station. The Justice Department under Mr. Nixon also filed antitrust charges against the three major television networks.

In Mr. Trump's case, it may just be an idle threat, the sort of bluster that he has regularly used to keep news organizations and other individuals and institutions he perceives to be rivals off balance. Just a day earlier, he went on Twitter to suggest using federal tax law to punish the National Football League as part of his campaign against players who kneel during the national anthem, only to have a spokeswoman later say he was only making a point.

But Mr. Wheeler said it could also be taken as instruction by his supporters who could act on his behalf. "This sounds to me like another dog whistle for folks to file against the license renewals," he said. "Clearly it would be a bridge too far for the Trump F.C.C. to move on their own initiative. But if some conservative groups were to take this as their marching orders, it would be an interesting situation to see what the Trump F.C.C. did."

(…)

The president's tweets stoked strong pushback from consumer groups that said the threat to NBC was clear.

"This is not just a huge issue from a First Amendment standpoint, it is at best a weird way to go at it and nonetheless very problematic," said Matt Wood, policy director at Free Press, an advocacy group on communications issues before the F.C.C. "The message is clear, you don't have to work hard to see how those words are chilling."

Alexandra Ellerbeck, the North America program coordinator for the Committee to Protect Journalists, said that authoritarian countries such as Russia, Azerbaijan, Saudi Arabia and Turkey license news outlets based on their coverage. "Donald Trump's assertion that NBC's license could be challenged not only puts him in unfavorable company but emboldens other governments to embrace authoritarian tendencies," she said.

Mr. Trump's threat was hardly the first time a president has sought to stifle the media. "Trump is following in one of our more sordid presidential traditions," said John A. Farrell, author of "Richard Nixon: The Life."
Here are the tweets in question:
Fake @NBCNews made up a story that I wanted a "tenfold" increase in our U.S. nuclear arsenal. Pure fiction, made up to demean. NBC = CNN!

— Donald J. Trump (@realDonaldTrump) October 11, 2017
With all of the Fake News coming out of NBC and the Networks, at what point is it appropriate to challenge their License? Bad for country!

— Donald J. Trump (@realDonaldTrump) October 11, 2017
And here's video of Trump's comments during his press availability with Prime Minister Trudeau:
President Trump: "It's frankly disgusting the way the press is able to write whatever they want to write, and people should look into it." pic.twitter.com/gT9FhI94tJ

— NBC News (@NBCNews) October 11, 2017
Trump's latest threat is, of course, as empty as many of his other threats have been. The main reason for that is that, as CNN's Oliver Darcy and Brian Stelter explain, news networks aren't licensed by the Federal Communications Commission. That agency only licenses individual television and radio stations, and while there are a limited number of such stations that are owned by Comcast, Inc, the parent company that owns NBC, MSNBC, and NBC News, they are only a relatively small handful of the stations that are affiliated with the NBC network and broadcast both its entertainment and news products. The fact that the threat is empty, though, doesn't make it any less dangerous, or that these latest threats should simply be dismissed out of hand. While Trump does come across as something of the crazy old man ranting on Twitter when he says things like this online, the difference between him and any other Twitter troll is that he's the President of the United States, a position that gives him far more power and influence than someone who holds these opinions deserves.
Aaron Blake at The Washington Post echoes author John Farrell's comment in the article quoted above and calls the President's threat "Nixonian", and he's absolutely right in that regard. Not since Nixon have we had a President who has demonstrated such utter contempt for one of the nation's most fundamental freedoms, a right so fundamental that the Founding Fathers made sure to specifically include it in the Bill of Rights to ensure that Congress could not take action against critical reporting, a guarantee that was later extended to the states via the 14th Amendment. As Blake notes, though, there's one big difference between Nixon and Trump. In Nixon's case, the railing against the media was, for the most part, limited to private conversations in the Oval Office that didn't become public knowledge until those tapes were made public. There were, of course, some instances in which concrete action was attempted by Nixon and the men who made up his inner circle, including attacks on Daniel Ellsberg after he leaked the Pentagon Papers to the media and some limited harassment of reporters by Nixon cronies. For the most part, though, Nixon railed against the news media in private in much the same way that his immediate predecessor, Lyndon Johnson, did when it came to the increasingly negative coverage that the Vietnam War was receiving from television and print media as the war dragged on. Additionally, there were only limited efforts on the part of Nixon's White House to target the reporters who were digging around and uncovering the evidence that eventually led to the Watergate investigation and his resignation in the face of what was his inevitable impeachment and removal from office had he not left office voluntarily.
This threat is consistent with the way Trump has acted toward the news media since he entered the race for President. Throughout the campaign, Trump used his speeches and even media appearances where he was being given free time to address voters to attack reporters covering him and the networks covering his speeches virtually from beginning to end. Almost without fail, for example, he would falsely claim to the crowd that the networks covering the speech had turned off their cameras, or that they were deliberately not showing the size of the crowd on television. More often than not, this occurred at the same time that his speeches were being aired live and without interruption on all three cable news networks. Additionally, he frequently referred to reporters covering him in derogatory terms and encouraged people in the crowd to turn their ire toward the reporters in the press area in the back of the room. In many cases, this resulted in members of the pro-Trump crowd shouting vile epithets and even threats at individual reporters to the point where they would often need to be escorted out of the venue by law enforcement officers or Secret Service agents. During the campaign, the Trump campaign would often respond to negative coverage by banning reporters or even entire news organizations such as The Des Moines Register and The Washington Post, from receiving press passes to cover events and speeches only to them accuse them of trying to censor his message to the voters because they weren't there to cover it.
This war with the media continued after Trump won the election and entered office in ways that have made it harder for reporters covering the Administration do their jobs and in the process made his Administration far less transparent than its predecessors. The daily White House Briefing, for example, has gone from being something that occurs on an almost daily basis to something that only occurs irregularly. Additionally, when the briefing does occur it's often been the case that the White House Press Secretary, at first Sean Spicer and now Sarah Huckabee Sanders, has forbidden live television coverage of the event, forbidden live audio coverage, or simply not held the event at all and limited interactions with reporters to handing out press releases and statements that convey the Administration's version of events without allowing for any follow-up questions. On those rare occasions when there has been a live broadcast press briefing it is typically far shorter than anything that has been held under previous Administrations, and Huckabee Sanders in particular has been very skilled at not answering reporters question or attempting to divert their attention with briefings about entirely irrelevant topics that could easily be handled by the press offices at one of the Cabinet Departments. Trump himself has only held two press conferences since becoming President, a pace that would put him at the bottom of the list of recent Presidents in that category if it continues for four years. And, of course, Trump has continued his war on the media on Twitter and it's typically his habit to label any piece of negative information, whether it involves economic data, the Russia investigation, or bad poll numbers, as "Fake News."All of this poses unique challenges to the entire concept of freedom of the press in the Trump Era. As I've said before, in Donald Trump's war on the news media there's only one right side, and it isn't on the side of the President:
What was a clown show while he was a candidate, though, has turned into something far more serious now that he's President. A President who calls the news media the "enemy of the American people" is a President who, quite simply, cannot be trusted with power. These are the words of an authoritarian dictator, not the words of the leader of a republic with a Constitution where freedom of speech and of the press are not only enshrined in our Constitution but are also the very lifeblood of American democracy. The fact that it has been reported that the Trump Administration had multiple contacts with Russia during the campaign is most certainly real news, especially in light of what we already know about Russian hacking and apparent efforts to influence the election itself apparently in Trump's favor. At the very least, these allegations need to be investigated both by law enforcement and by Congress in a fair and efficient manner.  If it weren't for someone reporting this, we wouldn't know about it. Just like if it weren't for reporters we wouldn't have known about Watergate, or Iran-Contra, or the reports that Hillary Clinton was taking the extraordinary step of using a private email server while Secretary of State. All of these stories were broken first by what the so-called President is calling the "fake" news media."  This is why I agree with Thomas Jefferson. Given the choice between government without newspapers and newspapers without government, I will choose the latter. In reality, of course, we don't want to live in either a world where there is no government or one where there are no newspapers (i.e., news media). They are both essential to the survival of a free society, but as long as we have government, we need a free and independent media that isn't being intimidated by a wannabe dictator in the White House. There are two sides in this war between Trump and the media, but only one of them is the right side.

Read more: https://www.outsidethebeltway.com/theres-only-one-right-side-in-trumps-unjustified-war-on-the-news-media/#ixzz4vER1IPcv