Donald Trump's Disturbing Obsession With, And Ignorance About, Nuclear Weapons
Donald Trump continues to be as astoundingly ignorant about the most powerful weapons the U.S. military possesses as he was as a candidate.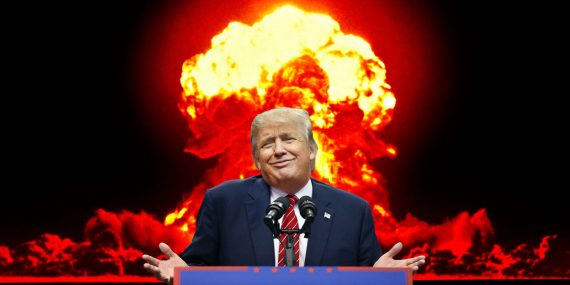 NBC News is reporting that President Trump told military and diplomatic adviser earlier this year that he wanted to dramatically increase the size of America's nuclear arsenal: (emphasis mine)
WASHINGTON — President Donald Trump said he wanted what amounted to a nearly tenfold increase in the U.S. nuclear arsenal during a gathering this past summer of the nation's highest ranking national security leaders, according to three officials who were in the room.

Trump's comments, the officials said, came in response to a briefing slide he was shown that charted the steady reduction of U.S. nuclear weapons since the late 1960s. Trump indicated he wanted a bigger stockpile, not the bottom position on that downward-sloping curve.

According to the officials present, Trump's advisers, among them the Joint Chiefs of Staff and Secretary of State Rex Tillerson, were surprised. Officials briefly explained the legal and practical impediments to a nuclear buildup and how the current military posture is stronger than it was at the height of the build-up. In interviews, they told NBC News that no such expansion is planned.

he July 20 meeting was described as a lengthy and sometimes tense review of worldwide U.S. forces and operations. It was soon after the meeting broke up that officials who remained behind heard Tillerson say that Trump is a "moron."

Revelations of Trump's comments that day come as the U.S. is locked in a high-stakes standoff with North Korea over its nuclear ambitions and is poised to set off a fresh confrontation with Iran by not certifying to Congress that Tehran is in compliance with the 2015 nuclear deal.

Trump convened a meeting Tuesday with his national security team in which they discussed "a range of options to respond to any form of North Korean aggression or, if necessary, to prevent North Korea from threatening the U.S. and its allies with nuclear weapons," according to the White House.

The president's comments during the Pentagon meeting in July came in response to a chart shown during the meeting on the history of the U.S. and Russia's nuclear capabilities that showed America's stockpile at its peak in the late 1960s, the officials said. Some officials present said they did not take Trump's desire for more nuclear weapons to be literally instructing the military to increase the actual numbers. But his comments raised questions about his familiarity with the nuclear posture and other issues, officials said.

Two officials present said that at multiple points in the discussion, the president expressed a desire not just for more nuclear weapons, but for additional U.S. troops and military equipment.

(…)

Officials present said that Trump's comments on a significantly increased arsenal came in response to a briefing slide that outlined America's nuclear stockpile over the past 70 years. The president referenced the highest number on the chart — about 32,000 in the late 1960s — and told his team he wanted the U.S. to have that many now, officials said.

The U.S. currently has around 4,000 nuclear warheads in its military stockpile, according to the Federation of American Scientists.
As Daniel Larison notes, what Trump suggested in this July meeting is hardly surprising, and is pretty much consistent with Trump's overall character:
Increasing the arsenal to return it to its mid-Cold War size is an insane thing to want to do. The expense alone would be ruinous. It would require abrogating all of the arms reduction and limitation treaties the U.S. has ratified over the decades. In the very unlikely event that could be done, the arms race it would set off would be extremely dangerous. A huge increase isn't going to happen, but the fact that Trump didn't understand any of this and had to have it explained to him is alarming.

The purported reason for Trump's desire to have a bigger arsenal is sadly typical for him: he doesn't want to be associated with having a relatively smaller nuclear arsenal, but wants to be known for having the biggest one simply as a way to boost his ego. Since Trump is a militarist, it is not all that surprising that he would want to waste vast amounts of money to build large numbers of massively destructive weapons just for the sake of having more of them. It tells us just how terrible his judgment is that he thought anything like this would be a good idea.
This isn't the first time we've heard about disturbing comments from the President regarding nuclear weapons that go back to his time as a candidate. All the way back in December 2015 at one of the last debates among Republican candidates for President before voting actually began, talk radio host and Law Professor Hugh Hewitt asked Trump about the components of America's nuclear arsenal. This was a standard question that Hewitt had asked all of the candidates who had previously appeared on his show, and which even now remains an important question given the fact that the Defense Department is in the middle of a review of the state of the U.S. nuclear arsenal that is expected to address issues such as the state of the so-called 'nuclear triad,' which refers to the combination of land, sea, and air-based launch system that the U.S. relies on to ensure the existence of a viable nuclear deterrent. As I noted at the time, Trump's response to Hewitt's question was glaringly incoherent and demonstrated the fact that he was essentially ignorant about one of the most important aspects of future nuclear weapons policy. Several months after that, during a Town Hall broadcast on Fox News Channel, Trump was similarly incoherent when asked a question about his nuclear deterrent strategy. At other points during the campaign, and in a few exchanges since he took office, Trump has also made controversial comments about nuclear proliferation that seemingly encouraged the idea of a nuclear arms race among the powers in the Middle East and in Asia in response to the North Korean threat. Another incident occurred in August 2016, when MSBNC reported that a foreign policy expert who was briefing the Trump campaign that at one point Trump asked him why the United States can't use nuclear weapons.
These comments from the President regarding nuclear weapons are particularly disturbing, though, because he's making them as President in the United States. As the NBC report goes on to note, the main reason that America's nuclear stockpile has decreased over the past several decades are manifold, and due both to treaties between the United States and the former Soviet Union that led to dramatic reductions in stockpiles by both countries. This process began decades ago with the process beginning under President Nixon in 1969 with a process known as the Strategic Arms Limitation Talks  (SALT) which led to two separate treaties. The first was the Anti-Ballistic Missile Treaty and other agreements that were entered into in 1972. This group of agreements came to be known as SALT I and included an agreement that placed certain limitations on the deployment of both Intercontinental Ballistic Missiles and Submarine-Launched Ballistic Missiles. The second was SALT II, a treaty that was negotiated over a period of seven years from 1972 to 1979 under Presidents Nixon, Ford, and Carter and which represented the first real agreement to reduce the stockpiles of the U.S. and the U.S.S.R. and which led to the first rudimentary efforts by both nations to verify compliance. These treaties also helped to vastly improve relations between the U.S. and the Soviet Union after a period during the 1950s and 1960s during which both nations had come dangerously close to confrontations that could have led to the exchange of nuclear weapons. A new round of agreements came as a result of the START series of talks that began with a plan first proposed by President Reagan in 1982 that gained significant momentum after the rise to power of Mikhail Gorbachev as leader of the U.S.S.R. Those talks led to the START Treaty in 1991, and New START, both of which have resulted in significant reductions in U.S. and Russian nuclear stockpiles.
What all this history means, of course, is that Trump's proposal would undue nearly fifty years of negotiations, treaties, and side agreements that have proven to be quite successful in reducing the size of nuclear arsenals on the part of both the United States and Russia, and to some extent has arguably had an impact on the policies of other nations such as China, India, and Pakistan. It would most likely lead to a complete collapse of the current nuclear weapons treaty between the U.S. and Russia, and would inevitably result in Russia increasing its own stockpile in response to American action. All of this would also happen at a time when the United States is attempting to do something about North Korea's nuclear weapons program and would likely lead to some change in nuclear weapons policy on the part of China as well. The fact that Trump apparently hasn't even considered these possibilities before tossing out idiotic ideas like this is yet another demonstration of the fact that he clearly doesn't have a clear understanding of the nature or power behind America's nuclear arsenal, which is something of a terrifying thought given the fact that he now controls that arsenal and that there is essentially nothing that stands between him and a nuclear football that could change the course of human history in a matter of less than a half hour.