China Warns U.S. About North Korea's Nuclear Arsenal
Chinese analysts are telling their American counterparts that North Korea's nuclear arsenal is far more sophisticated than previously believed.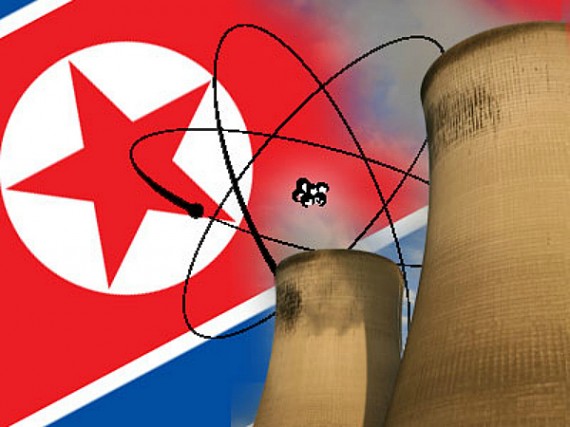 The Wall Street Journal is reporting that the Chinese are issuing new, dire, warnings about North Korea's nuclear program and its ability to project its nuclear arsenal beyond just South Korea and Japan:
China's top nuclear experts have increased their estimates of North Korea's nuclear weapons production well beyond most previous U.S. figures, suggesting Pyongyang can make enough warheads to threaten regional security for the U.S. and its allies.

The latest Chinese estimates, relayed in a closed-door meeting with U.S. nuclear specialists, showed that North Korea may already have 20 warheads, as well as the capability of producing enough weapons-grade uranium to double its arsenal by next year, according to people briefed on the matter.

A well-stocked nuclear armory in North Korea ramps up security fears in Japan and South Korea, neighboring U.S. allies that could seek their own nuclear weapons in defense. Washington has mutual defense treaties with Seoul and Tokyo, which mean an attack on South Korea or Japan is regarded as an attack on the U.S.

"I'm concerned that by 20, they actually have a nuclear arsenal," said Siegfried Hecker, a Stanford University professor and former head of the Los Alamos National Laboratory, who attended the closed-door meeting in February. "The more they believe they have a fully functional nuclear arsenal and deterrent, the more difficult it's going to be to walk them back from that."

Chinese experts now believe North Korea has a greater domestic capacity to enrich uranium than previously thought, Mr. Hecker said.

The Chinese estimates reflect growing concern in Beijing over North Korea's weapons program and what they see as U.S. inaction while President Barack Obama focuses on a nuclear deal with Iran.

A well-armed North Korea may prompt the U.S. to adopt countermeasures, especially in missile defense. Adm. William Gortney, head of U.S. Northern Command, said this month that defense officials believe North Korea can now mount a nuclear warhead on an intercontinental ballistic missile called the KN-08. U.S. officials don't believe the missile has been tested, but experts estimate it has a range of about 5,600 miles—within reach of the western edge of the continental U.S., including California.

An increase in North Korea's nuclear arsenal feeds international concern about proliferation from a country that, U.S. officials said, previously exported nuclear technology to Syria and missile components to Iran, Yemen and Egypt.

(…)

The latest Chinese estimates of North Korea's nuclear capability were shared during a February meeting at the China Institute of International Studies, the Chinese foreign ministry's think tank. The Chinese brought technical, political and diplomatic experts on North Korea's nuclear program, as well as military representatives, said people familiar with the meeting.

Mr. Hecker, the U.S. team's lead technical expert, has long been part of international efforts to understand North Korea's nuclear program. In 2010, he revealed North Korea had a large uranium enrichment program after he saw the facilities during a visit there.

The estimate that North Korea may have had 20 warheads at the end of last year—and could build 20 more by 2016—was given during a presentation by one of China's top uranium enrichment experts, according to people familiar with the meeting. They said it was the first time they had heard such a high Chinese estimate.
Building the nuclear weapons is, of course, only half of the issue the world faces in connection with North Korea. The arguably more important question is how far they are able project that power by delivering the weapon to a target, typically via a ballistic missile of some kind. In that regard, the North Koreans have had some success in developing missiles with longer and longer rangers, but have also had several notable failures in the form of test launches that barely got off the ground or which clearly did not reach their intended orbit. At present, though, it is believed that Pyongyang's most reliable ballistic missile has a range of 5,600 miles, which theoretically puts North Korea's arsenal within striking distance of not only its immediate neighbors but as far south as Australia, as far north as Russia, as far east as the majority of Europe, and as far west as Alaska, large swaths of Canada, and much of the American west. With an arsenal of 20-40 nuclear warheads, that means that a rather unstable regime in western Asia would suddenly have a gun pointed at much of the rest of the world.
The fact that the Chinese are acknowledging this now, and sharing it with the United States, could be indicative of the fact that Beijing is becoming ever more concerned by its neighbor and only now coming to realize just how much of a problem they could have on their hands in the future. Ever since Kim Jong Un came to power, it has seemed as though relations between Pyongyang and Beijing have soured to some degree. The Chinese were particularly outspoken about Kim's actions on the peninsula two years ago when he cut off contact with the south, ended certain economic partnerships, repudiated the cease-fire that ended the Korean War, threatened U.S. bases in the Pacific, and otherwise took a number of steps that clearly increased tensions in the area. Many analysts suggested that their influence inside Pyongyang was reduced significantly when Kim had his uncle Jang Song Thaek executed in what seems in retrospect to have been an effort to consolidated his powers. More recently, tensions increased again when North Korea was accused of being behind a cyber attack on Sony's computer systems at the end of last year over the anticipated release of a movie that satirized Kim Jong Un.  What this report seems to suggest is that China is finally waking up to the threat that North Korea poses to the region and, potentially, the world.
While these reports are alarming, I'm not certain that there's much that either we or the Chinese can do about it. Once the North Koreans developed nuclear weapons at all, it became unlikely that getting them to give that knowledge and technology up would be at all successful. Now that it seems apparent that the scope of their nuclear arsenal is far larger than previously thought, the odds of rolling back the clock on a nuclear North Korea are pretty much non-existent as long as their is a North Korea. Initially at least, reports such as these are likely to lead South Korea and Japan to work with the United States on more sophisticated missile defense systems, but one has to wonder if that will be enough to ease regional fears about what Pyongyang might do with its arsenal, especially if the time came that the leadership felt like their backs were against the wall. As always, the Chinese are probably better equipped to bring about change in North Korea than we are absent a war that would be disastrous for all concerned even if the ultimate outcome seems rather apparent. However, the fact that the Chinese are just now coming to realize the nature of what they're dealing with, combined with the fact that China as territorial and other concerns completely unrelated to Korea that likely being given a higher priority, does not inspire much confidence in Beijing's ability to deal with this either. In the end, North Korea is a pathetic state that is doomed to collapse at some point. The fact that its megalomaniac of a  leader has access to nuclear weapons, though, and likely nowhere else to go if the regime does collapse, is most certainly something to worry about.